A Pennsylvania delegate to the Republican National Convention who supports Donald Trump has issued a half-hearted apology for leaving a vile, anti-Muslim voicemail on the answering machine of a local church.
"Jesus died for hardline islamist just like he did me," Matthew Jansen tweeted Monday. "I do apologize for venting to the church. I was out of line."
On June 11, Jansen drove by St. Paul's United Church of Christ in Dallastown, Pennsylvania. Outside the church, he noticed a sign that read "Wishing a blessed Ramadan to our Muslim neighbors."
The sign so incensed Jensen that he promptly called the church and left a voicemail, calling the sign "despicable."
"I am completely shocked by that sign out in front of your church, that you are wishing people who subscribe to a faith that is not only godless but pagan, in front of your church, aligning it with the name of Christ," Jansen said. "It is unbelievable that you would wish them a blessed Ramadan."
"Are you sick?" Jansen said. "Is there something wrong with you?"
The voicemail concluded with a warning from Jansen that he was going to share a photo of the sign on Twitter and Facebook, along with the church's phone number, "so everyone can see this."
He followed through on his threat:
Jansen did not respond to requests for comment from The Huffington Post. But after the York Daily Record published a story about the voicemail, Jansen defended himself in a series of bizarre and Islamophobic statements.
"It's not a religion," he told the York Dispatch. "It's not a cult. It's a system" designed to enact "global Sharia."
"Sharia law is inconsistent with the values and philosophies of western cultures," he said.
The idea that Muslims want to replace the government of western democracies with Sharia, or Islamic law, is a popular -- and thoroughly debunked -- conspiracy theory held by anti-Muslim hate groups.
Jansen will attend the Republican National Convention in Cleveland next month as a delegate representing Pennsylvania. Once there, he intends to vote for Trump, a candidate who has called for a ban on Muslims entering the U.S. and has proposed that the U.S. government surveil mosques and profile Muslims. The presumptive GOP presidential nominee once said that "Islam hates us."
Earlier this month, The Washington Post reported that former Republican presidential candidate Mitt Romney expressed concern about Trump's bigoted rhetoric, warning of potential "trickle-down racism."
"I don't want to see a president of the United States saying things which change the character of the generations of Americans that are following," Romney told CNN. "Presidents have an impact on the nature of our nation, and trickle-down racism, trickle-down bigotry, trickle-down misogyny, all these things are extraordinarily dangerous to the heart and character of America."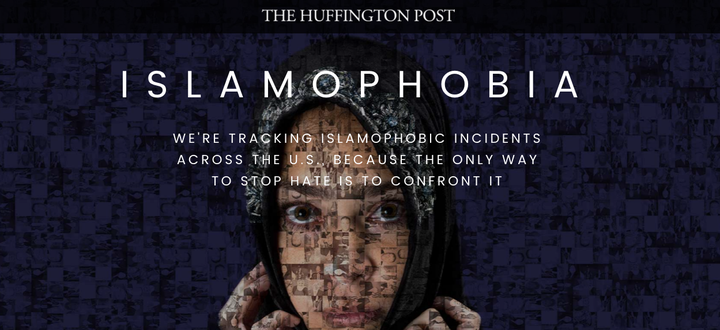 Jansen, a proud Trump supporter, is also a school board member in Spring Grove, Pennsylvania. At a school board meeting on Monday night, he told reporters that he won't heed calls to resign from the board.
"Everyone's got an opinion," Jansen said, according to The York Dispatch. "It was a First Amendment right. I didn't break any laws, I didn't break any rules. I didn't mention the school board or the Republican Party. I brought a lot of unnecessary attention to the school, which of course wasn't my idea. I just wanted to rant about this silly sign."
"The whole episode has unveiled the ugliness and the racism that lies just beneath the surface in our community."
And although Jansen said leaving the voicemail was "out of line," he also stood by the comments he made.
"I'm still a Christian, and [Christians and Muslims] don't share the same belief system," he said.
But Rev. Christopher Rodkey -- who was the first to hear the voicemail Jansen left for St. Paul's United Church of Christ -- has a different take on religion.
"You know we've had some media attention here at St. Paul's for the radical practice of wishing our neighbors who are Muslim a blessed Ramadan," he told his congregation during his sermon on Sunday.
"We've had a lot of calls of support, we've had some calls that you can say weren't so supportive. The whole episode has unveiled the ugliness and the racism that lies just beneath the surface in our community."
"But I don't care," he continued. "The gospel is love God, love your neighbor. So out of darkness, let us find light. Out of ugliness, let us find beauty. Out of all the messiness, let us learn to love messiness. Out of all our pain, and all the suffering and war, let us at some time arrive to a time of true peace."
"And out of all the hate that characterizes our time at this point in history, let us respond as Jesus taught us: Love God, love your neighbor. I'll wish my Muslim neighbors a blessed Ramadan until it ends on July 5."
Rodkey said that while he has received anti-Muslim phone calls about the church's sign, most responses have been "absolutely overwhelmingly positive."
"I am really touched by the messages from American Muslims in particular who have been thanking me for their support," he said. "I don't want to act like I speak for them at all, but I am hoping that all of this creates some public space for their voice to be heard and for the rest of us to be silent and dare to listen."
Popular in the Community