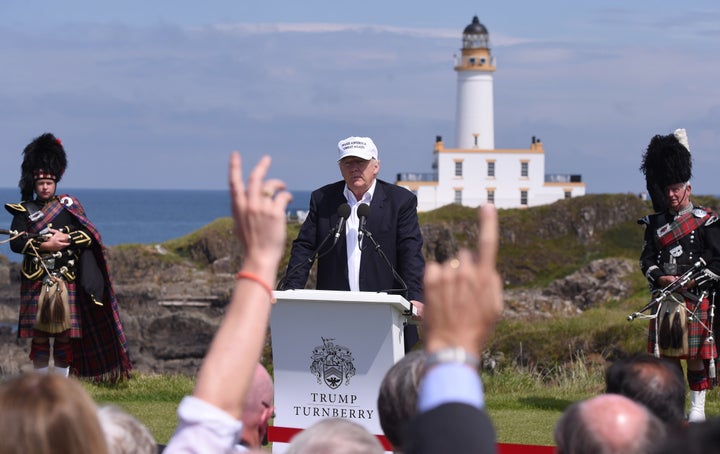 WASHINGTON -- Following a disastrous month and a half, Donald Trump finally gave Republicans a respite, delivering a scripted speech attacking Hillary Clinton without veering off on dangerous tangents.
That was the good news for his party.
Even worse, seven weeks after watching his remaining GOP rivals drop out of the race, Trump is still fighting a rearguard action against Republican delegates working to deny him the nomination at next month's convention in Cleveland.
"He's spending campaign money that should be used against Hillary Clinton to smack down dissent," said Colorado delegate Kendal Unruh, leader of the "Free the Delegates" movement. "That doesn't bode well."
Unruh told participants on a conference call Sunday that she believes that if they can persuade a majority of the rules committee to approve her proposal, a majority of the full convention would likely follow suit -- and Trump would lose the nomination.
"Our strength comes from the delegates themselves," Unruh said. "We know we're saving the party."
Trump, though, still has the support of Republican National Committee chairman Reince Priebus and his staff, who downplay the delegate revolt. They highlight Trump's Wednesday speech, which was cheered by many Republicans because Trump largely stuck to his prepared remarks by reading off a Teleprompter. He accused Clinton of a variety of misdeeds but did not, for example, ad lib attacks on the federal judge handling a class action fraud lawsuit against Trump University, his series of real estate seminars.
One source close to the Trump campaign said the departure of volatile campaign manager Corey Lewandowski would prove to be a turning point. Lewandowski had jealously guarded his access to Trump and had worked to undermine top strategist Paul Manafort, who has been trying to fashion Trump into a more conventional candidate since he joined the campaign in March.
"The consistently erratic nature of this campaign is over," the source said.
Republicans not in the Trump orbit, though, remained skeptical. "He had one good day because he didn't vomit all over himself and gave a decent speech," said GOP consultant Matt Mackowiak, but allowed that it was at least a start. "Is he in a better place than he was last weekend? Yes."
Mackowiak and other Republicans said a major problem continues to be Trump's unwillingness or inability to raise the amount of money needed to compete with presumptive Democratic nominee Hillary Clinton -- notwithstanding Trump's claims that his fundraising has increased dramatically in recent weeks.
"The July report, I think, will show you some pretty massive numbers," Trump said Friday at a news conference from Scotland.
Those bullish claims, though, follow similar claims that a May 25 Los Angeles fundraiser had brought in $6 million. But when the May report was released early this week, it showed Trump's "Victory" fund had only transferred $3.1 million to the Republican National Committee -- the entity that receives the vast majority of the fund's money.
"It's part of his fabulous mentality. If his car is 20 feet long, he's going to say it's 22. He can't help it. He thinks 22 is a better number," said one RNC member and donor.
He said the lack of money is already having consequences. A delay in hiring field staff in key states that was announced at the April RNC meeting in Florida has largely continued, he said, costing both Trump and other Republicans on the ballot valuable time. Staff members who were recruited and ready to go on the payroll remain in limbo, he said. "Because many of them are smart, many of them are getting real jobs, and they're not even available now," he added. "The money's just not there."
Support HuffPost
The Stakes Have Never Been Higher
Popular in the Community