WASHINGTON ― Black lawmakers say they're ready to work with President Donald Trump on some of his big-ticket legislation, despite his credibility problem with them.
But if Trump's administration thinks it can win votes by targeting black members of Congress while ignoring the rest of the Democratic caucus, it's not going to work, according to Congressional Black Caucus members.
"Who in the world is going to announce, 'Oh we're going to try to siphon off 14-15 Democrats," said Rep. Emanuel Cleaver (D-Mo.). "I mean that is preschool politics."
Cleaver became visibly riled when asked about a recent report by Axios that GOP lobbyists were working with African American lobbyists to create an opening for Trump to pick off votes through the Congressional Black Caucus on a tax-reform and infrastructure package.
"I started getting upset just talking to you guys," Cleaver told reporters. If that's the strategy for lobbyists, they should have gone into a secure room in the House basement and whispered it, he said.
Still, Cleaver continued, he's willing to negotiate with Trump on an infrastructure bill. But he won't go around House Minority Leader Nancy Pelosi (D-Calif.) and other party leaders to do it, he said. He added that there is no way the Congressional Black Caucus would become a "renegade division" of House Democrats.
"We're not going to try to hold the caucus hostage for our own narrow interests," Cleaver said.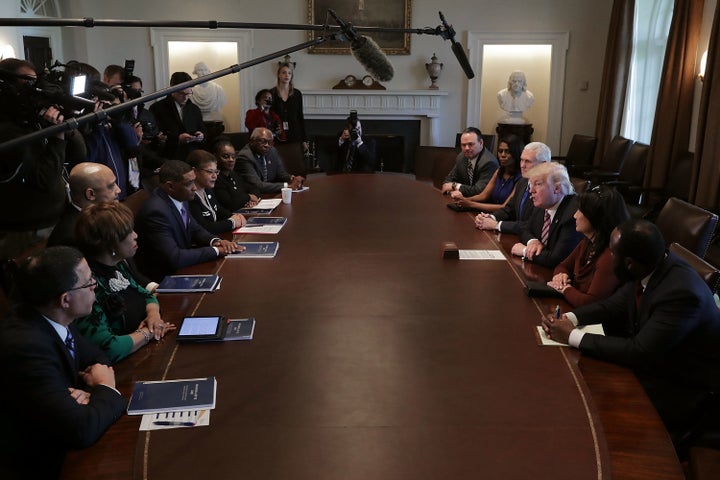 After House Republicans' devastating failure to pass the one piece of legislation they promised for seven years ― a replacement for the Affordable Care Act ― Democrats have gone on the offensive. Pelosi and her counterpart in the Senate, Minority Leader Chuck Schumer (D-N.Y.), have both said they are willing to work with Trump to fix Obamacare, and to pass big legislation.
Cleaver and other Congressional Black Caucus members said they're ready to get into the mix with Trump ― especially on a large infrastructure bill ― even if it means members will face a primary election challenge from the left in 2018.
"We are interested in earmarks, so we make sure that if we approve something, the money goes back to the district," Cleaver said.
The five-term congressman said he is already facing a potential challenge from the Bernie Sanders wing of the party, but that won't stop him from reaching across the aisle.
"There are people who said, 'But it's always the Democrats who cross over,' but, you know, there are things that I need in my district that I would work with Republicans to get," Cleaver said. "I wasn't elected to be at war for two years. If I have to go to war, I'm ready. I'm not going to take a lot of the insults that come from the White House without responding."
Rep. Jim Clyburn (D-S.C.), a member of House Democratic leadership, said he isn't worried about Congressional Black Caucus members losing their seats if they work with Trump.
"It's not dicey at all for us," said Clyburn, who met with Trump last week with a handful of other black lawmakers. "Our constituents want to see us work with the other side. Most of us, especially those of us from the South, have a history of working with people who we do not socially agree with."
Rep. Andre Carson (D-Ind.) shared that sentiment, expressing confidence that voters trust the members they elected. He sees room to work with Trump not only on infrastructure, but on criminal justice reform as well.
But if GOP lobbyists and administration officials think they can slice away votes by circumventing Pelosi and going through the Black Caucus, it's "wishful thinking," Carson told The Huffington Post.
"I think the CBC is willing to talk to the administration, but in terms of siphoning off votes in some conspiratorial way, I don't think so," Carson said.
Carson, who joined the meeting with Trump last week, said members made clear to the president that they will be critical when he attacks inner cities, Muslims, Latinos, or other minority groups.
Democratic leaders say they won't stand in the way if Congressional Black Caucus members strike a deal with Trump that all House Democrats can embrace.
House Minority Whip Steny Hoyer (D-Md.) said negotiations would depend on whether Trump brings a legitimate offer to the table, and is "sincere."
"Good faith is the underlying requirement," Hoyer said.
Not every member of the Congressional Black Caucus is eager to work with Trump. Rep. Hakeem Jeffries (D-N.Y.) said talk from the White House that Trump is ready to work with Democrats is just that ― talk.
"In the aftermath of the health care debacle, there's a lot of happy talk coming from 1600 Pennsylvania Avenue when it comes to the black community, and potential partnerships, but it's all talk and limited action," Jeffries said in an interview.
Jeffries added that there's no evidence that Trump could break through the "firewall" of rank-and-file Democrats now in lockstep with their leadership.
"With respect to the CBC, Donald Trump has a major credibility problem when it comes to black Americans," Jeffries said. Trump's unfounded accusation that former President Barack Obama wiretapped Trump Tower didn't help.
"Republican lobbyists are grasping for straws in the face of a stunning defeat around Trumpcare," Jeffries continued.
If Trump does abandon conservative GOP members in Congress to secure the backing of moderate Republicans and Democrats on major pieces of legislation, it will take a lot of convincing. He can't try to woo Democrats with big spending on infrastructure, and then attach riders to legislation that Democrats will never support in order to appease conservatives.
"It will need to be meaningful outreach to us, particularly when our base has no interest in seeing us cooperate with this administration," Jeffries said.
Ryan Grim contributed reporting.
Popular in the Community