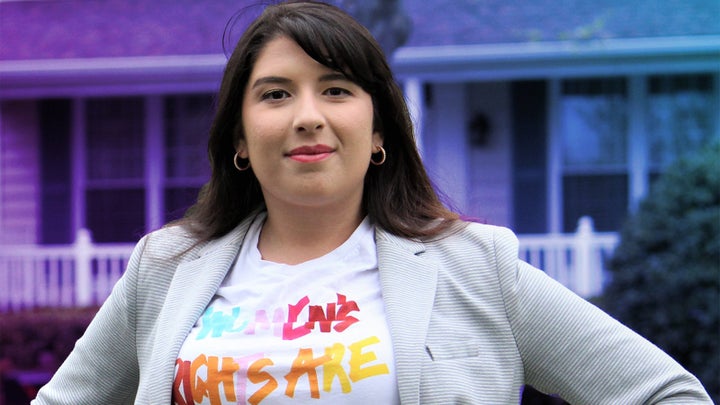 CHANTILLY, Va. ― Do Hannah Risheq a favor. Don't tell her she should be focusing on her wedding plans.
Risheq, 25, is getting married later this year, and of course she's thrilled. But as she knocks on doors and hits events in this Fairfax County suburb, introducing herself as a Democratic candidate for the state House of Delegates, people keep telling her she's too young to run for office ― she should be out having fun, maybe planning that wedding.
"This is something that drives me up the wall," said Risheq. "A wedding is a party. A wedding isn't going to decide my fate as a citizen. This is more important."
"I wonder if they would say that to a man," she muttered.
Risheq, who is a social worker, is about as atypical a political candidate as it gets. Besides being a young woman, she is both Muslim and Jewish ― her dad is a Muslim immigrant from Palestine, and her mom is Jewish American. She's running an entirely grassroots campaign that doesn't take corporate money, and is trying to unseat a Republican incumbent, James LeMunyon, who has held the seat since 2009.
Risheq's bid for Virginia's 67th District is a long shot. She just announced her candidacy last month, which didn't leave her much time to build name recognition or fundraise ahead of the mid-June Democratic primary. And she has two Democratic opponents; one of them, 38-year-old local leader Karrie Delaney, has been campaigning since September and raised more than $68,000 in the first quarter of 2017. Risheq has raised $7,000.
But the way Risheq sees it, she knows the policy issues key to this race, and she has the energy and desire to fight for a community that she loves. That's what it really takes, she figures. Even if she doesn't have the most money, she's more interested in having the best, most organized volunteers rallying support for her.
Risheq has two master's degrees: one in public health from nearby George Mason University, and one in social work from Columbia University in New York. She moved back to Virginia in January after finishing her most recent degree, and says she doesn't see the point of waiting 10 years to run for office if she's ready now.
"The thing is, they say they want young people to get involved. And then when you show up after getting an education and getting life experience, and you come back to your hometown and you are ready to make the difference, they're like, 'Well, you've been gone too long,'" she said, throwing her arms up. "Well? I'm 25. When did you want me to get involved? So, I'm here."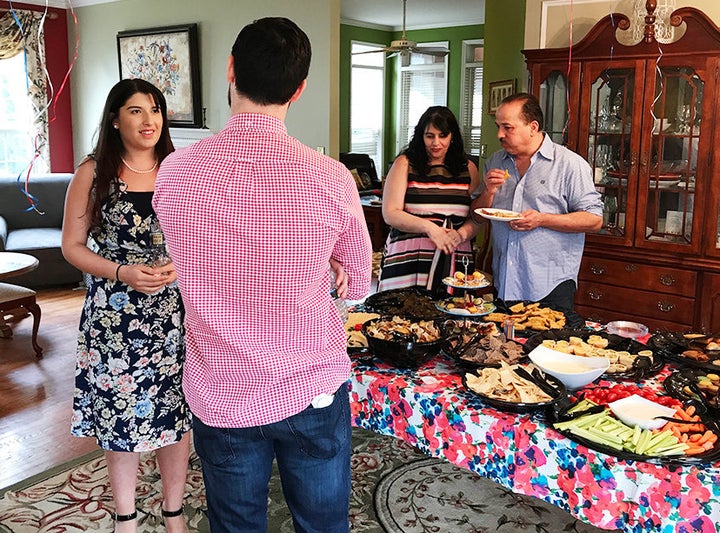 Risheq is a novice, sure, but she's got a distinct advantage: her timing. She embodies the spirit of what is driving the Democratic Party forward right now.
The past few months have seen tens of thousands of people, outraged by Donald Trump's presidency, signing up to help elect Democrats to office or to run for office themselves. EMILY's List, an organization that backs female candidates, said last week that it's heard from more than 11,000 women in all 50 states interested in running for office since Trump's win.
There's something going on in Virginia, too. Last week, Democrat Jacqueline Smith won a special election for Prince William County Circuit Court Clerk, a low-profile job but one that she has after defeating Republican state Del. Jackson Miller. He had far greater name recognition and was widely favored to win, having outraised Smith 6-to-1. That race was the first time Virginia voters have gone to the polls since Trump's win in November.
Amanda Litman, a co-founder of Run For Something, a grassroots organization that recruits and trains progressive millennials to run for office, sees Risheq as part of the next generation of leaders. The group, which has heard from 9,000 people under the age of 35 interested in running for office, has been connecting volunteers with Risheq's campaign.
"Hannah is an amazing candidate ― exactly the kind of person Run for Something exists to help," Litman said. "She's passionate, smart, willing to do the work, and her personal experience as a young woman and Arab-American will make the Virginia legislature a better, more representative governing body."
Policy-wise, Risheq is a pretty typical Democrat. She's pro-choice. She supports LGBTQ rights. She supports protecting the Affordable Care Act and expanding Medicaid. She's particularly focused on the need for more resources for mental health and substance abuse services. But her background has given her some experiences others don't share.
She remembers how it felt when she was a child and someone burned down her parents' restaurant outside of Asheboro, North Carolina.
That wasn't long after her parents found a business card from the grand wizard of the North Carolina Ku Klux Klan taped to the front door of their restaurant, with a warning written on the back: "Either you leave now or we burn the place down."
They relocated to Greensboro and opened a new restaurant, and business boomed until the Sept. 11, 2001 attacks. Customers, aware her father was Muslim, stopped coming. Her parents lost most of their friends. They had to close the restaurant and struggled to regain financial footing. It took its toll on Risheq, whose grades plummeted in school. She started attending a Christian church so people wouldn't see her as Muslim or Jewish.
"We were isolated. We received hate mail. We were discriminated against," said Risheq. "I was not invited to birthday parties ― things as a child that are really important to you."
That changed when her family moved to northern Virginia in 2010, where they felt welcomed as a multicultural, multi-religious household. Her parents started a successful business. Risheq thrived, living in a community where, at last, she felt diversity was celebrated.
So when Trump became president, Risheq worried that his divisive rhetoric would drown out voices like hers and erode the goodwill in her community. She looked around at what she could do and learned about the upcoming elections for the state House. She also learned how white and male the state legislature is: Just 17 percent of Virginia legislators are minorities, and 19 percent are women. She decided the best way to protect her community was to represent it.
"I want to make sure that everyone, especially children of nontraditional backgrounds or identities, feels comfortable and accepted being who they are," she said. "My parents taught me a lot about compromise and about bringing splintered groups together. A lot of my friends are part of different marginalized groups, LGBTQ groups, other young women. I'm running because I want to give a voice to everyone."
"They say they want young people to get involved ... Well? I'm 25. When did you want me to get involved?"
Risheq hosted a couple dozen people at her house for a campaign launch party last Sunday afternoon. Her parents were there, quietly refilling trays of dolmas and macaron cookies for people to pick over as they mingled and met Risheq. Her father, Khaled, admitted he was a little surprised she wanted to run for office so soon, but said he understood why she's doing it.
"Between her mom's background and my background, she felt urgent about needing to do something," said Khaled. "I came from the Middle East. Every time I go back, I feel it's the same. Why? It's because it's the same people, nobody else from outside the system … For this country, it's really, really important for young people to take over. We don't want to have the same old, same old."
Some of the party's attendees, like Kelly Carnes and Jen Renken, drove 45 minutes from Washington, D.C., to meet Risheq and see how they could help her campaign. They left thinking they may do some phone banking for her.
"We admire that Hannah is taking the initiative to get involved and do something," said Carnes, 32. "We feel overwhelmed in D.C., where there are so few representative positions that we can hold there. To make a difference, we can come out here and give encouragement and rally for the cause out here."
Risheq won over at least one voter that day. Kevin Hicks, a 47-year-old engineer who lives down the street from her, said he walked over to see who this young female candidate was that he kept hearing about. After she spoke to the room, Hicks said he really liked her advocacy for stronger mental health services in the district and her emphasis on inclusion.
"I work in the technology industry, so I work with people that are [in the U.S. with] H-1B [work visas], and I really have come to value our immigrant population," said Hicks. "It elevates the competitive nature of everything."
Hicks brought his daughter Louise, 17, who is too young to vote but has been following Risheq's race. She said she's on an advisory council to her high school's board, and has noticed that while her community is diverse, its leadership is not.
"When I went on [Risheq's] website and read, 'I'm a millennial, I think millennials should get involved,' I was excited," said the teen.
Louise's father is excited, too. Though Risheq might take heat for being too young and lacking the experience to represent a district of nearly 80,000 people, he said, given how politically divided the country is, Risheq may be just the kind of leadership needed right now.
"I might vote for her just because she doesn't know anything," Hicks said with a laugh. "I think she's got a good case to say, 'I'm going to listen to people.' At least, she'll get my support."
Before You Go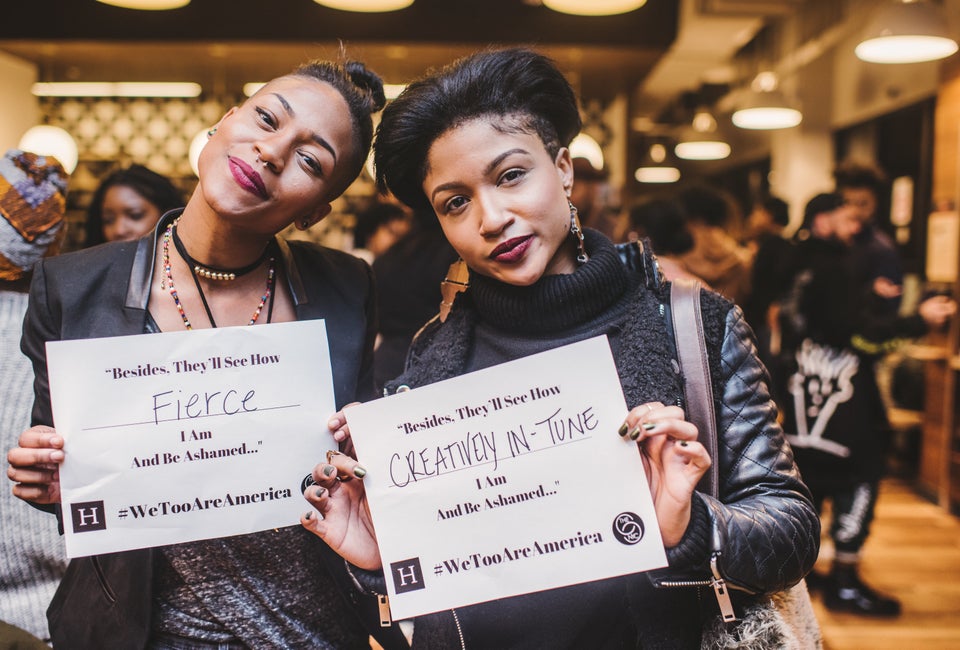 Millennials Declare #WeTooAreAmerica
Popular in the Community