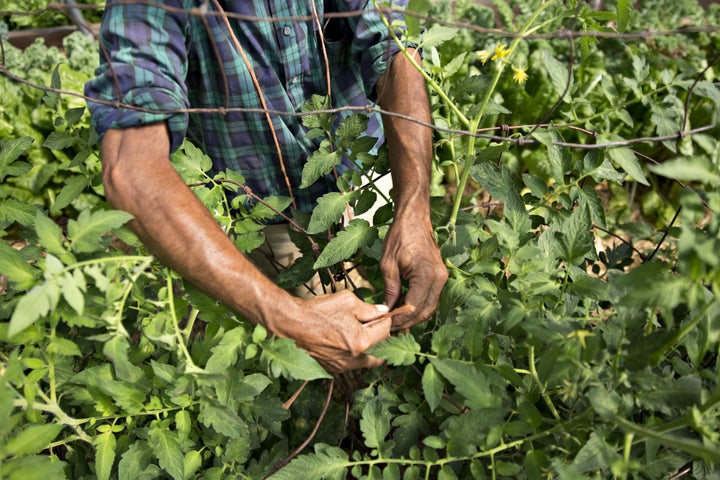 President-elect Donald Trump's victory has largely been painted as the result of small-town America rejecting urban-elite America, but at least one faction of the nation's rural communities aren't particularly hopeful about the forthcoming administration.
To some in the agriculture industry, Trump's pledge to deport or imprison up to 3 million undocumented immigrants who are currently living in the U.S. and "have criminal records" — a campaign promise he reiterated on "60 Minutes" on Sunday — could spell disaster for the farming workforce, which relies heavily on immigrant labor.
The Labor Department estimates that about half of the nation's 2.5 million farmworkers are undocumented. It's unclear whether these laborers would be included in Trump's mass deportation plan. The agricultural industry has said repeatedly that domestic workers show no interest in doing the jobs that immigrants and migrants do.
That uncertainty is already bothering many of these workers, according to Bruce Goldstein, executive director of Farmworker Justice, a nonprofit advocacy group that works to empower migrant and seasonal farmworkers.
"These threats of deportation are causing them great anxiety," Goldstein told The Huffington Post. "Farmworkers and their children are aware of these discussions and it makes them fearful for what's going to happen. It would deprive them of jobs, split up their families and subject them to great harm."
Many ag employers also appear to be feeling uneasy.
Many in the industry rely on the Department of Labor's H-2A temporary agricultural worker program for seasonal assistance harvesting their crops, which is already being criticized for having long administrative delays linked to high demand. The deportation of any significant number of undocumented farmworkers would put a dramatic strain on the program.
The National Farmers Union, which represents more than 200,000 of the nation's farms and ranches, is worried about what actions the Trump administration might make on immigration, according to its government relations representative, Zack Clark.
That's particularly true because the president-elect and his surrogates have not specifically said how they define "criminal."
Trump previously indicated that some undocumented Americans could remain in the country. However, Trump immigration adviser Kris Kobach ― the Kansas secretary of state and an architect of Arizona's controversial anti-immigration law ― commented this week that there will be "no free pass" given to any undocumented immigrant living in the U.S.
"We don't know what to expect. It seems like there's been a walking back of certain issues, so we're not really sure which campaign promises will be fulfilled and which will go away," Clark said. "It's tough to envision any scenarios right now because of the ambiguity that exists."
Tom Nassif, one of Trump's agricultural advisers, says the president-elect won't hurt the industry. Nassif is also the president and CEO of Western Growers, which represents farmers in California, Arizona and Colorado.
"I don't fear what he's going to do on immigration reform," Nassif told HuffPost. "I believe the president-elect is very sensitive to the needs of agriculture and I would be surprised if we saw any mass deportations in agriculture."
Still, Nassif said he'd like Congress to step in to help protect undocumented farmworkers. He supports finding a path to citizenship for those laborers, similar to the "blue card" legislation approved by the Senate in 2013. Then-Speaker John Boehner blocked it, and it did not come up for a vote in the House.
"They want and need and should be allowed to come out of the shadows and have a normal life, because they're providing a service to us by harvesting our crops," Nassif added.
It remains to be seen whether such action from a Republican-dominated Congress is possible, given the vigorous anti-immigrant rhetoric that came out of the Trump campaign and has been largely reinforced by his transition team.
But the alternative to an industry that relies so heavily on immigrant workers is not promising.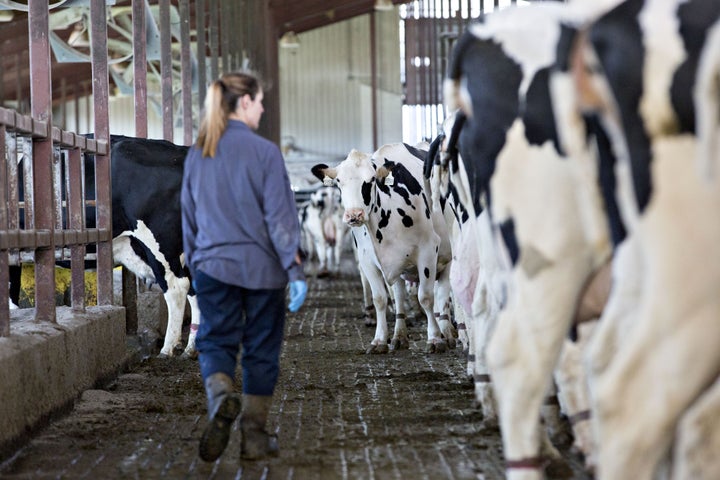 Laurie Fischer, president and founder of the American Dairy Coalition, an industry group, said the stakes are high for farmers, especially those in the dairy sector.
That's because dairy farms, unlike fresh produce operations, require a year-round workforce that can't rely on temporary or seasonal programs like H-2A. A crackdown on its workforce would prove devastating.
But Fischer is hopeful Congress will move toward creating a legal status that will allow undocumented farmworkers to remain in this country.
"We are going to continue to push for this," she said. "Or we're likely going to be seeing farms that are not able to continue to find the labor force they need to operate their businesses."
Joseph Erbentraut covers promising innovations and challenges in the areas of food and water. In addition, Erbentraut explores the evolving ways Americans are identifying and defining themselves. Follow Erbentraut on Twitter at @robojojo. Tips? Email joseph.erbentraut@huffingtonpost.com.
Popular in the Community