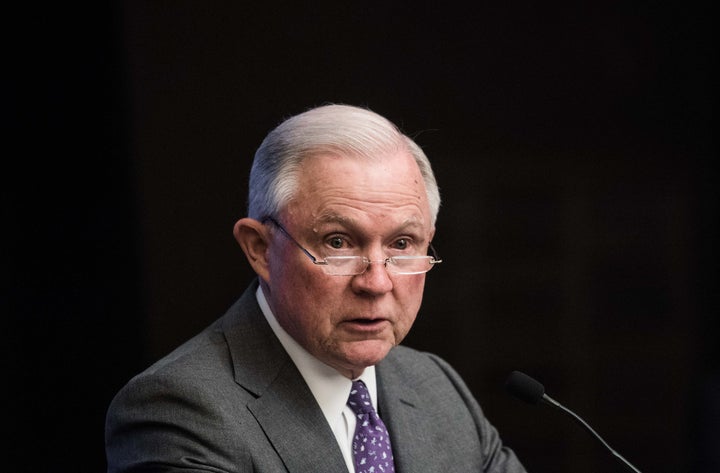 In a sweeping enforcement change, Donald Trump's administration will increasingly prosecute members of immigrant families who cross the border illegally, even if that means splitting children from their parents and regardless of whether they're seeking safety in the U.S., Attorney General Jeff Sessions said Monday.
It's already happening. On April 27, Border Patrol officers picked up a 30-year-old Salvadoran woman, Morena Mendoza Romaldo, with one of her children after she crossed into the U.S. near San Diego. She fled El Salvador because of sexual violence, according to court filings. She clearly told Border Patrol that she was afraid to return there; an arrest narrative filed in court has "credible fear claim" written on it.
Crossing the border illegally is a misdemeanor punishable by up to six months in jail. But previously the Justice Department rarely targeted family units — as the Border Patrol describes parents who cross with their children — for prosecution. Instead, authorities typically routed migrant families to immigration courts, and they were often released from detention after three weeks because of a court order limiting how long undocumented children may remain locked up. People with credible fear of being returned to their native countries were likewise often sent to immigration court instead of being criminally prosecuted.
But now, with the Trump administration looking for ways to crack down on policies its officials deride as "catch and release," the response has gotten harsher.
Mendoza's case was one of 11 immigration prosecutions filed against alleged members of a caravan of asylum-seeking Central Americans. At least two others were also separated from their children after facing prosecution for illegal entry.
Sessions and Immigration and Customs Enforcement's acting Director Thomas Homan said during a press conference in San Diego that the Department of Homeland Security would refer for prosecution all cases of people crossing illegally, as part of a zero-tolerance policy — regardless of whether they're fleeing persecution or traveling with children.
"People are not going to caravan or otherwise stampede our border," Sessions insisted. He later said, "We don't want to separate families, but we don't want families to come to the border illegally."
It will be up to individual U.S. attorneys to decide how many of the migrants will face criminal charges. In the past, limits on the number of government attorneys or courtroom capacity led authorities to instead route most people caught at the border through the traditional deportation process without convicting them of a crime first. Last week Sessions announced that the Justice Department hired 35 more assistant U.S. attorneys to help prosecute immigration crimes in the five federal districts that touch the U.S.-Mexico border. Immigration prosecutions have taken up roughly half the federal criminal docket since 2008, after policy changes pioneered by George W. Bush, institutionalized under Barack Obama and now enthusiastically embraced by Trump.
The zero-tolerance policy won't apply to those who seek asylum at ports of entry, which is not illegal, although the Trump administration has publicly urged migrants to stay in Mexico instead. At least two of the 11 alleged caravan members facing prosecution for illegal entry — Olga Esmeralda George and Marbel Yaneth Ramirez-Raudales — said they tried to initiate asylum claims at a nearby port of entry but were turned away, according to court filings.
Sessions' plans are already facing opposition from the San Diego Federal Public Defenders' Office. Illegal entry prosecutions are often open and shut cases. But attorney Eric Fish has asked the court to dismiss three of the 11 alleged caravan members' cases, arguing that his clients, including Mendoza, were targeted for political reasons that amount to unconstitutional discrimination.
"If other countries treated people seeking refugee protection in this way, the United States would be appalled."
In court filings littered with Trump's tweets excoriating the caravan, Fish contended that Border Patrol agents arrested the three defendants at the same time as a group of Indian nationals. But the Indians were never prosecuted.
"The government cannot choose its defendants based on their alleged country of citizenship, but that's exactly what it did here," he wrote in a court filing. "The Court should not stand for such invidious discrimination, and should dismiss the complaint."
Fish is also disputing the $10,000 bonds set by the court, arguing that his clients present no flight risk and could be instead monitored by GPS and released on their own recognizance.
The cases highlight how much energy Sessions is devoting to some of the pettiest crimes possible. Until he announced his zero-tolerance policy, illegal-entry prosecutions were all but unheard of in San Diego. And in the three contested cases, the government offered to free the defendants on time served if they pleaded guilty.
At least two of the defendants said they intend to seek asylum, which generally exempts people from criminal prosecution for illegally crossing the border. One of them, Yaneth, attempted to turn herself in at a legal port of entry but was turned away, according to court filings. Under U.S. law and international treaty obligations, Customs and Border Protection is required to let in migrants who say they fear persecution in their country of origin. But CBP faces a lawsuit in the Southern District of California alleging that the agency often flouts those rules.
Organizers with the caravan disputed that the migrants facing prosecution were affiliated with their group, though they said it's possible that some had joined the caravan and later left it. At its peak, the number of migrants traveling with the caravan topped 1,000, but its numbers dwindled to fewer than 300 as some decided to remain in Mexico, were counseled that their asylum claims would be hard to press in U.S. courts or were repelled by the open hostility of top Trump administration officials.
"It's pretty obvious that they don't know who is part of the caravan or not," said Alex Mensing — an organizer with Pueblos Sin Fronteras, which coordinated the caravan — noting that one of the defendants, Eric Alberto López Robles, is a Mexican national and that the caravan did not work with any Mexican adults. "It just doesn't add up."
Those crossing with the caravan were instructed to go through a legal port of entry to make their claims and were advised against crossing illegally, according to Nicole Ramos, the director of Al Otro Lado, a nonprofit group that is offering legal services to the caravan's members. Ramos, who once worked as a federal public defender, said that in legal workshops, she warned about the threat of prosecution.
"After people were given transit visas, perhaps some of them went in other directions, but they were not integrated into the caravan," she said. "The goal of the caravan was to get to Tijuana and present themselves legally. And as part of the legal orientation we gave, we specifically advised people about criminal prosecutions."
Prosecuting people who are seeking asylum could violate international law, according to human rights advocates. Border Patrol was warned about this at least once, when the DHS Office of the Inspector General issued a report in 2015 saying the agency risked violating U.S. treaties by referring people for prosecution even though they expressed fear of persecution in their native country.
Immigrant rights advocates have been hearing for months from parents who were separated from their children and in some cases aren't sure how to get in touch with them. The practice "is simply barbaric," said Eleanor Acer, who leads the refugee protection program at Human Rights First.
"If other countries treated people seeking refugee protection in this way," she said, "the United States would be appalled."
Support HuffPost
The Stakes Have Never Been Higher
Before You Go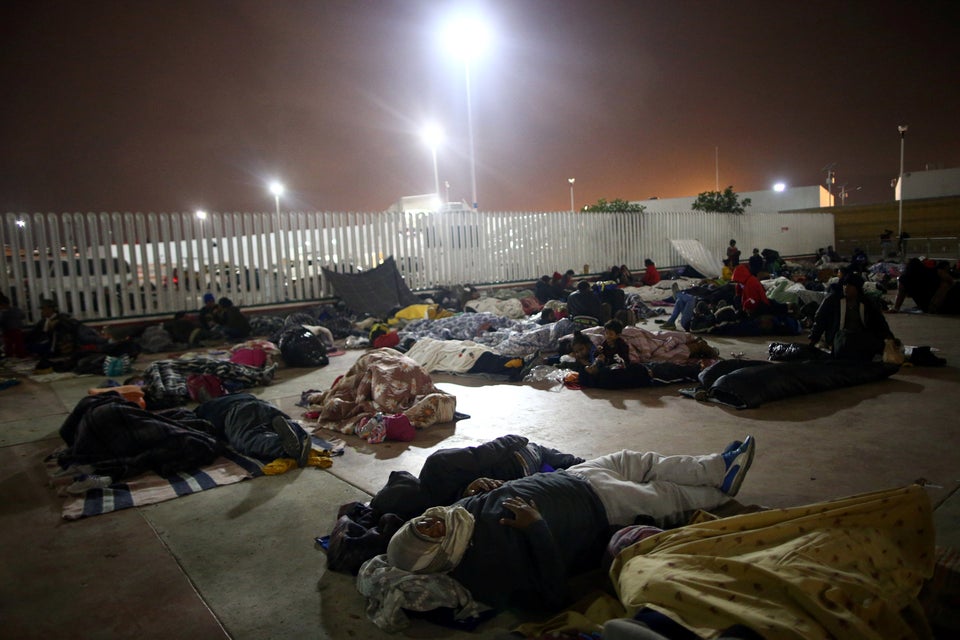 Migrant Caravan
Popular in the Community