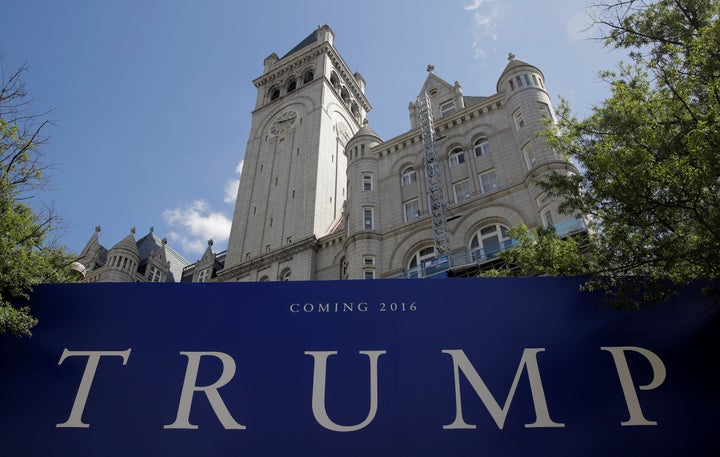 Donald Trump's new Washington, D.C., hotel violates the Americans with Disabilities Act, alleges a complaint filed on Sept. 29 with the Department of Justice. Three other complaints filed on or since that date allege ADA violations at Trump's hotel and golf course in Doral, Florida, and at his golf course in Pine Hill, New Jersey, according to documents obtained by The Huffington Post.
The new allegations come after HuffPost reported in September that Trump's properties had been sued at least eight times over the last 19 years for violating the ADA, and one of those properties was hit with an additional set of violations after a federal inspection.
Trump settled five of those cases. Two others ended with Trump consent decrees and one was terminated when the Trump property in question went into bankruptcy. One case ― the only one Trump even came close to winning ― was dismissed at the request of both Trump and the plaintiff.
Once a complaint has been filed, it is up to the DOJ to choose whether to investigate the complaint and decide if additional measures like mediation or litigation are necessary.
The four recently filed complaints allege various accessibility issues at the three properties. Trump's golf course in Doral does not have properly accessible parking, bathroom doors, curbs or tables in the bar area, said Nick Pavlak, who filed the complaint after visiting the course. Additionally, just two of the club's 16 room types are accessible. HuffPost searched the room reservation system at the Doral on several dates and found that only "premier" grade rooms with one or two beds are listed as accessible. (Hotels are required by the ADA ensure that there are accessible rooms in various room classes similar to those available to other customers so that people with disabilities are not economically excluded.)
The complaint against the Trump National Golf Club in Pine Hill, outside of Philadelphia, was filed by Thomas Hamill, vice president of Advocates For Disabled Americans, who says he intended to become a club member. That club lacks required handicapped signs in its parking lot, has a dangerously sloped front entrance and an inaccessible bathroom, the complaint says.
At Trump's newly opened hotel in Washington, D.C. ― which the Republican presidential nominee called "something very special" at a press conference held there last month ― only two of the building's 12 room types are accessible to guests with disabilities, the complaint says. The complaint, which was filed by a member of Advocates For Disabled Americans who wishes to remain anonymous because of Trump's notoriety, says that the cheapest room option in the hotel is not handicapped-accessible, and that the bathrooms in the hotel's common areas violate ADA requirements.
A HuffPost search of the hotel's reservation system for rooms on a number of different dates also matched this complaint: Only "premier" grade rooms with one or two beds were listed as accessible.
Those allegations are particularly surprising. The D.C. hotel, which occupies a government-owned building Trump leases, was recently opened after years of renovation. Trump has promoted it heavily, including at the press conference where he ostensibly renounced his racist birther beliefs.
"Now it is a great honor," Trump said at the September event. "This is our brand-new ballroom. You can only see a small piece of it because we have it broken down but this is ― the hotel is completed. We'll be having our opening ceremony in October and it's gonna be something very special."
Reached for comment, Trump Hotels spokeswoman Christine Da Silva did not address the new complaints, but instead referred to the organization's September statement to HuffPost.
"It is the policy at all of our properties to comply with the Americans with Disabilities Act," she said then. Referring to the previously reported eight cases and federal inspection, Da Silva said, "this handful of cases, many of which are over ten years old, are not representative of our organization's strong record of ADA compliance." Trump's golf course in Pine Hill did not respond to requests for comment.
Trump has boasted about his ADA compliance. Last year, after he mocked a New York Times reporter with arthrogryposis, Trump defended himself by saying, "I spend millions a year, or millions of dollars on ramps and get rid of the stairs and different kinds of elevators all over and I'm gonna mock? I would never do that."
Hamill took a dimmer view of Trump's compliance with the ADA, which was passed in 1990. "There's a civil rights law that's been in effect for 25 years," he said. "It's not something that's done for charity. It's the law and it gives people with disabilities equal opportunity to use facilities."
"With the Trump history towards the disabled, it is not surprising that Trump does not foster independence or dignity," Anthony Brady, the civil rights lawyer who filed the complaints on behalf of the patrons, said in an email.
In the past, Trump's attorneys have accused plaintiffs suing under the ADA of being repeat litigants. But the very structure of the ADA means there is a very good reason why people with disabilities have to file complaints alleging violations, disability rights lawyer Emily Munson told HuffPost last month.
"Because there is no enforcement agency [for ADA], it's people with disabilities who have to go out and bring these suits" in order to ensure that violations are corrected, she said. The unfortunate result, Munson added, is that the very law that lays out the rights of the disabled forces "them to look like the bad guy" in order to ensure those rights are respected.
Popular in the Community