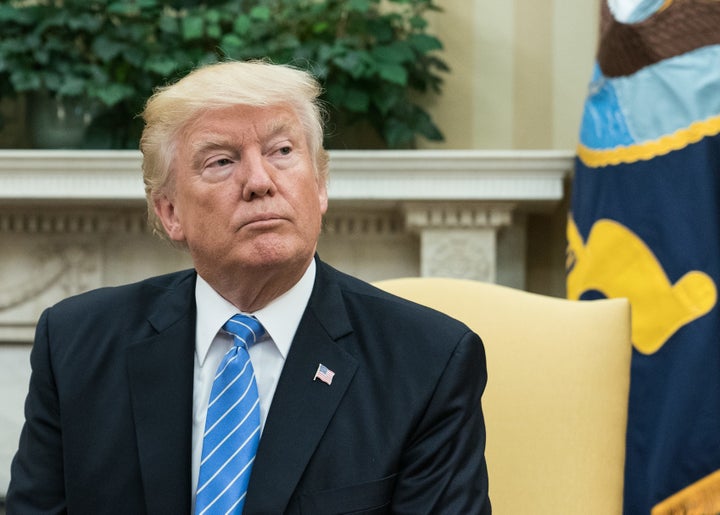 WASHINGTON ― Iran has fired ballistic missiles into Syria, Russia is warning U.S. forces not to fly its planes there, North Korea is testing its own missiles regularly and Western European leaders are telling their citizens they might be on their own.
Welcome to the Trump doctrine ― or, perhaps more accurately, the Trump non-doctrine.
"There is no Trump doctrine," said Michael Kofman of the Center for Naval Analyses, adding that with no real clarity from the top, Trump's subordinates will scramble to create their own, at least for their own fiefdoms. "Others are trying to define this space via leaks, quotes to the media and public statements that are probably ahead of the president."
Five months into Donald Trump's presidency, the U.S. is escalating military engagements in the Middle East and creating conflicts with traditional allies ― all of it punctuated by sometimes-inflammatory presidential Twitter statements.
On Tuesday afternoon, for example, Trump tweeted: "While I greatly appreciate the efforts of President Xi & China to help with North Korea, it has not worked out. At least I know China tried!"
Neither the White House nor the National Security Council responded to queries regarding that statement. But it is precisely the sort of off-the-cuff remark that foreign policy professionals fear can have lasting and unpredictable consequences.
In April, after images from the Syrian regime's nerve gas attack on civilians appeared on TV, Trump launched cruise missiles at a Syrian air base  ― despite earlier administration suggestions that it was not interested in a quarrel with Syrian President Bashar Assad, and only wanted to destroy the ISIS terror group.
"The Al-Shayrat cruise missile strike was demonstrative of shooting from the hip, then trying to turn impulse into policy," Kofman said. "This sort of brinkmanship is disconcerting."
Similarly, Trump's tweet on Tuesday followed the death of American college student Otto Warmbier, who was imprisoned in North Korea 17 months ago for a minor theft and was returned to the U.S. comatose. Trump expressed his outrage on Tuesday morning during a visit by the Ukrainian president, saying, "It's a total disgrace what happened to Otto. That should never, ever be allowed to happen."
The president has meanwhile expressed admiration for autocratic regimes in Saudi Arabia, Turkey, the Philippines and Russia.
"The rather positive take on Russia, and a negative view of NATO have remained constants," Kofman said.
Trump's repeated praise and apparent green light for a recent Saudi-led campaign to isolate Qatar, a small Arab nation that hosts the largest American military base in the Middle East, has worried lawmakers and Middle East experts.
And the simultaneous alienation of traditional friends means that if the U.S. gets into a jam, it's not clear which traditional ally will be eager to take America's side.
During his first foreign trip, Trump damaged relationships with Western European nations by failing to state his commitment to the NATO mutual defense clause and by announcing his intention to withdraw from an international agreement to fight climate change.
NATO members had been awaiting Trump's affirmation of Article 5 of the alliance charter, which states that an attack on one nation in the group is considered an attack on all. That language was reportedly removed at the last minute from a speech Trump delivered in Brussels last month. (Trump did state his commitment to Article 5 earlier this month, however, during a White House visit by the Romanian president.)
In Sicily days later, Trump declined to abide by the Paris Agreement ― in which most nations in the world agreed to start cutting carbon dioxide emissions ― despite requests from the leaders of the other six members of the G-7 group of industrialized democracies. Upon his return to the U.S., Trump announced that he would withdraw from the accord.
Both French President Emmanuel Macron and German Chancellor Angela Merkel have publicly said that Western Europe cannot depend on the United States and needs to be prepared to take the lead on global issues, including standing up to Russian leader Vladimir Putin.
"The times in which we could rely fully on others ― they are somewhat over," Merkel said following her return to Germany from Sicily. "This is what I experienced in the last few days."
While Trump appears to be disengaging from Europe, he has ramped up U.S. troop levels and involvement in Afghanistan, Syria, Yemen and Somalia, apparently without a clear policy ― which means U.S. interests are subject to other governments' decisions.
The most visible consequence recently has been in Syria, where pro-Assad forces have repeatedly challenged the United States and associated rebel groups in recent weeks.
In what the Pentagon described as necessary self-defense, the U.S. targeted a regime-aligned drone on Tuesday. Two days earlier, a U.S. Navy pilot shot down a Syrian jet. The incident was the first time a piloted aircraft has been downed by a U.S. warplane in nearly two decades.
Iran's increasing involvement in the region is also going somewhat under the radar thus far.
Following ISIS attacks in Tehran earlier this month, Iran responded by firing ballistic missiles into an ISIS stronghold in Syria this weekend. Trump has not publicly responded to that strike ― but observers fear that a confrontation there is inevitable, given Iran's strategic goals for the region.
"I'm not sure if President Trump has a strategy towards Iran, but the United States may soon find itself in a serious conflict with the Islamic Republic," said Ali Alfoneh, an Iran expert at the Atlantic Council think tank. "Tehran constantly tests Washington's willingness to engage in another war in the Middle East."
Russia, Assad's other key backer, made its own move, threatening U.S. planes that fly west of Syria's Euphrates River.
The U.S. Department of Defense says it retains the right to fly where it wishes to defeat ISIS and to defend its allies in that fight. But the apparent lack of a larger plan remains an important signal for both enemies and friends: Australia, which had been flying anti-ISIS air missions, announced on Monday that it was suspending them.
REAL LIFE. REAL NEWS. REAL VOICES.
Help us tell more of the stories that matter from voices that too often remain unheard.