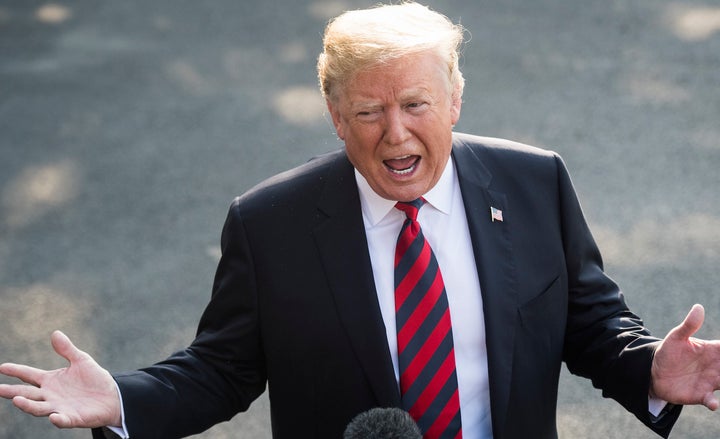 President Donald Trump said on Friday that it doesn't matter if he misled the media about his son's infamous 2016 Trump Tower meeting with Russian nationals.
The president's lawyers admitted nearly two weeks ago that he dictated a statement that Donald Trump Jr. released about the meeting. When pressed by reporters Friday morning, Trump said, "It's irrelevant. It's a statement to The New York Times. The phony, failing New York Times."
Trump Jr. met with a Kremlin-linked attorney at his father's property in June 2016, after he was told he would receive damaging information on presidential campaign rival Hillary Clinton. In the first statement on the meeting, first published by The New York Times, the president's son said the group was there to discuss adoption policy.
"That's not a statement to a high tribunal of judges," Trump continued Friday, as he spoke to reporters on the White House lawn. "That's a statement to the phony New York Times. In fact, frankly, you shouldn't even speak to The New York Times because they only write phony stories, anyway."
Trump's casual stance on telling the truth was also apparent in remarks he made about retired Army Lt. Gen. Michael Flynn, his former national security adviser who pleaded guilty to lying to the FBI.
"I feel badly for General Flynn. He's lost his house; he's lost his life," Trump said. "And some people say he lied and some people say he didn't lie. I mean, really, it turned out maybe he didn't lie."
Paige Lavender contributed to this report.
Popular in the Community