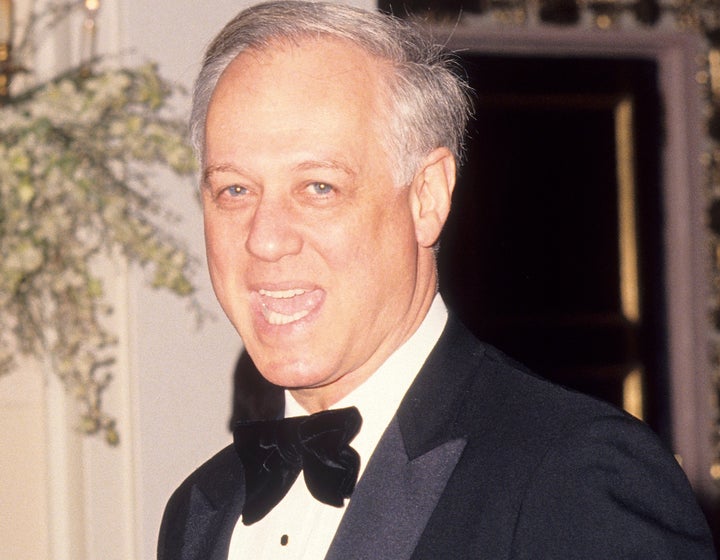 Republican presidential nominee Donald Trump gave at least $45,000 to the campaign of Alan Hevesi, a New York state comptroller who later went to prison for his role in a pay-to-play bribery scandal, according to a Huffington Post review of campaign finance records.
The bulk of Trump's donations went to Hevesi's campaign for state comptroller, a race Hevesi won in the fall of 2002. In the fall of 2003, by which point Trump had given Hevesi $35,000, the city settled Trump's lawsuit, a decision that would have involved both the state comptroller ― i.e., Hevesi ― and the new city comptroller.
The city reduced the tax assessment for Trump's newest building by 17 percent and awarded the building a special tax abatement. In exchange, Trump agreed to subsidize 200 units of affordable housing in the Bronx. The settlement saved Trump $97 million in taxes he didn't have to pay, he later wrote in Trump: How To Get Rich.
Trump had donated small amounts to Hevesi during the course of Hevesi's decades-long career as an assemblyman and a comptroller. But the tens of thousands of dollars Trump gave between July 2002 and January 2004 had no precedent, and no postscript. According to finance records, after 2004, Trump never gave to Hevesi again.
During that same time, Hevesi began accepting bribes from a California businessman, Elliott Broidy, in exchange for steering state money to Broidy's financial management firm. Hevesi and Broidy both eventually pleaded guilty to felonies in the ensuing corruption scandal.
Broidy is now a major fundraiser for Trump's presidential campaign. He's also the vice chairman of Trump's joint fundraising effort with the Republican National Committee, called Trump Victory. During the time he was bribing Hevesi to steer him business, Broidy and his wife donated at least $126,800 to Hevesi's campaign war chest, more than double what Trump gave.
There's no evidence the contributions to Hevesi were bribes, or that anything untoward happened. But using his political donations to exercise influence over city and state governments has long been part of the way Trump does business. All told, Trump's 15 core building developments in New York have benefited from an estimated $885 million in tax breaks and subsidies since the late 1980s.
During Trump's greatest building years, in the 1980s and 1990s, he was known in New York power circles as a reliable political contributor. But by 2002, "Trump had faded as a giver in New York politics," says Trump biographer Wayne Barrett.
The $45,000 to Hevesi "was very much out of character for Trump at the time," Barrett told The Huffington Post. "I have no doubt that Trump had some sort of a reason to give, something he wanted."
The timing of Trump's lawsuit coincides almost exactly with the donations to Hevesi. But Trump's political contributions often overlap and intertwine with his business interests. For instance, in 2002 Trump also applied for (and received) $150,000 earmarked to help small companies recover from the Sept. 11 terror attacks. And he lobbied ferociously in 2002 and 2003 to block the expansion of Native American casinos in New York state because they drew customers away from his casinos in Atlantic City.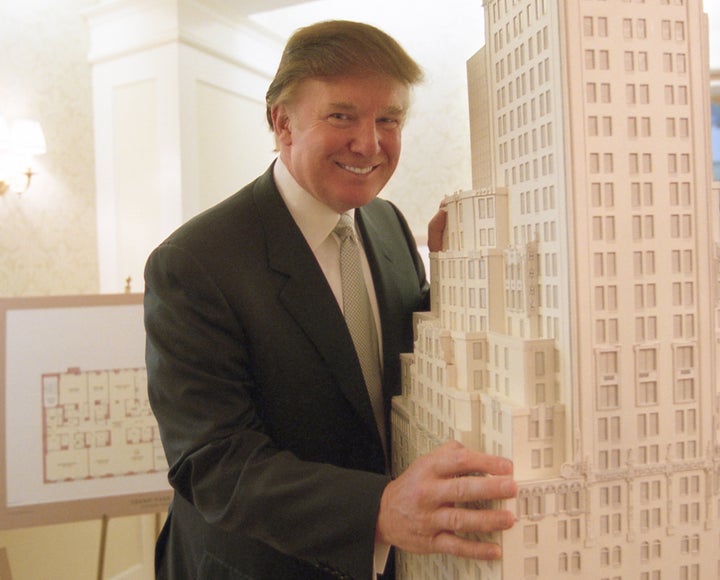 A spokeswoman for the Trump campaign did not respond to HuffPost's questions about Trump's contributions to Hevesi. HuffPost was unable to reach Hevesi, who was released from prison four years ago at age 72.
Trump has made no secret over the years about his use of campaign donations to influence public policy to benefit his business interests. "As a businessman and a very substantial donor to very important people, when you give, they do whatever the hell you want them to do," Trump told The Wall Street Journal in 2015.
Trump's donations to Hevesi between 2002 and 2004 all appear to have been individual donations, and there is no explicit indication of wrongdoing by either Trump or Hevesi.
But the glut of donations to a state official who oversees legal settlements, at the exact same time that Trump was pressing for just such a settlement, gives the impression that Trump was likely currying Hevesi's good favor in his case.
Other actions Hevesi took during his tenure as state comptroller made his name synonymous with official corruption. Between 2003 and 2005, Hevesi steered $250 million in state pension funds to Broidy's California investment firm, Markstone Capital Partners. In exchange, Broidy gave Hevesi and his colleagues hundreds of thousands of dollars in gifts, travel and campaign contributions.
Hevesi pleaded guilty in 2010 to having accepted the bribes, and was sentenced to a maximum of four years in prison. He served 20 months and was released in 2012. Broidy pleaded guilty to a felony count of rewarding official misconduct, but he did not serve jail time. Three years later, Broidy's felony was reduced to a misdemeanor.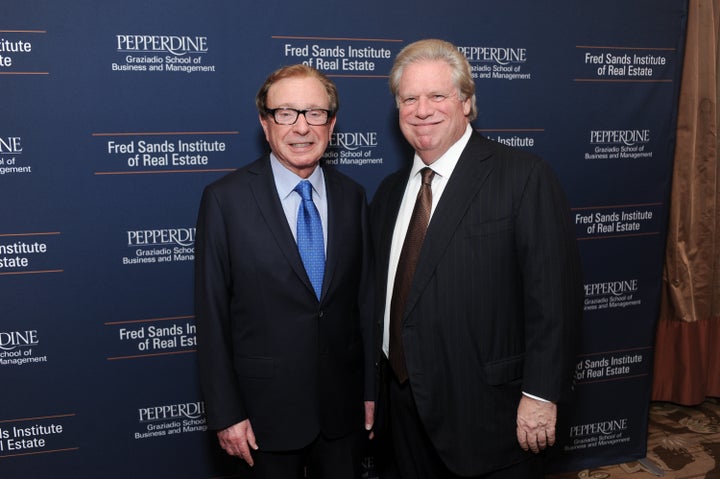 Although Broidy is no longer considered a felon, his role in the Trump campaign presents an interesting wrinkle, given that Trump himself has voiced objections to the idea of convicted felons having the right to vote. Trump accused Virginia Gov. Terry McAuliffe (D) of "getting thousands of violent felons to the voting booths in effort to cancel out the votes of both law enforcement and crime victims" during a campaign stop in the state earlier this year. "They are letting people vote in your Virginia election that should not be allowed to vote," he told a crowd in August.
A spokeswoman for Trump's campaign did not respond to HuffPost's questions about whether Trump thinks Broidy should be allowed to vote. An email to Broidy was not returned.
Trump's connections to Hevesi, Broidy and the corruption in New York feed into a narrative that Trump and his campaign have been trying to counter, but that political opponents believe is crucial to understanding the Republican nominee.
Trump is already facing criticism over another political donation he made, this one in 2013 to Florida Attorney General Pam Bondi. Like his contribution to Hevesi, a Democrat, Trump's donation to Bondi, a Republican, coincided with a legal problem the brash Manhattan businessman was facing. In that case, Trump used his charitable foundation to give $25,000 to a political action committee backing Bondi's re-election campaign.
The Bondi gift violated IRS rules that govern nonprofit foundations like the Trump Foundation, and prohibit them from donating to political committees. The gift also came a few days before it became public that Bondi's office was considering whether to pursue a case against Trump University, the Republican nominee's now-defunct seminar program. Bondi ultimately did not take any further action on Trump University.
"Trump's ties to decades of political corruption in New York, and his shady donations in Florida, all point to a candidate and a businessman who thinks he can use his money to make the government work for him," said Scott Dworkin, a senior adviser to the Democratic super PAC that uncovered the donations.
This article has been updated with additional details about Broidy's conviction and subsequent criminal status.
Sign up for the HuffPost Must Reads newsletter. Each Sunday, we will bring you the best original reporting, longform writing and breaking news from The Huffington Post and around the web, plus behind-the-scenes looks at how it's all made. Click here to sign up!
Before You Go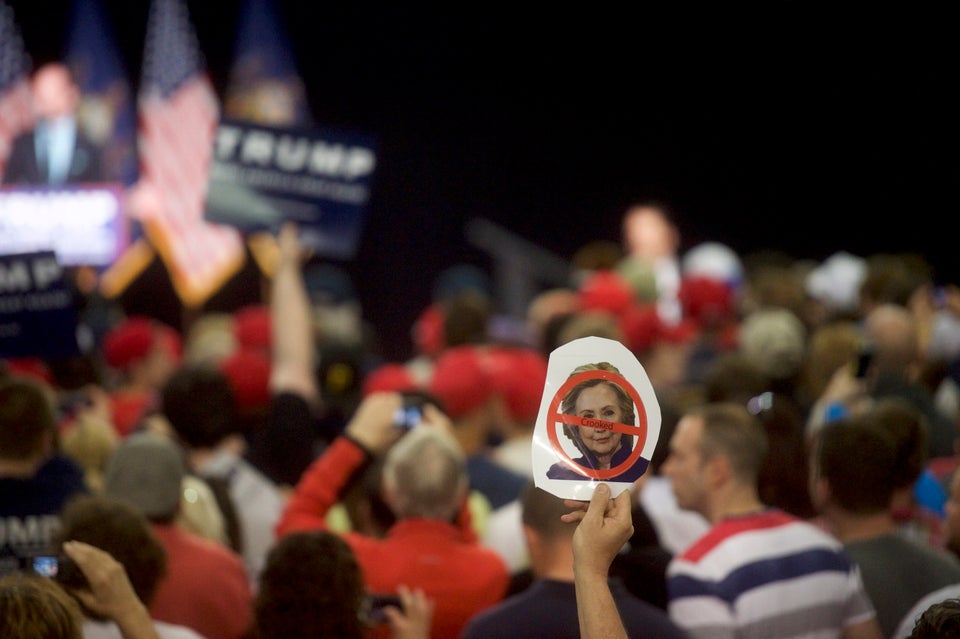 Donald Trump Is Name-Caller In Chief
Popular in the Community