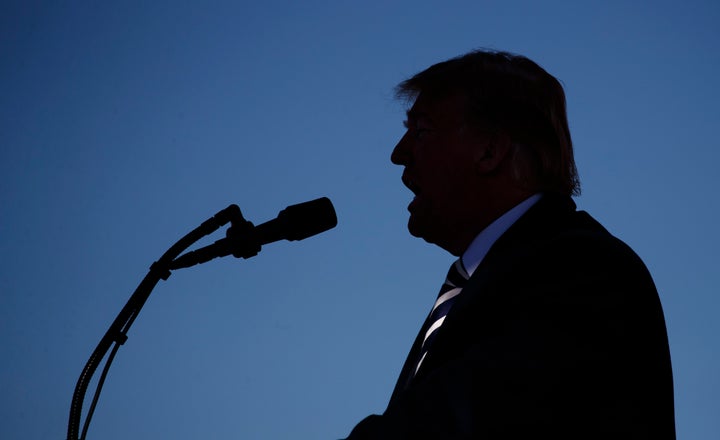 Continuing his efforts to rally support for Republican candidates ahead of the midterms, President Donald Trump on Saturday stopped in Elko, Nevada, where he pushed anti-immigrant sentiment, lied about supporting health care protections, and heaped praise on Supreme Court Justice Brett Kavanaugh for a cheering crowd.
In short, he doubled down on the messages he's been sending for weeks.
The event was full of claims that could use better context, clarification or outright correction. Here are five of the most notable:
1. Trump claimed without evidence that Californians are "rioting" in protest of "sanctuary cities."
"I don't think we like sanctuary cities up here," Trump told the crowd after criticizing Rep. Jacky Rosen (D-Nev.) on her immigration record. Rosen is running for the Senate against Republican incumbent Dean Heller, whom the president endorses.
Trump continued: "By the way, a lot of people in California don't like them either. They're rioting now. They want to get out of their sanctuary cities."
2. Trump once again said without evidence that the caravan of Central American migrants headed for the U.S. is full of criminals.
Trump returned to immigration at many points throughout his speech, particularly to stir up fears over a caravan of mostly Honduran migrants walking across Central America to the U.S. border in order to request asylum. He said, despite evidence to the contrary, that the group will bring waves of crime and drugs over the border.
"This country doesn't want them," Trump said of the caravan.
He also claimed to have "already figured out" what to do about the approaching group ― which is more than 3,000 strong ― but said he can't reveal his plan until after the midterms.
3. Trump stated that "Republicans will always protect people with pre-existing conditions."
With health care a major concern for voters, Trump and a number of other Republicans have gone on the defensive by repeatedly claiming they want to protect coverage for people with pre-existing conditions.
The Trump administration, however, is backing a lawsuit seeking to scrap pre-existing condition coverage as required by the Affordable Care Act, the Obama administration's signature health law.
4. Trump blamed the "fake news media" for his low approval ratings.
Trump bashed journalists once again, just two days after celebrating a Montana lawmaker who "body-slammed" a reporter for The Guardian. While Trump has always had a difficult relationship with journalists, the timing of that comment ― as it became all but certain a Saudi reporter who'd been living in the U.S. had been murdered by Saudi operatives ― earned him special criticism.
In Nevada, Trump said the "fake news media" is Democrats' "single greatest ally," pointing to reporters at the scene and eliciting boos from the crowd. If only the media were on his side, Trump said, his approval rating would be at "100 percent."
5. Dean Heller told the president everything he touches "turns to gold."
After an introduction by Trump, Heller took the stage to sing the president's praises, not mentioning the time Trump threatened the senator's seat unless he voted with the Republican majority on its attempt to repeal the Affordable Care Act.
"Mr. President, you know a little bit about gold," Heller said, recalling the importance of the state's mining industry. "In fact, I think everything you touch turns to gold."
Popular in the Community