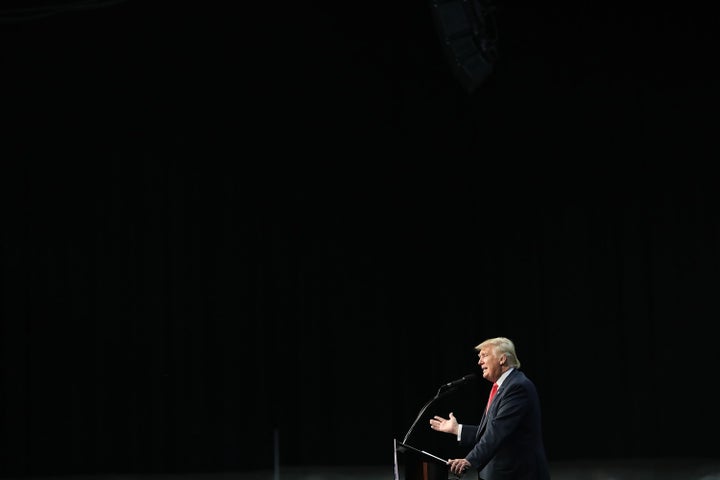 WASHINGTON ― Just a few pages into the Republican National Committee rulebook is some good news for officials horrified by Donald Trump's latest meltdown: It's not too late to replace him on the November ballot.
Now the bad news: Trump would have to quit on his own. His official nomination last month in Cleveland leaves the party no way to remove him.
"Nobody expects this to happen," agreed one top RNC member on the condition of anonymity. "This is dog days of August silliness."
Nevertheless ― and just in case ― top party officials have researched the process for replacing Trump, should he decide he's had enough. That Republicans are even bothering to bone up on the rules for such a contingency illustrates how badly the developer-turned-reality TV star's campaign has gone recently.
"Rule 9" of the party rulebook specifically addresses the filling of vacancies on the presidential ticket, and gives the power to the 168 RNC members ― three from each state and territory. The RNC could, if it chooses, hold another convention ― but that's considered highly unlikely, given the time constraints.
"It takes us two years to put on a convention," the RNC member said. "It would be a nightmare."
The alternative is for the RNC to pick a replacement nominee on its own, with each state getting the same number of votes as it had delegates to the Cleveland convention last month. Texas' three members, for example, would cast a total of 155 votes; Vermont's three members would cast 16 votes.
For weeks following the May 3 Indiana primary, where Trump's victory led his remaining rivals to drop out, RNC leaders have promised other Republican candidates, donors and the public that the party was already uniting behind Trump. The party convention, they predicted, would further unify the party to start the general election campaign against Democratic nominee Hillary Clinton.
That failed to happen. A number of Trump's primary foes would not even attend the convention, including the host state governor, John Kasich. Texas Sen. Ted Cruz, who did attend, used his prime-time speaking slot not to endorse Trump, but to urge delegates to vote their conscience ― which happened to be the rallying cry for the anti-Trump contingent who had been trying to strip Trump of the nomination.
The subsequent Democratic convention, apart from featuring a well-choreographed program that pummeled Trump as an unqualified menace, also hosted the Muslim parents of an Army captain who died in Iraq in 2004. The father, Khizr Khan, tore into Trump for his proposed ban on letting Muslims into the country and then offered to lend Trump his copy of the U.S. Constitution.
Trump reacted with a series of insults against the Khans. He suggested Ghazala Khan hadn't been permitted to speak because of their religion, and then complained that Khizr Khan had unfairly attacked him. Trump in the days that followed began claiming that the November election was already "rigged" against him, and broadened his attacks to include Republican officeholders, including New Hampshire Sen. Kelly Ayotte, Arizona Sen. John McCain and House Speaker Paul Ryan ― all the while continuing his complaints about the Khans. In a Fox News appearance Tuesday night, Trump said Khizr Khan had "viciously attacked" him from the DNC stage five times in a matter of several minutes.
On Wednesday, Trump did get through a rally in Daytona Beach, Florida, without mentioning the Khan family, suggesting Manafort or other aides successfully conveyed to Trump the seriousness of the party's discontent.
How long Trump can go without getting back into trouble is an open question. "His complete lack of focus and discipline, and the ADD that has brought him to his place is not something that can be solved overnight," said one White House aide privately, who added that his behavior has given Clinton's team a huge advantage. "The Democratic political world has seen how he responds to attacks. It's pretty clear that they can get in his head anytime they want."
He said, though, that he doubted that Trump would actually quit: "It's not his way to either apologize or give up."
Still, for Republicans who wished Trump had never run in the first place, his leaving the race remains a nice fantasy. "I think there's still a group that is wishing this is just a dream and they'll wake up and Marco Rubio or Scott Walker will actually be the guy," said Utah convention delegate Boyd Matheson, a Cruz supporter.
Matheson acknowledged that a Trump resignation would create its own set of problems ― not the least of which would be who the RNC would choose to replace him, and whether that person would be a caretaker whose job would be to avoid causing the party further damage, or whether there would be a serious attempt at winning the presidency.
"It might be a Paul Ryan moment," Matheson said. "Maybe we'll capture lightning."
Calling all HuffPost superfans!
Sign up for membership to become a founding member and help shape HuffPost's next chapter