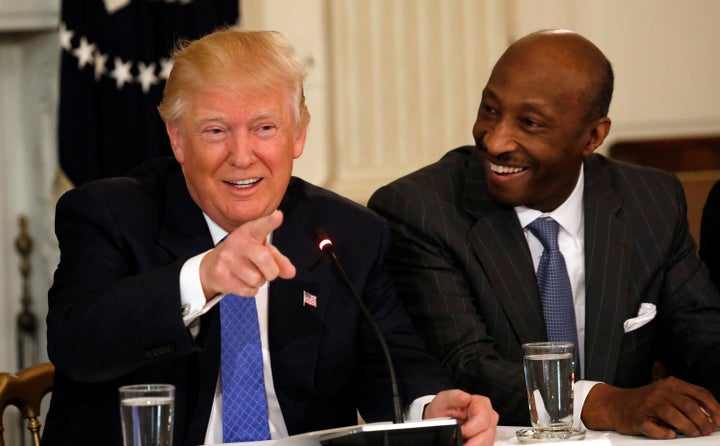 "The cost of medicine in this country is outrageous," President Donald Trump said at a rally in Louisville, Kentucky, two months after his inauguration. He went on about how identical pills have vastly lower price tags in Europe.
"You know why?" the president asked, before spreading his hands wide. "Campaign contributions, who knows. But somebody is getting very rich."
The next day, drugmakers donated more money to political campaigns than they had on any other day in 2017 so far, according to a Kaiser Health News analysis of campaign spending in the first half of the year, as reported in Federal Election Commission filings.
Eight pharmaceutical political action committees made 134 contributions, spread over 77 politicians on March 21. They spent $279,400 in all, showering Republicans and Democrats in both legislative bodies with campaign cash, according to FEC filings.
Brendan Fischer, who directs election reform programs at the Campaign Legal Center, said he found the timing of the contributions interesting: "I think it's entirely possible that the drug companies sought to curry favor with members of Congress in order to head off any sort of potential attack on their industry by the press or by the federal government."
A spokeswoman for Merck, the most generous of the pharmaceutical companies on March 21, said the contributions were "not tied to specific events."
"Decisions on contributions are made at the beginning of a cycle and are approved by a contributions committee," Claire Gillepsie said. A White House official referred requests for comment to the presidential campaign, which did not respond.
During the Louisville rally, Trump also promised to lower drug prices, and pharmaceutical stocks tumbled afterward.
Although drug industry PACs have different structures and protocols, they are equipped to mobilize quickly to disperse funds to legislators.
"Writing a check doesn't require much beyond putting pen to paper," Fischer said.
FEC records show Merck's PAC led the way that day, donating $148,000 to 60 candidates on March 21. House Speaker Paul Ryan (R-Wis.) received three maximum contributions to his various PACs from the drugmaker, totaling $15,000. Behind him with $7,500 was Sen. Tom Carper (D-Del.), who sits on the Senate Finance Committee.
Companies may donate funds or lobby ahead of impending legislative issues and executive orders, or they may react to something a politician says.
"Presidents get a lot of attention to what they say," said former congressman Lee Hamilton, who founded the Indiana University Center on Representative Government after three decades in the U.S. House. "[Companies] have to react to that and defend the drug prices."
Overall, FEC records show Merck spent $242,500 on campaign contributions and $3.7 million on lobbying in the first half of 2017.
"Presidents get a lot of attention to what they say. [Companies] have to react to that and defend the drug prices."
The drugmaker, which makes diabetes pill Januvia, cancer drug Keytruda and shingles vaccine Zostavax, responded to outrage over drug prices earlier this year by revealing on its website that the average list prices of its drugs increased from 7.4 percent to 10.5 percent each year since 2010. Merck said discounts and rebates also increased, meaning it took home less money. But Thomson Reuters pointed out that the price increases outpaced inflation.
FEC records don't indicate why a company donated to a politician or what that contribution led to, but when House Democrats accused Rep. Jason Chaffetz (R-Utah) of failing to schedule a hearing on prescription drug price hikes in 2015, The Intercept pointed out that the pharmaceutical industry had been among Chaffetz's top campaign contributors.
Pharmaceutical lobbying dollars have also swelled in 2017, Kaiser Health News has previously reported. In their disclosures, drug companies listed tax reform and drug pricing among issues on which they lobbied Congress.
March 21 was also the date of the National Republican Congressional Committee's annual fundraising dinner, featuring Trump as keynote speaker. The event, which raises money for House Republicans, drew a record-breaking $30 million from a variety of industries, the NRCC reported.
But on that day, drugmakers also gave generously to Democrats and senators, according to FEC filings.
Pfizer and Novo Nordisk PACs donated $76,900 and $38,500 on March 21, respectively, to several dozen candidates on March 21, according to their filings. Five additional pharmaceutical PACs spent between $1,000 and $5,000 on contributions that day.
The companies say the timing was a coincidence. A Novo Nordisk spokesman said the March 21 contributions from its PAC had been scheduled in advance "and in no way were tied to any specific statement."
Pfizer spokeswoman Sharon Castillo said it takes three to four weeks to orchestrate and approve a PAC contribution.
Pfizer's PAC has donated more than any pharmaceutical PAC in 2017, contributing $418,400 in all — nearly 70 percent more than the first six months of the 2015 election cycle, according to FEC records. In February of this year, the company's CEO was among several executives from drugmaking firms and other global companies to sign a letter to Congress in support of tax reform. In December 2016, Pfizer received a letter from the Senate Special Committee on Aging, asking it to explain its price increases for the opioid overdose reversal drug, naloxone.
"Pfizer is committed to addressing the prevention, treatment, and effective response to the growing opioid abuse in the United States," Castillo said, adding that the company is donating up to 1 million naloxone doses and $1 million in grants toward opioid addiction awareness efforts.
Novo Nordisk has spent $178,000 on campaign contributions so far this year, or nearly four times more than it spent in the first six months of 2015, according to its filings with the FEC. The company is one of the top three insulin makers, and in July, Sen. Amy Klobuchar (D-Minn.) sent letters to the companies asking them to justify their price increases. In November, Sen. Bernie Sanders (I-Vt.) and Rep. Elijah Cummings (D-Md.) asked the Justice Department and the Federal Trade Commission to investigate the insulin makers for possible price collusion. The companies have denied the allegations.
"From the public record, you can't tell for sure" what prompted the spike in political contributions from pharmaceutical companies, said Tony Raymond, a former FEC analyst who founded Political Money Line to track campaign finance. The PACs could have been "killing two birds with one stone" by donating to legislators across the board on the night of the NRCC fundraiser, or they could have been responding to what Trump had said.
"We're talking about a couple phone calls," he said, "and then they could courier a check over to someone."
Kaiser Health News, a nonprofit health newsroom whose stories appear in news outlets nationwide, is an editorially independent part of the Kaiser Family Foundation.
Popular in the Community