Demonstrating a reticence to condemn that he hasn't afforded to protesters, President Donald Trump on Saturday dodged a question about Kyle Rittenhouse. The Illinois teenager and Trump supporter has been charged with homicide in the shooting deaths of two demonstrators in Kenosha, Wisconsin.
Donald Trump Jr., meanwhile, retweeted a supportive message about Rittenhouse.
When asked about the shootings by a reporter, Trump responded: "You know that's under investigation right now, and they'll be reporting back to me ... 48 hours maybe max, and we'll have a comment about it. ... We're looking at it very, very carefully."
A reporter who had interviewed Rittenhouse earlier the day of the shootings told police the teen did not seem capable of handling his gun — an AR-15 — "very well," according to the charging documents against him. The journalist also recounted that he saw Rittenhouse aim and fire at one of the victims, who did not appear to be armed, according to the documents. An older, unidentified armed man nearby earlier said he was there to "protect" Rittenhouse, the journalist recalled in his police account.
Some on the right are supporting, even lionizing, Rittenhouse.
The original poster, YouTuber Tim Pool, said Rittenhouse is a "good example of why I decided to vote for Trump."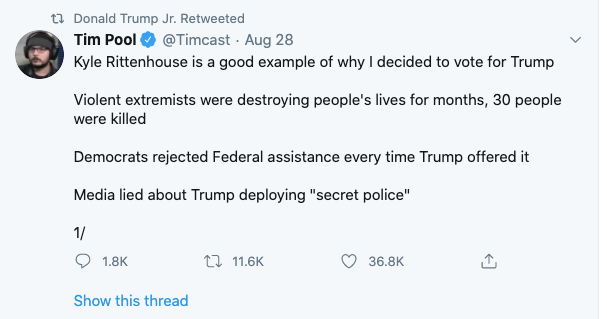 Popular in the Community