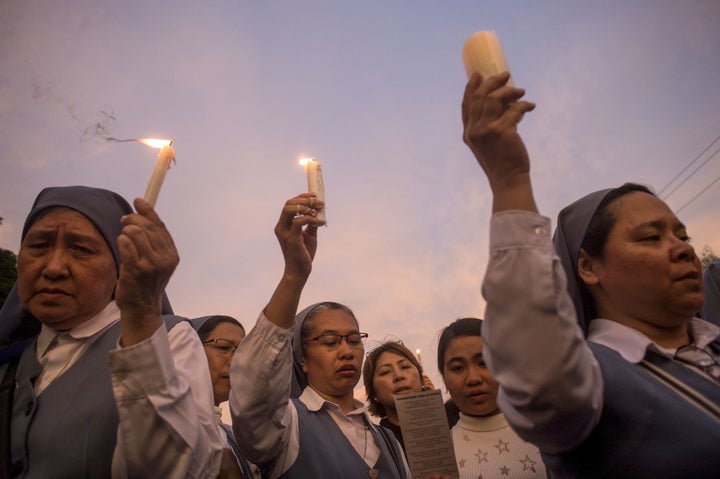 WASHINGTON – Philippines president Rodrigo Duterte has been accused of ordering the killings of thousands of his citizens in his "war on drugs." He has told human rights activists he will have them shot, too, if they protest. He has imprisoned his critics.
And in the coming days Duterte will get a face-to-face meeting with Donald Trump as the U.S. president wraps up his current trip to Asia. The two leaders, according to the White House, have established "a warm rapport."
"It's incredibly troubling," said Joanne Lin, an Amnesty International official. "If you look at Duterte's record, he has overseen this campaign of extrajudicial killings. The evidence is overwhelming."
It's evidence that Trump's own State Department cited in its annual human rights report released earlier this year, which found that Duterte targeted government officials, police, members of the military and judges, accusing them of being drug dealers.
Duterte's government, the report said "has not revealed the source" of the information backing up the drug-dealing accusations, "and the accuracy and legitimacy of the lists has been questioned."
"Some individuals named on the lists were subsequently killed in either police operations or suspected vigilante killings," the report said.
A senior administration official nevertheless said Trump was eager to meet with Duterte.
"They've had exchanges of letters," the official said, speaking on the condition of anonymity. "I think there's a warm rapport there, and he's very much looking forward to his first in-person meeting with President Duterte."
Duterte is only the latest in a line of authoritarian leaders accused of human rights abuses with whom Trump has met and ― more to the point ― praised. The others:
Egypt's President Abdel-Fattah el-Sisi, who according to human rights groups, imprisoned thousands of dissidents and sanctioned the killings of some 800 protesters in a single day after seizing power in a coup. Trump said Sisi had done "a fantastic job in a very difficult situation."

Russia's President Vladimir Putin, who has remained in power nearly two decades as his political opponents and critics – including journalists – have been imprisoned or assassinated. Trump during his presidential campaign praised him as a better leader than then-President Barack Obama. Since taking office, Trump has continued to speak kindly of him, even as an ongoing investigation into Putin's efforts to help Trump win the election have started to yield criminal charges.

Turkey's President Recep Tayyip Erdogan, who has imprisoned thousands for alleged involvement in a failed coup attempt last year as he continues cracking down on dissent. A referendum Erdogan pushed earlier this year to increase his powers was nearly universally condemned around the world, but won a congratulatory phone call from Trump.

China's President Xi Jinping's regime routinely spies on its own citizens and jails dissidents. Xi recently engineered a second five-year term for himself as leader of the Communist party, and got his name enshrined in the country's constitution. Trump in a recent statement congratulated him on his "great political victory."

Saudi Arabia's King Salman bin Abdulaziz Al Saud and his son, Crown Prince Mohammed bin Salman, who late last week had arrested other princes and their allies, accusing them of corruption. Over the summer, they arrested clerics and other critics of their regime. Trump's son-in-law, top White House aide Jared Kushner, was reportedly involved in planning the recent purge, and Trump personally endorsed it. "I have great confidence in King Salman and the Crown Prince of Saudi Arabia, they know exactly what they are doing," Trump said on Twitter.
"He keeps congratulating authoritarians for doing non-democratic things," said Ilan Goldenberg, a top official at the Pentagon and the State Department under Obama. "You don't make congratulatory calls for purges. You make congratulatory calls to people who win democratic elections."
Trump's national security adviser, H.R. McMaster, said Trump does bring up human rights concerns, just not in public remarks. "We've seen him do it quietly in every relationship," McMaster said. "And so how much does it help to yell about these problems? It hasn't really delivered in recent history, anyway."
Lin, the Amnesty International official, said that publicly calling out human rights abusers has been something that U.S. presidents have been doing for decades. "This president has shown little interest, to put it mildly," she said. "Human rights and refugee protection are not top of mind for him at all."
Duterte on Wednesday bluntly answered Filipino reporters who asked how he would respond if Trump questioned his human rights record during their meeting.
"Lay off. That is not your business," Duterte said he would tell Trump. "That is my business. I take care of my country and I will nurture my country to health."
Lin said Trump's meeting with Duterte is a particularly galling because the Filipino president has been so open about his lack of interest in following social norms. "He's even said he would pardon police who are convicted of crimes," Lin said, but then laughed. "Which sounds so ludicrous, except that's what our president has done."
Lin was referring to Trump ally and former Arizona Sheriff Joe Arpaio, who was convicted of contempt of court but was then pardoned by Trump. That willingness to override the rule of law, said Goldenberg, suggests that the core problem may be that Trump relates more with authoritarian rulers than he does with democratically elected ones.
Goldenberg pointed to a recent interview in which Trump complained that he is not permitted to direct the Department of Justice and the FBI to investigate his political enemies. He added that Saudi King Salman's creation of an "anti-corruption committee" to justify his recent purge probably piqued Trump's interest.
"You can imagine Trump reading that and thinking: 'That sounds like a good idea,'" Goldenberg said. " 'Why can't I do that?'"
He also said that the damage to America's standing around the world from Trump's attitude will be considerable. "When there's no difference between us and Russia and China in these democratic values, what do we have?" he said. "That is the one thing we have to offer. And when we lose that, what is our advantage?"
Popular in the Community