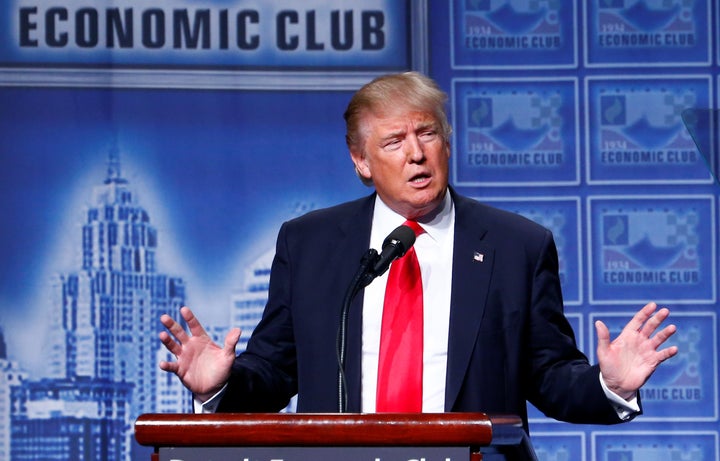 After spending a week picking a fight with the parents of a fallen soldier, Donald Trump on Monday tried to reinvigorate his campaign with an economic policy speech that lacked detail and didn't deviate much from his previously described plans.
Trump's camp had hyped the speech at the Detroit Economic Club as a turning point after a week of slumping polls, with the goal of re-energizing the campaign. But in a scripted message, he offered a few variations on his previously proposed economic policies, along with a milder version of the dire message about a declining America that he's been serving up for months.
Trump's campaign on Monday pulled down his old tax plan from his website, and replaced it with the text of his Detroit speech. The original plan would have capped income taxes at 25 percent and long-term capital gains and dividends at 20 percent, while adding $12 trillion to the national debt.
In its place, Trump offered the same basic ideas, with some slightly shifted details. More details, he said, would be provided "in the coming weeks."
He also offered some of his usual refrains: Trump lamented that the country had strayed from an "America First" policy; bemoaned that skyscrapers had been built in Beijing and refugees had been accepted into the U.S.; and called the unemployment rate a hoax.
"All of our policies should be geared towards keeping wealth inside the United States," he said.
Trump is struggling in the polls after spending the last several days insulting the Gold Star family and refusing to endorse prominent Republicans for office.
On Friday, he rolled out an economic advisory team that was full of white men named Steve, ardent free trade advocates and campaign donors. While the group lacked the actual economists and tax experts you'd expect to develop a typical Republican presidential candidate's policy plan, it had people who could at least be trusted to deliver a pretty good imitation of one.
The campaign hoped Monday's economic policy announcement would offer something of a turning point. Trump's speech contained plenty of good news for millionaires: He called for eliminating the estate tax, cutting regulations "massively," halting any new federal regulation and cutting the business tax rate to 15 percent from just under 40 percent.
Trump did seem to offer a tiny concession to fiscal sanity by saying he would lower individual tax rates to a simplified system of 12, 25 and 33 percent. The 33 percent would be a big break for top earners, who are currently taxed at a rate of 39.5 percent. But it's also a tax increase from Trump's initially proposed rates of 10, 20 and 25 percent, which were far beyond what any Republican presidential candidate was proposing.
For good measure, Trump tossed in a child care deduction that would help wealthy people lower their tax bills, while not actually helping people who can't afford child care.
In other words, for all the talk of Trump's unique appeal to disaffected white men without college degrees, his new economic policy offers a heaping dose of what purportedly alienated them.
Trump's speech didn't include some of his most common rhetoric: racist and xenophobic threats that have engaged his base. He left out his trademark promise to implement huge new tariffs on goods imported from China and Mexico by American companies, as well as his astronomically expensive plans to deport all 11 million undocumented immigrants, ban Muslims from entering the country and build a wall across the nation's southern border.
Why would Trump fail to talk about his core economic policies in a speech that was supposed to morph his campaign into something more moderate and acceptable? A Bloomberg News section headline provided a terse explanation: "Donors Watching.
Related
Before You Go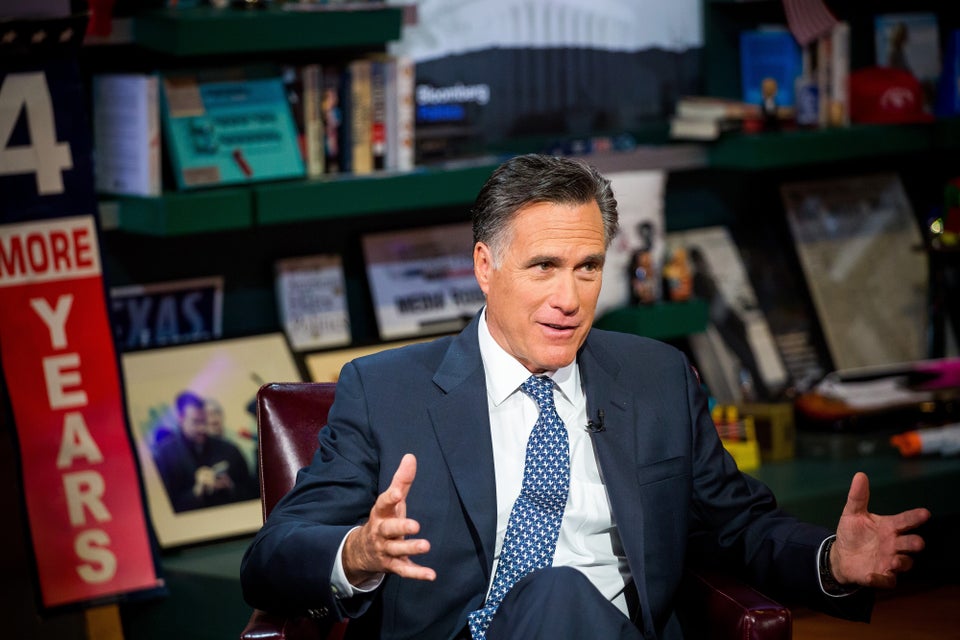 Republicans Who Have Refused To Back Donald Trump
Popular in the Community