Julie Rine has been teaching for 20 years, and since that time, she has endured a number of personal and national tragedies. She's dealt with the death of her husband. She witnessed 9/11.
And yet, Wednesday was the hardest day of teaching she's ever experienced. It was the day after Hillary Clinton lost the presidency to Donald Trump.
For months, Rine has watched as high school students in her small, conservative, Ohio town mimicked the Republican's negative rhetoric. Rine, who teaches English, overheard students talking between classes about "building a wall," even in front of their friends of Mexican descent.
The students don't do it to specifically bully others, Rine says ― they're just parroting what they see in the media. But it worries her.
"I don't think they realize that's hurtful to other kids," she said.
Like much of the nation, Rine, a Democrat, thought Clinton would win the election, allowing her and her fellow teachers to move on. But she was wrong, and Trump prevailed. She fears for her students' futures.
"If we are already fighting the hurtful effect of comments when kids repeat what Trump has said in the campaign, I can't even fathom what we will be fighting after four years of his hateful rhetoric," said Rine.
In April, the Southern Poverty Law Center released a report on the "Trump effect," describing how the businessman's racially-charged rhetoric coincided with an uptick in school bullying. In the report ― based on anecdotes from teachers, not empirical data ― teachers described the schoolyard harassment their students of color and Muslim students were increasingly subjected to.
Now that Trump has successfully attained the nation's highest office, educators are grappling with the fact that a Trump presidency could further embolden school bullies.
Katelyn, a social studies teacher in Connecticut who didn't want to use her full name for fear of retribution, has seen the Trump effect's impact on both students and parents. Her school doesn't allow teachers to talk about the election directly, but even talking about elements of the democratic process ― like the electoral map ― has become fraught with tension this year.
"From some kids, there was genuine concern. I have Hispanic students. They're not immune to the election and what went on for the last 15 months," Katelyn said. "If someone has a question, they feel like they can't even ask. I can see that. They feel like they're going to get shut down by someone shouting 'Hillary for handcuffs.' There was talk of assassination attempts from students supporting both Clinton and Trump."
Earlier this year, Katelyn drew parents' ire when she sent home a current events article about professional athletes protesting the national anthem. The reading wasn't meant to take a specific stance, but to give an overview of the situation and connect the protests to previous movements ― because "any time students can see present connecting to the past, it makes it more meaningful for them," Katelyn explained.
She soon learned that local parents didn't appreciate the effort. They started circulating her name and bad-mouthing her publicly on Facebook.
"I did feel threatened by parents," she said, connecting the incident to heightened political polarization nationwide. The parents accused Katelyn of promoting the Black Lives Matter movement, even though she says she had no such agenda. "It wasn't meant to be one sided at all, and it kind of got spun."
"This year, [I] spent a lot more time talking about some of the rhetoric and the idea that we need to be able to treat each other with respect regardless of differences."
In the Iowa middle school where Josh Brown works as a civics teacher, counselors have been working with some students to help them deal with mental health issues that have arisen during the campaign.
Brown says his students have been especially engaged in current events this year, but the classroom is not necessarily better for it. During the school's mock election, he found one student crying in the hallway. Someone had called her "ignorant" for voting for Clinton.
Earlier in the year, one of Brown's students of Mexican descent was targeted for her heritage. "A student went after her, telling her, 'We need to build that wall and get rid of you.' Having that conversation, it was not something I was expecting to have to do this year," said Brown, who has taught civics for over a decade.
"We've taught the election before and had great conversations around the issues," he added. "This year, [I] spent a lot more time talking about some of the rhetoric and the idea that we need to be able to treat each other with respect regardless of differences."
On Tuesday, Brown said he was nervous that a Trump win would validate some of the bullies' behaviors. On Wednesday, though, things went better than expected. Students on either end of the political spectrum were largely respectful of each other, he said.
"Some of my students are still very worried. I told them, 'Today is not the day to worry,'" Brown said. "There will be conversations going forward, and we can have disagreements on policies, but we need to work together to come together and care for one another right now."
Support HuffPost
The Stakes Have Never Been Higher
Before You Go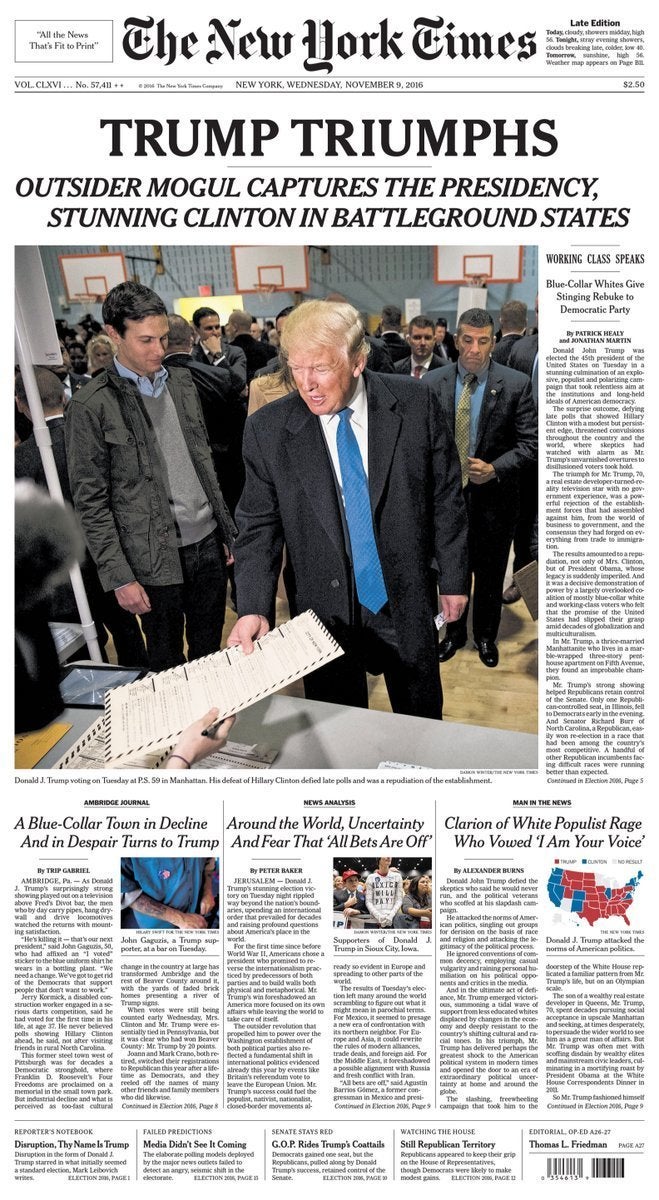 Newspapers React To President Trump
Popular in the Community