"We have been trying to reach out to get the $570,000 from when he had his campaign" rally two years ago, El Paso County Judge Ricardo Samaniego told local NBC affiliate KTSM-9 TV earlier this week.
If Abbott "helps us collect" the money Trump owes, "that would be real nice," Samaniego added. (Check out his remarks in the video above.)
Trump racked up the hefty bill for his "Make America Great Again" rally on Feb. 11, 2019, at El Paso County Coliseum. Local authorities provided security, transportation, emergency and traffic services, and the bill was due in April that year.
The Trump campaign hasn't yet paid a dime. It owes the El Paso police department more than $381,000 alone. Michael Glassner, the CEO of Trump's campaign, told ABC two years ago: "We are reviewing" the bill.
"It shows a lack of concern for the community and the tax-paying voters of El Paso," city Rep. Alexsandra Annello told the El Paso Times as Trump let the debt twist in the wind. Trump has "put a financial burden on this community," she complained.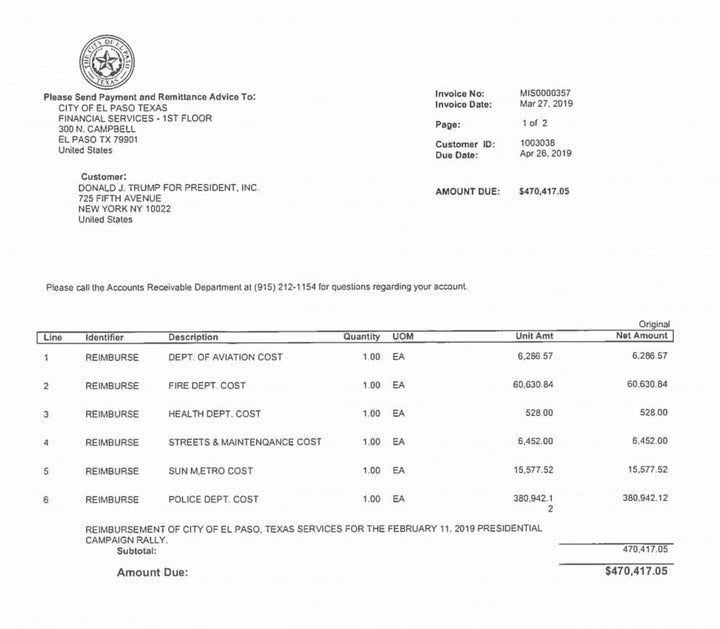 Trump announced early this week that he'd tour the Texas border wall at the governor's invitation on June 30. He called the border an "unmitigated disaster zone" under the Biden administration. Trump failed in his promise to erect a wall along the entire Texas border that he claimed Mexico would pay for.
Abbott wants to complete the wall and has offered $250 million in state taxpayer funds as part of what he calls a "down payment" to help finish the barrier, which has sparked a storm of controversy.
Samaniego said that money could be far better spent on health care and on COVID-19 vaccinations.
The Trump campaign still owes a number of cities money for costs it racked up during Trump's campaigning. Albuquerque, New Mexico, which hasn't yet received a penny of the $211,000 the Trump campaign owes, sent yet another invoice in April directly to Trump's Mar-a-Lago golf resort in a last-ditch bid to recoup expenses.
Popular in the Community