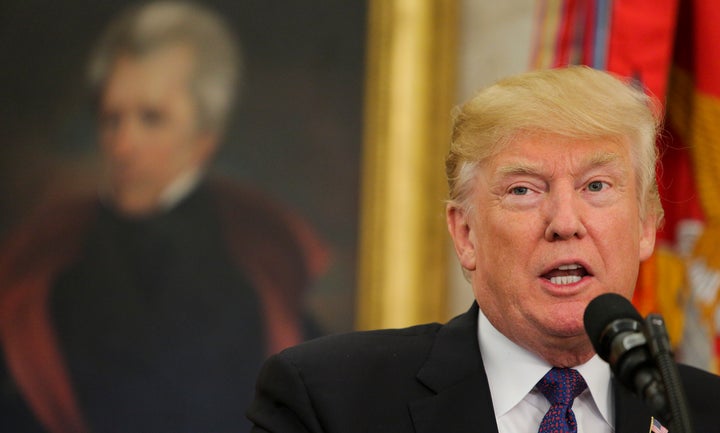 President Donald Trump has sabotaged his own Wall Street-friendly agenda by picking a fight with Sen. Elizabeth Warren (D-Mass.) over the leadership of the Consumer Financial Protection Bureau ― and he's embarrassing both himself and the financier faction of the Democratic Party in the process.
Two weeks ago, a group of key Democrats were clamoring to help the president ease restrictions on big banks. This wasn't just a handful of senators going rogue to shore up their 2018 fundraising; it was an organized bloc making a statement about the party's relationship with the financial sector ― particularly BB&T, SunTrust, Regions Bank and American Express, which would all be excused from Obama-era rules on "systemically important" institutions. The most recent Democratic vice presidential candidate, Sen. Tim Kaine (D-Va.), signed on to the plan, as did eight other swing-state Democrats, apparently convinced they could woo undecided voters in Trump country by publicly allying themselves with bank shareholders.
A separate bill helping payday lenders drew support from Sens. Mark Warner (D-Va.) and Gary Peters (D-Mich.), along with Reps. Gregory Meeks (D-N.Y.) and Gwen Moore (D-Wis.). Consumer advocates were apoplectic; Democratic leadership went silent.
And then, over the weekend, Trump tried to install his Office of Management and Budget Director Mick Mulvaney as the acting head of the CFPB. Suddenly, top Democrats were pounding Trump and his nominee as craven servants of Wall Street. House Minority Leader Nancy Pelosi (D-Calif.) attacked Mulvaney as a "pawn" of "predatory bankers." Senate Minority Leader Chuck Schumer (D-N.Y.) piled on, calling Mulvaney a "Trojan horse" on the Senate floor. Warren was giving TV interviews and hosting a press conference on the Hill with Schumer. Even American Bridge, the super PAC founded by the donor-class operative David Brock, was blasting Trump for selling out Main Street to Wall Street.
During his career in Congress, Mulvaney, a Republican from South Carolina, made no secret of his disdain for the CFPB. He's called it a "sick, sad joke" and argued that it shouldn't exist. The legal rationale for installing him at the agency is shaky. The 2010 Dodd-Frank law creating the bureau states pretty clearly that when the CFPB director resigns, the deputy director takes over until a presidential nominee for director is confirmed by the Senate.
Trump could always get around this restriction by just nominating his own director and waiting for Senate confirmation. But that takes time, the legislative calendar is tight and Democrats might filibuster the eventual nominee. Consumer advocates would rather have Deputy Director Leandra English ― or just about anyone other than Mulvaney ― in the post until then. (In Washington, if you can't kill a bad idea, the general strategic principle is to delay it and hope something better turns up.)
In the meantime, however, Trump has cast himself as the champion of the poor, downtrodden financial sector, tweeting over the weekend:
"The Consumer Financial Protection Bureau, or CFPB, has been a total disaster as run by the previous Administrations [sic] pick," the president said. "Financial Institutions have been devastated and unable to properly serve the public. We will bring it back to life!"
This is essentially the same argument made for the Kaine-approved deregulation package, except the case looks more professional when it's accompanied by section numbers instead of a tally of likes and retweets. Regulation has beaten banks into poverty, the argument goes, preventing them from making loans to help boost the economy.
American Bridge responded to Trump with criticism that could easily have been aimed at the deregulatory fervor that gripped much of the Democratic Party this month. "The big banks had record-breaking profits last year," wrote Andrew Bates, the group's communications director, in Politico's finance newsletter. "They aren't hurting, but millions of families are."
Bates was right. In the third quarter of this year alone, Wells Fargo posted a $4.6 billion profit, while Bank of America made $5.6 billion and JPMorgan Chase took home $6.7 billion. The banks that stand to make the most from the Senate deregulation bill are doing just fine, too. In the most recently reported quarter, BB&T turned a $597 million profit, SunTrust booked $512 million, Regions Bank clocked a $296 million haul and American Express earned a cool $1.4 billion.
Elizabeth Warren came up with the idea for the CFPB, and she hired its top staffers and organized the institution before she was elected to the Senate. Trump seemed to blame her for the headaches surrounding the Mulvaney appointment. Maybe that's why he attacked Warren at a Monday afternoon meeting with World War II veterans from the Navajo Nation, calling her "Pocahontas."
The Democratic establishment has rallied behind Warren while assailing Trump and his insult as racist, an argument that's difficult to dispute. Even Democratic National Committee Chair Tom Perez, whose tenure in that role has been one long attempt to neutralize the potency of the party's anti-corporate wing, came to Warren's defense Monday evening.
"What Trump displayed today was an embarrassment to our values and a disgraceful insult to the heroes of our history," Perez said Monday. "Our country deserves better than this."
So Trump has drawn battle lines that make it politically toxic for Democrats to join his deregulatory cause. For any banking issue on which Warren wishes to take a stand, it will be Team Warren vs. People Who Agree With The Man Who Calls People "Pocahontas" From Beneath A Portrait Of Andrew Jackson.
Politicians are willing to do very strange things to please donors, or even potential donors. But Trump has now asked them to completely humiliate themselves in the process ― for no reason.