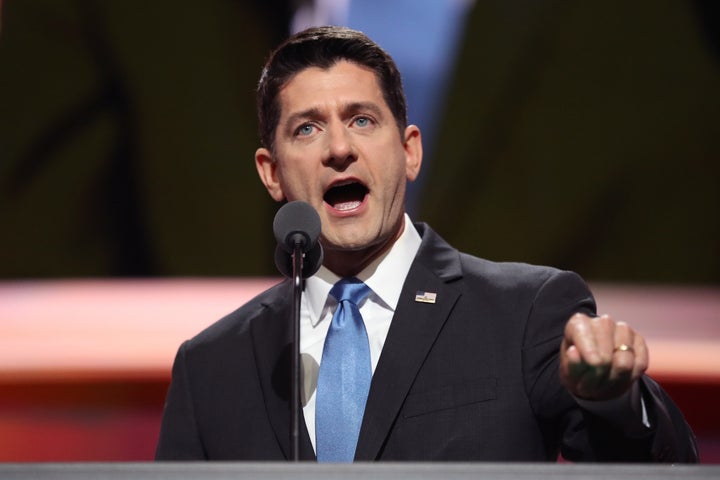 WASHINGTON ― Republican presidential nominee Donald Trump refused Tuesday to endorse the nation's highest-ranking Republican official, stiff-arming House Speaker Paul Ryan (Wis.) just a week before Ryan's primary against a tea party challenger.
Speaking to The Washington Post, Trump said he was still thinking about it, and seemed to deliberately mock Ryan by using words similar to the speaker's from May, when he refused to back Trump by saying he wasn't there yet.
"I like Paul, but these are horrible times for our country," Trump told the paper. "We need very strong leadership. We need very, very strong leadership. And I'm just not quite there yet. I'm not quite there yet."
Ryan did come around to Trump, and has stood by his endorsement even with each new Trump debacle, most recently The Donald's insults of the parents of slain Muslim U.S. Army Capt. Humayun Khan.
Zack Roday, a spokesman for Ryan, said later in a statement that the Ryan campaign was not too worried about Trump.
"Neither Speaker Ryan nor anyone on his team has ever asked for Donald Trump's endorsement," Roday said. "And we are confident in a victory next week regardless."
Trump also declined to endorse GOP Sens. Kelly Ayotte (N.H.) and John McCain (Ariz.). McCain, a former GOP presidential nominee, skipped Trump's convention and criticized Trump's attacks on the Khan family, even though he also is still standing by Trump. Trump's latest words should have made for an interesting meeting Tuesday evening between McCain and vice presidential nominee Mike Pence. McCain's primary is later this month. Ayotte's is in September.
Ryan's challenger, tea party-aligned businessman Paul Nehlen, was quick to pick up on Trump's slight.
"Since Speaker Ryan has aligned himself with Hillary Clinton's job-killing TPP, wage-depressing amnesty, and criminal jail-break legislation, it is no surprise to see Donald Trump refuse to endorse the Speaker, who is clearly opposed to Wisconsin workers' well-being and more interested in making his wealthy donors wealthier," Nehlen said in a statement. He was apparently referring to the Trans-Pacific Partnership trade deal, which Ryan backed until recently, immigration reform and criminal justice reform.
The primary is Aug. 9, and Trump's snub comes a day after he tweeted favorable words about Nehlen.
In the Post interview, the GOP standard bearer did not go so far as to endorse Nehlen, but he did have kind things to say, including that Nehlen was running "a very good campaign."
Nehlen's also been attracting significant support from tea party stalwarts.
Whatever the fervor on the right, however, Nehlen faces a daunting task in upsetting Ryan, who is broadly popular in Wisconsin. 
Ryan also has an enormous campaign war chest stuffed with nearly $10 million. And if he's worried about Nehlen, it doesn't show strongly in his spending, with just one major ad buy ahead of the primary worth about $200,000.
A loss by Ryan would be an even more remarkable upset than then-Majority Leader Eric Cantor's defeat by Dave Brat in his Virginia GOP primary in 2012.
And while Trump is the big dog of the GOP right now, he did not win Ryan's 1st Congressional District in the primary. Sen. Ted Cruz (R-Texas) topped Trump handily.
This article has been updated to include a comment from Ryan's spokesman.
REAL LIFE. REAL NEWS. REAL VOICES.
Help us tell more of the stories that matter from voices that too often remain unheard.
BEFORE YOU GO