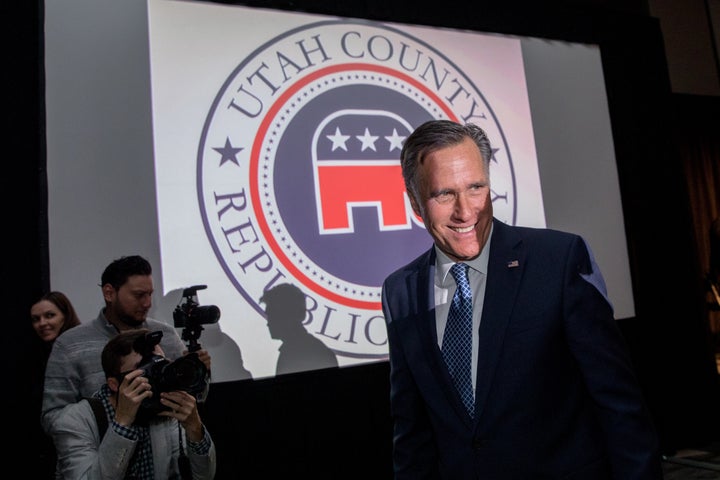 "He will make a great Senator and worthy successor to @OrrinHatch, and has my full support and endorsement!" the president said on Twitter.
Romney, the former governor of Massachusetts and the 2012 Republican nominee for president, formally announced last Friday that he would seek the seat that will be vacated by Sen. Orrin Hatch (R-Utah) later this year after 42 years in office.
Romney is expected to be a popular candidate in Utah, where he is remembered as the man behind the 2002 Salt Lake City Winter Olympics. A member of the Church of Jesus Christ of Latter-day Saints, he also enjoys strong support among Utah's large Mormon population.
However Romney, 70, was one of the most outspoken Republican critics of Trump during the 2016 election, and he bashed the then-candidate as a "phony" and a "fraud" after Trump failed to denounce white supremacists. Romney later said he couldn't vote for him or his rival, Democratic candidate Hillary Clinton, saying he wished Americans "had better choices."
"I see way too much demagoguery and populism on both sides of the aisle, and I only hope and aspire we'll see more greatness," he said in March 2016.
Trump fired back his own barbs, saying Romney "choked like a dog" during his own bids for the presidency. Some of that tension appeared to wane after reports that Trump was considering Romney to be his secretary of state, but the president has reportedly remained wary of Romney's allegiances and lobbied heavily for Hatch to run for re-election rather than retire. 
"We don't want to lose the seat, and this looks like a pretty formidable candidate," he said, noting that Romney's prestige would allow him to "come in here with a level of national identity and respect that will make him effective from Day 1."
During his candidacy announcement on Friday, Romney delivered some pointed critiques of lawmakers in Washington, D.C., including an overt attack on Trump's restrictive immigration plans.
"Utah welcomes legal immigrants from around the world," he said during his speech, noting the state "has a lot to teach the politicians in Washington."
Calling all HuffPost superfans!
Sign up for membership to become a founding member and help shape HuffPost's next chapter