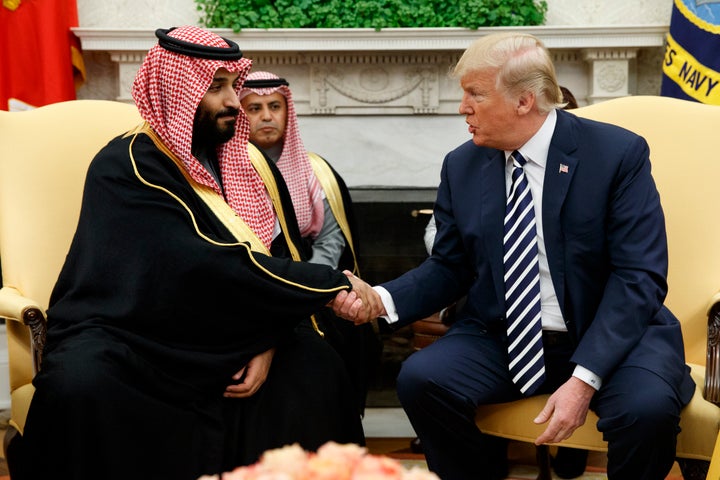 "This is unprecedented. I've never seen or heard of anything like this," Courtney Radsch, advocacy director at the Committee to Protect Journalists, said of the disappearance of Jamal Khashoggi.
A legal permanent resident of the United States and a contributor to The Washington Post, Khashoggi entered the Saudi Arabian consulate in Istanbul to receive some paperwork on Oct. 2 and never emerged. Published reports suggest he may have been killed at the behest of Saudi crown prince Mohammed bin Salman ― whom President Donald Trump has praised effusively since shortly after taking office.
Khashoggi has been a critic of the Saudi ruling family and wanted to start an organization promoting democracy in Arab countries. A Washington Post report, based on intercepted Saudi communications, indicated that bin Salman's government had previously tried to lure Kashoggi back to Saudi Arabia so he could be detained.
"Saudi Arabia has never been a bastion for press freedom," Radsch said, but added that Trump's repeated cries of "fake news" and "enemy of the people" have made life dangerous for reporters around the globe. "Anti-press rhetoric coming from the highest office of the land and the constant attacks on journalists have sent a message worldwide."
In recent days, Trump has said he wants to find out what exactly happened to Khashoggi. "We don't like it. And we don't like it even a little bit," he said Thursday during an Oval Office photo opportunity. He told "Fox & Friends" a few hours earlier, "I don't like it. I don't like it with respect to reporters. It is a terrible, terrible precedent. We can't let it happen."
But on Wednesday, asked specifically whether his use of the phrase "enemy of the people" ― made famous by dictators from Adolf Hitler to Joseph Stalin to Mao Zedong ― to disparage journalists may have contributed to Khashoggi's disappearance, Trump did not answer. Instead, he walked to his waiting limousine for a ride to a political rally.
Nicholas Burns, a former U.S. ambassador to Greece and then NATO under both Democratic and Republican presidents, said Trump's words cannot be directly linked to Khashoggi's fate. "That's the responsibility of the Saudi authorities if they murdered him," Burns said. "It's hard to make that connection to President Trump."
But he added that he disagrees completely with Trump's attacks on the media and said that Trump's more general failure to make human rights a priority is encouraging repressive regimes worldwide. "The president has not been a champion of human rights. When has he ever talked about it?" Burns said, noting that previous presidents of both parties regularly spoke on the topic and that their words made a difference. "It sent a signal that we were watching, and there would be repercussions."
Other foreign policy observers said Trump's words have clearly had an effect on the treatment of journalists abroad, very likely including Khashoggi.
"It's not only possible. It's a certainty," said former CIA analyst and National Security Council spokesman Ned Price, whose group National Security Action has put together examples of authoritarian leaders mimicking Trump's phrasing.
Syria's Bashar Assad, the Philippines' Rodrigo Duterte, Venezuela's Nicolas Maduro and Hungary's Viktor Orban have all used the phrase "fake news" ― a Trump favorite ― to attack negative coverage since the start of Trump's presidency. Russia's Vladimir Putin, whose spy agencies boosted Trump during the 2016 presidential election by disseminating actual propaganda on social media, has blamed both "fake news" and the "deep state" ― another Trump favorite ― for his difficulties in achieving a closer relationship with Trump.
In 2016, the term "fake news" was used to describe the propaganda being generated to help Trump and attack his Democratic rival, Hillary Clinton, in large part from a "troll farm" on the outskirts of St. Petersburg, Russia. But after his election, Trump began using it to describe news articles that reflected negatively upon him or his administration. He started calling the news media "the enemy of the people" at about the same time.
"A few days ago I called the fake news the enemy of the people, and they are — they are the enemy of the people," he told an audience at the Conservative Political Action Conference in February 2017.
"Despots and strongmen the world over have imported some of Trump's language to justify their own repressive actions," Price said. "People around the world once looked to America as a beacon. Increasingly, however, autocrats look to our president as a model."
Eliot Cohen, a top State Department official under then-President George W. Bush, said the message Trump has sent is terrible, both about journalists and everybody else. "I think the tacit encouragement is worse: It's clear he really does not care about human rights at all, even for American residents," Cohen said. "We'll see what happens when an American citizen who is not one of his supporters, or from a constituency that he is concerned about, is the victim. I'm not optimistic."
Trump, meanwhile, said that while he wants to get to the bottom of what happened to Khashoggi, he does not want that effort to interfere with planned arms sales to Saudi Arabia. "As to whether or not we should stop $110 billion from being spent in this country, knowing they have four or five alternatives, two very good alternatives, that would not be acceptable to me," he said in the Oval Office.
The president pointed out that Khashoggi is not an American and the incident did not happen in the United States. "Again, this took place in Turkey, and to the best of our knowledge, Khashoggi is not a United States citizen," he said.
Popular in the Community