The Environmental Protection Agency has outlined plans to undo a landmark Obama-era rule tightening fuel standards for vehicles, weakening the only major federal policy to reduce planet-warming emissions from the nation's top source of greenhouse gas pollution.
The decision, announced Monday in a press release, hands a victory to automakers who lobbied the Trump administration to declare the previous standard too strict.
"The Obama administration's determination was wrong," EPA Administrator Scott Pruitt said in a statement, adding that the standards were "too high."
At a press conference Tuesday morning, Pruitt, flanked by signs that read "CERTAINTY," "JOBS" and "EFFICIENCY," compared the nation's economic optimism over his deregulatory efforts to the excitement over a new baseball season. Three executives from auto industry trade associations joined Pruitt at the event. 
Pruitt, who is facing mounting calls to resign, heaped praise on President Donald Trump, who reportedly called the embattled administrator Tuesday morning to offer his support. 
The press conference was originally scheduled to be held at a Chevrolet dealership in Chantilly, Virginia, that is owned by Geoffrey Pohanka, an outspoken climate change denier and National Automobile Dealers Association board member. But other Chevy dealers, wary of associating the General Motors brand with the Trump administration's actions, convinced Pohanka to cancel the event, according to The New York Times. Instead, Pruitt hosted the conference in the EPA's historic Rachel Carson Green Room. 
Pruitt did not take any questions. 
The federal rule required vehicles to average 54.5 miles per gallon by 2025, nearly double today's standard. The new standard provided significant environmental and financial benefits if fully implemented. Under those rules, oil consumption would fall by 12 billion barrels, tailpipe emissions would halve and fuel efficiency would nearly double, saving consumers $3,200 to $5,700 in gasoline costs over a vehicle's lifetime. The regulation would have prevented 6 billion metric tons of planet-warming gases ― equivalent to a year's worth of pollution from 150 power plants ― from ever entering the atmosphere.  
In its 38-page finding, the EPA cited lower gas prices and changes to "consumer acceptance of advanced technology vehicles" as reasons the original determinations "no longer represent realistic assumptions." The agency also said it planned to reconsider how climate change factored in to regulation, noting that "the social cost of carbon" and "energy security valuation ... should also be updated to be consistent with the literature and empirical evidence." The memo made no explicit mention of climate change. 
Automakers agreed to the rule in 2012 as part of the first major overhaul of fuel efficiency standards since the 1970s. But the policy set an April 2018 deadline to review the standards and tweak them if they proved too expensive or impossible to meet. In January 2017, the Obama administration attempted to lock the regulation in place by issuing a positive assessment of the costs and feasibility of the regulations.
Despite overwhelmingly supporting the agreement seven years ago, carmakers began lobbying Trump to reverse the Obama ruling almost immediately after the 2016 election. Automakers missed their emissions target for the first time last year, even though they achieved record fuel economy, in part because the companies boosted production of gas-guzzling SUVs. 
Last March, the White House tossed the assessment out at an event in Detroit, insisting the analysis was rushed. Trump vowed to "restore the originally scheduled midterm review." The EPA's latest announcement is the result of that review.
The decision to rewrite the rule puts the EPA at loggerheads with California regulators, who agreed in 2011 as part of the rule to align their tailpipe emissions standards with the national levels. The deal guaranteed consistent mileage and emissions rules nationwide, allowing automakers to save money by manufacturing vehicles to one standard.
Undoing the rule threatens to upend that uniformity. Under the Clean Air Act, California is allowed to set vehicle emissions standards higher than the rest of the country, and with nearly 35.4 million registered vehicles, the state commands powerful influence over the American auto market. A dozen other states, including New York, Massachusetts and Pennsylvania, have historically followed California's lead. 
The EPA said the California waiver was "still being reexamined by" Pruitt's team.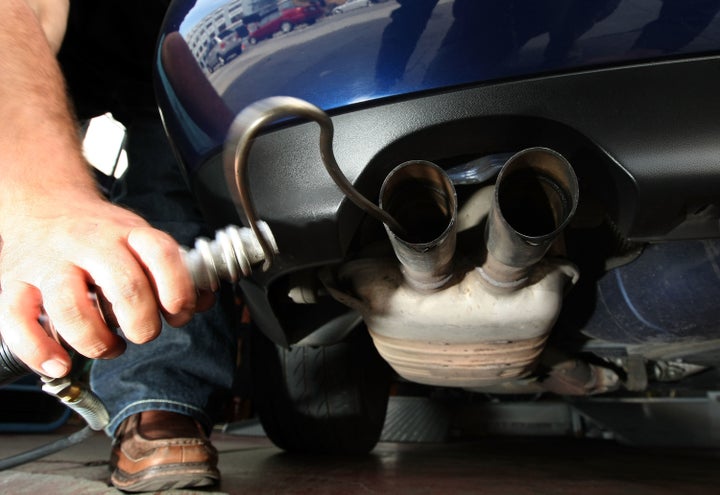 "Cooperative federalism doesn't mean that one state can dictate standards for the rest of the country," Pruitt said. "It is in America's best interest to have a national standard, and we look forward to partnering with all states, including California, as we work to finalize that standard." 
In a statement, California Attorney General Xavier Becerra said the state was prepared to take the White House to court. 
"We're not looking to pick a fight with the Trump Administration but when they threaten our values, we're ready," he said. 
The decision prompted sharp criticism from former EPA administrators. Carol Browner, who served as the agency's chief from 1993 to 2001, said Pruitt was wrong to cast California as wielding outsize influence over the regulations. She noted that the Golden State compromised on a number of rules, including a zero emissions vehicle program.   
"Nobody got everything they wanted," Browner told HuffPost by phone ahead of the announcement. "It was a negotiation. Nobody got precisely what they wanted but everybody got the certainty and predictability they needed."
Gina McCarthy, who served as EPA administrator from 2013 to 2017, said her successor seems more concerned with undoing anything enacted under President Barack Obama than "protecting air quality and public health." 
"This is all just another case of this administration wanting to make good on their political rhetoric and in this case not even wanting to make good for our own automakers," McCarthy, now the director of Harvard University's Center for Health and the Global Environment, told HuffPost. 
Some automakers came out against the EPA's decision last week. Ford Motor Company Chairman Bill Ford and CEO Jim Hackett said they opposed weakening the rules and called for ramped up efforts to decrease climate-changing emissions.
"We support increasing clean car standards through 2025 and are not asking for a rollback," they wrote in a blog post on Medium. "We want one set of standards nationally, along with additional flexibility to help us provide more affordable options for our customers."
In an interview with The New York Times, Robert Bienenfeld, an assistant vice president at American Honda Motor, said pointedly: "We didn't ask for that. The position we outlined was sensible." 
The automobile trade associations that pushed for lowering the standards may have bit off "more than they bargained for" by asking the new administration to reconsider the rules, said Fran Pavley, a former California state senator who helped negotiate the 2012 deal. 
"I'm deeply disappointed because I feel the Trump administration is using them to have a broader agenda than what they had intended," she told HuffPost by phone Monday. 
"We had an old saying in California during our original fight 15 years ago, challenging the automobile manufacturers to 'bring their engineers, not their lawyers,'" she added. "So, let's not go back to that." 
Still, Tuesday's announcement could be a windfall for other industries. The EPA suggested its new plan would provide incentives for ethanol and natural gas vehicles, according to talking points sent to conservative groups and published by E&E News. 
With the rollbacks, the spirit is willing but the flesh is weak.

David Doniger, Natural Resources Defense Council
The decision is also likely to face legal challenges from environmental groups.  
The Trump administration's onslaught against rules to cut planet-warming emissions has repeatedly hit snares in the courts.
The EPA never implemented the Clean Power Plan, the signature Obama-era rule to reduce emissions from the utility sector. But the law is still on the books, and the EPA has yet to propose a replacement that meets the legal requirements set by a 2007 Supreme Court ruling that found the agency is obliged to regulate any type of air pollution that "may reasonably be anticipated to endanger public health or welfare," including greenhouse gases.
The EPA and the Department of the Interior moved to eliminate Obama-era rules restricting methane emissions from gas drilling sites. But, last July, the U.S. Court of Appeals for the District of Columbia Circuit ruled against the EPA's plan to suspend the rule. In February, the U.S. District Court for the Northern District of California ruled that the Interior Department's plan to delay methane regulations was "untethered to evidence."
"With the rollbacks, the spirit is willing but the flesh is weak," David Doniger, senior director of the Natural Resources Defense Council's climate and clean energy program, said ahead of the EPA announcement. "They haven't accomplished that much."
"I don't want to sound Pollyanna, like everything is OK, but I want to emphasize that not that much has been turned around," he added.
The move comes amid growing pressure on Pruitt to resign. A coalition of environmental groups launched a campaign last week to oust Pruitt. One day after the initiative began, controversy erupted over Pruitt's sweetheart deal to rent a Capitol Hill condominium linked to a gas industry lobbyist. 
"I don't know how you survive this one, and if he has to go, it's because he never should have been there in the first place," former New Jersey Gov. Chris Christie (R), whose so-called "Bridgegate" scandal over politically motivated lane closures on the George Washington Bridge helped thwart his presidential ambitions, said Sunday on ABC News' "This Week."
This article has been updated with comments from Tuesday's press conference. 
Calling all HuffPost superfans!
Sign up for membership to become a founding member and help shape HuffPost's next chapter
BEFORE YOU GO
PHOTO GALLERY
Climate Marches Across The U.S.