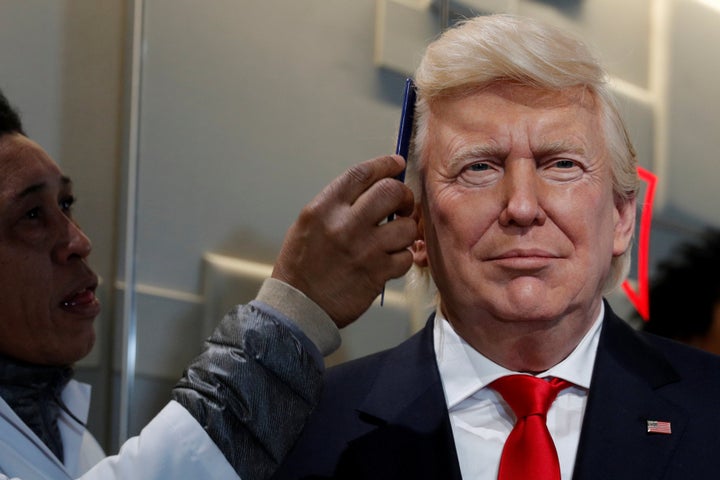 WASHINGTON ― On the last day of Barack Obama's presidency, hundreds of Republican National Committee members gathered at their annual winter meeting to elect a new leadership team and lay groundwork for the next campaign cycle.
As Donald Trump arrived in the nation's capital, hours away from assuming the most powerful office in the world, the GOP couldn't resist spiking the football. 
"I'm not bragging about it just to brag," said RNC chair Reince Priebus, after summing up the party's impressive victories in 2016. "I say this because the RNC's infrastructure was one of the most important cogs in the machine of victory this year."
"It is the Democratic Party," added his deputy chief of staff, Katie Walsh, "that is second-guessing themselves, their data and their mechanics."
Thursday's event, which was held a few miles from the White House, was largely a celebratory affair. The GOP had achieved what many had thought impossible after its stinging loss in the 2012 presidential election ― unified control of Washington and in many statehouses across the country.  
Jubilant party officials gathered to bid goodbye to Priebus, who will be Trump's White House chief of staff, and to elect his successor, Ronna Romney McDaniel. The niece of former GOP nominee Mitt Romney is only the second woman to hold the position. In her acceptance speech, she vowed to make the party more inclusive and promised to end Democrats' claim to "being the party of women."
In and around the halls of the Omni Shoreham Hotel, which hosted the meeting, nearly all RNC members who spoke with The Huffington Post expressed hope and optimism about Trump's incoming administration. And they flatly dismissed concerns about his ties to Russia, his many conflicts of interest and the ethics problems plaguing several of his Cabinet nominees.
America ought to give Trump a fair shake, they argued.
"I just see it as a red herring, all these ethics conflicts and other problems that seem to be dragged up," said Pennsylvania GOP chair Rob Gleason. "It's just part of our country becoming so polarized. Give the man a chance."
The country remains in the dark about Trump's finances. He has not made public his tax returns, and insists that he cannot do so because they are under audit. (In reality, there is nothing stopping him from releasing his tax returns.) Moreover, voters do not know how much money the businessman owes around the world. Nor do they know the extent of his business entanglements or the potential conflicts of interest that could arise as a result.
The Office of Government Ethics earlier this month called Trump's plan to address his business conflicts "meaningless." OGE called on the president-elect to fully divest his assets before he assumes the presidency on Friday. 
Helen Van Etten, a GOP committeewoman from Kansas, said such concerns about Trump's conflicts of interest ought to be viewed "in perspective."
"In general," an ethical government is "always a good thing," she said. "But did that apply in the past eight years? No."
Michigan GOP committeeman Rob Steele noted that the president is exempt from conflict-of-interest laws, as Trump himself has said. But the law does not mean it's impossible for Trump, or anyone in his Cabinet, to have any conflicts of interest at all.
"I think they firmly need to be vetted, to see if there's something there or not," Steele said, referring to Trump's nominees.
Few people at the event seemed worried about Trump's uncontrollable nature or his tendency to break with Republicans on key issues. In recent weeks, for example, Trump has called for universal health insurance and dismissed the North Atlantic Treaty Organization as "obsolete."
"NATO is a policy thing, and he can have his opinion on NATO. I don't think that's necessarily divisive," said Henry Barbour, a GOP committeeman from Louisiana.
Others continued to insist that it's just a matter of time before Trump moderates his behavior.
"I think he's got to get his sea legs. Like any other job, when you're new to the job, I think it's a learning experience," said Dan Welch, a GOP committeeman from Nevada. "I think he's doing a great job learning on the go right now. But it's going to take a while." 
Calling all HuffPost superfans!
Sign up for membership to become a founding member and help shape HuffPost's next chapter