WASHINGTON ― President Donald Trump's failure last year to disclose that he repaid his lawyer Michael Cohen for Cohen's pre-election payout to Stormy Daniels has been referred to the Department of Justice.
The Office of Government Ethics determined Wednesday that Cohen's payment to Daniels, which Trump repaid last year, constituted a loan that should have been reported on the president's June 2017 financial disclosure form. Trump did disclose the liability in a footnote to the form he filed Tuesday. The note claimed he did not have to make the disclosure, but was doing so anyway "in the interest of transparency."
In a letter to Deputy Attorney General Rod Rosenstein, acting OGE Director David Apol wrote, "You may find the disclosure relevant to any inquiry you may be pursuing regarding the president's prior report that was signed on June 14, 2017."
Knowingly and willfully falsifying or omitting required information on the financial disclosure form can be prosecuted as a criminal offense, punishable by as long as a year in jail.
Trump and his White House staff had for months denied knowing anything about Cohen's $130,000 payment to Daniels to buy her silence about the affair the porn star said she had with Trump a decade earlier. Trump's newest outside lawyer Rudy Giuliani finally admitted that Trump had repaid Cohen in a Fox News interview earlier this month.
The White House did not respond to requests for comment.
In a Wednesday interview with HuffPost, Giuliani continued to insist that Cohen's payment to Daniels ― which he previously described as the settlement of a nuisance claim ― was fully aboveboard.
"This is a perfectly legitimate thing," Giuliani said. "There's nothing wrong with it."
When asked why an ostensibly legitimate payment had been funneled through the newly registered Delaware shell company Essential Consultants, Giuliani said: "No, it wasn't." He then added that there was no need to list Trump's monthly payments to Cohen at all. "It was listed out of an excess of caution."
Both of Giuliani's assertions, however, are incorrect.
"OGE has concluded that, based on the information provided ... the payment made by Mr. Cohen is required to be reported as a liability," Apol wrote in his letter to Rosenstein.
The payment to Daniels ― whose real name is Stephanie Clifford ― was made on Oct. 27, 2016, by Essential Consultants LLC to her lawyer at the time, Keith Davidson, according to a copy of the wire transfer.
Essential Consultants was created by Cohen days earlier. He used it in the coming weeks and months to collect millions of dollars in consulting fees from corporate clients like AT&T, Swiss drugmaker Norvatis and Columbus Nova, which described itself as an affiliate of a conglomerate known to be owned by a Russian oligarch.
"Once again Mr. Giuliani has attempted to deceive the American people with this payment," said Michael Avenatti, Daniels' new lawyer, who is trying to break the nondisclosure agreement in court.
In a follow-up interview, Giuliani said that he did not know how Cohen had paid Daniels ― "Lawyers do things under LLCs all the time," he said ― and that he had correctly anticipated that the OGE would rule that Trump had needed to disclose the $130,000 as a loan. That is why, he said, he decided to disclose it himself.
The FBI and federal prosecutors from the Southern District of New York are investigating Cohen. They removed documents and electronic equipment from Cohen's offices using a search warrant last month, although he has not been charged with any crime.
Special Counsel Robert Mueller, meanwhile, continues his year-old investigation into possible collusion between Trump's campaign and Russian intelligence services, which were actively working to help Trump win in 2016.
Rosenstein appointed Mueller after Trump first fired FBI Director James Comey, and then shortly thereafter told both NBC News and Russian diplomats visiting the Oval Office that he had done so because of the FBI's Russia probe.
Trump has repeatedly called the Mueller probe a "witch hunt" spurred by Democrats angry that they had lost an election they believed they would win. Giuliani, who was once the U.S. attorney leading the office now investigating Cohen, makes that same argument and says news outlets that cover the Mueller investigation and the Stormy Daniels payment are treating Trump unfairly.
"The guy's making tremendous progress for us all over the world," Giuliani said of Trump. "You guys are worse than he says you are."
Mueller's investigation has so far resulted in the guilty pleas of five individuals, including three former Trump campaign staffers, and the indictment of 14 other individuals and three companies. That total includes 13 Russians, Trump's former campaign chairman Paul Manafort, and the Internet Research Agency "troll farm" that was used to create and disseminate propaganda to help Trump win.
Citizens for Responsibility and Ethics in Washington, which filed a complaint with the OGE and the Justice Department in March asserting that Cohen's payment to Daniels constituted a loan to Trump, filed a second complaint Wednesday.
"There is substantial evidence that President Trump had knowledge of the loan when he filed his 2017 [financial disclosure form] notwithstanding his failure to report it," read the complaint signed by Noah Bookbinder, CREW's executive director, and Norm Eisen, its chairman.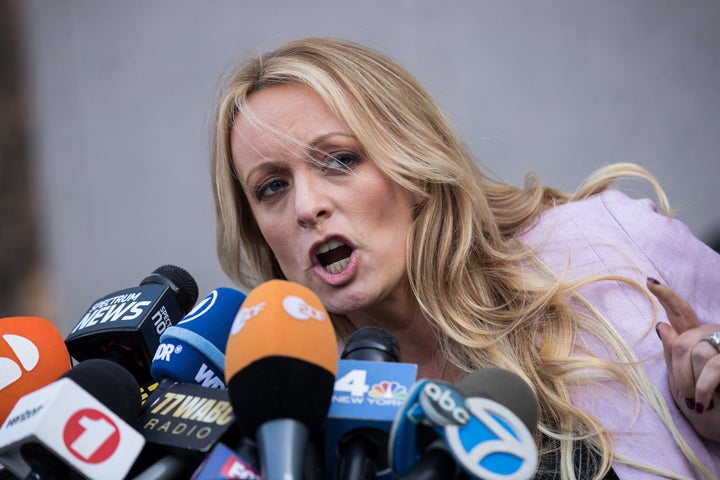 Popular in the Community