President Donald Trump lambasted Europe's immigration policies during an interview with The Sun, a British tabloid, on Thursday, saying an influx of migrants fleeing violence and seeking asylum has caused the continent to lose its culture and "changed the fabric of Europe."
"And I don't mean that in a positive way," Trump told the paper in a sit-down interview. "I think allowing millions and millions of people to come into Europe is very, very sad. I think you're losing your culture. Look around. You go through certain areas that didn't exist 10 or 15 years ago."
In recent years, some 1.8 million people migrated to Europe, many seeking asylum, setting off a continent-wide crisis and a wave of xenophobia and populism. European leaders are still struggling with how to handle the influx, and the issue has remained a top political issue, even though migrant arrivals have plummeted this year.
On Friday, Trump appeared to backpedal from his remarks to The Sun. A reporter asked him about the comments as he and May took photos ahead of their bilateral talks, and he pointed a finger, looked down and didn't answer the question.
He went on to say that he and May "probably never developed a better relationship" than during their dinner the evening before."
"The relationship is very, very strong, we really have a very good relationship," he added, according to the Press Association.
White House press secretary Sarah Huckabee Sanders also issued a statement overnight saying, "The President likes and respects Prime Minister May very much."
Trump arrived in the United Kingdom on Thursday amid widespread protests over his visit with May and on the heels of a frosty NATO summit. Picketers gathered outside the U.S. ambassador's residence, where Donald and Melania Trump were staying for the night, and outside Blenheim Palace, where they dined with May. A massive march is planned for Friday in London.
Many have gathered to protest Trump's policies on immigration, including his administration's travel ban on citizens from several Muslim-majority nations and America's zero tolerance policy on unauthorized immigration that led thousands of migrant children to be separated from their parents.
In his interview Donald Trump doubled down on his opposition to immigration regardless of legality, saying that asylum seekers and migrants strip countries of their culture and implying that immigrants are linked to an increase in terrorism.
"You have a mayor who has done a terrible job in London. He's done a terrible job," Trump said of London Mayor Sadiq Khan, with whom the president has had a long-running feud. "Take a look at the terrorism that's taking place. Look at what's going on. He's done a terrible job."
Trump continued, "I think that all of this immigration has really changed the fabric of Europe. Now, I speak as an outsider when I say that, but I speak as somebody who loves Europe, and I think it's too bad. I think he's done a very bad job on terrorism. I think he's done a bad job on crime."
"The very specialness of our relationship means that we expect the highest standards from each other, and it also means speaking out when we think one side is not living up to the values we hold dear," Khan wrote in a column in The Evening Standard on Thursday. "Like many Londoners I feel that now is one of those occasions."
Trump said this week he thinks the protests are "fine," adding that he believes "they like me a lot in the U.K." But his schedule will mostly keep him out of London during his trip and away from the chorus of protesters.
Liza Hearon contributed reporting.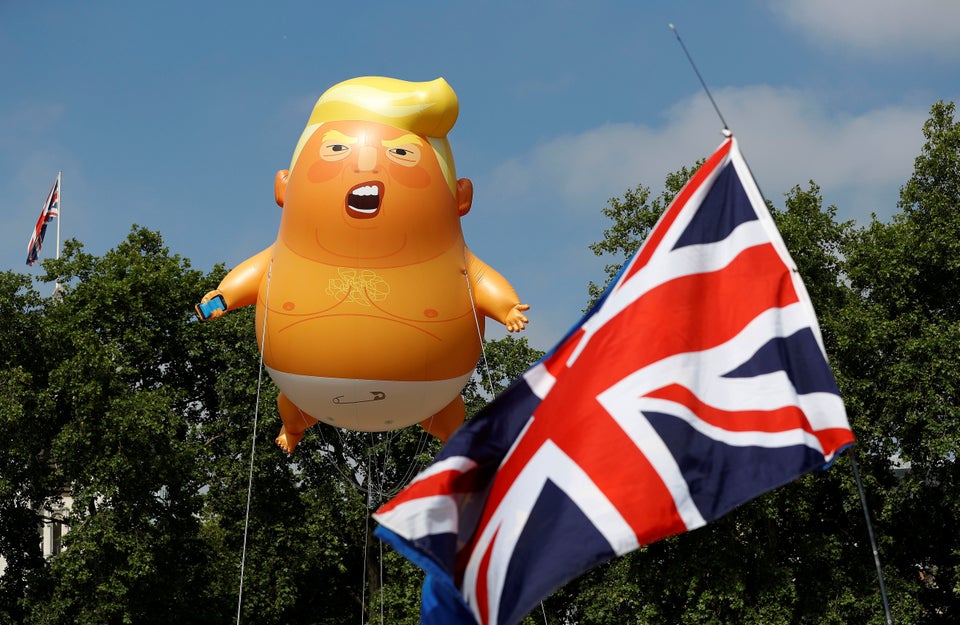 UK Protests Trump's Visit
Popular in the Community