WASHINGTON ― President Donald Trump signed an executive order keeping the detention center at Guantanamo Bay open, formally ending an unsuccessful Obama administration effort to close the controversial military facility. Trump's executive order will cement the existence of a detention facility that has fueled international disagreements in the 16 years it has been open. 
The White House announced the move ahead the president's State of the Union address on Tuesday. The announcement came as the government revealed in court filings its intent to "demolish" part of the detention facility to clear the way for future renovations. 
"I just signed an order directing Secretary [Jim] Mattis to re-examine our military detention policy and to keep open the detention facilities at Guantanamo Bay," Trump said during his address to Congress.
Trump, shortly after winning the 2016 election, said he'd keep the controversial facility open and "load it up with some bad dudes." Trump has yet to send any prisoners to the detention center, but he said in November that he'd "certainly consider" sending the suspect of an Oct. 31 New York City terror attack to the facility.
But his campaign promises have smacked into reality: Guantanamo is really bad at convicting alleged terrorists. The federal court system regularly convicts terror suspects, but the military commissions system is deeply troubled. The trial against the alleged perpetrators of the Sept. 11 attack has dragged on for years, and there's not even a firm start date.  
"Would love to send the NYC terrorist to Guantanamo," Trump tweeted in early November, "but statistically that process takes much longer than going through the Federal system."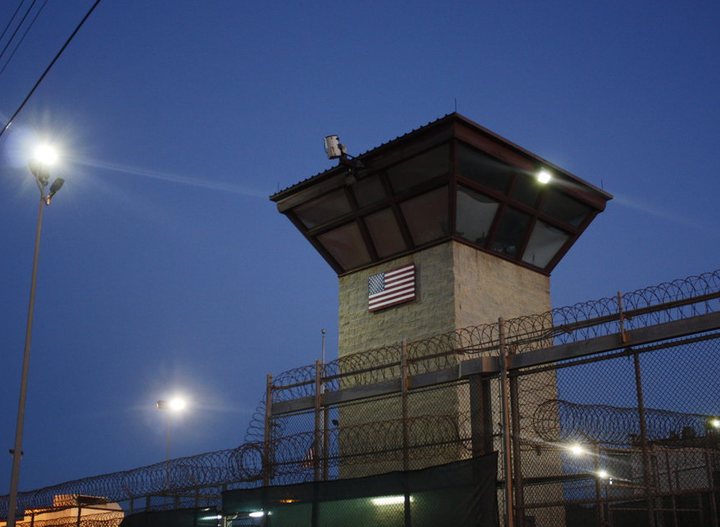 "The notion that Guantanamo is worthwhile would be laughable if it wasn't so tragic," Hina Shamsi, director of the American Civil Liberties Union's National Security Project, said in a statement. "In addition to the incalculable human suffering, it costs taxpayers more than $445 million a year to detain the 41 men now there. Congress should prevent President Trump from continuing unlawful detention and unconstitutional military commissions. And we all must pledge — not one person more in Guantanamo, not in our names."
Trump's move is more of a political statement than a practical change. President Barack Obama's 2009 executive order to close the prison, which he warned was a recruiting ground for terrorist groups at the expense of taxpayers, faced strong opposition in Congress that prevented him from transferring detainees to the United States. 
The Obama administration managed to transfer nearly 200 inmates from the facility. There are just 41 inmates at Guantanamo today. 
Obama, in his final days in office, said that "history will cast a harsh judgement" on the United States for not closing Guantanamo, and said Republicans had "placed politics above the ongoing costs to taxpayers, our relationships with our allies, and the threat posed to U.S. national security by leaving open a facility that governments around the world condemn and which hinders rather than helps our fight against terrorism." 
This post has been updated with more details about the order, background on Guantanamo Bay and a statement from Hina Shamsi.
REAL LIFE. REAL NEWS. REAL VOICES.
Help us tell more of the stories that matter from voices that too often remain unheard.
BEFORE YOU GO
PHOTO GALLERY
Inside Guantanamo's Prison Facility