NEW YORK ― For the second day in a row, protesters came out across the country to rally against President Donald Trump's executive order issued on Friday to block Syrian refugees and travelers from several Muslim-majority countries from entering the United States.
In New York City, two incredible markers of America's immigrant roots, the Statue of Liberty and Ellis Island, provided a fitting background for protesters gathered in Manhattan's Battery Park. About 10,000 demonstrators were present, some carrying signs reading, "Refugees welcome here," and "No hate, no fear."
Friends, families and individuals of all ages and backgrounds chanted "Let them in!" and "Si se puede!" Speakers fired up the massive crowd with messages of unity and hope, before thousands marched down Greenwich Street toward the U.S. Citizenship and Immigration Services building.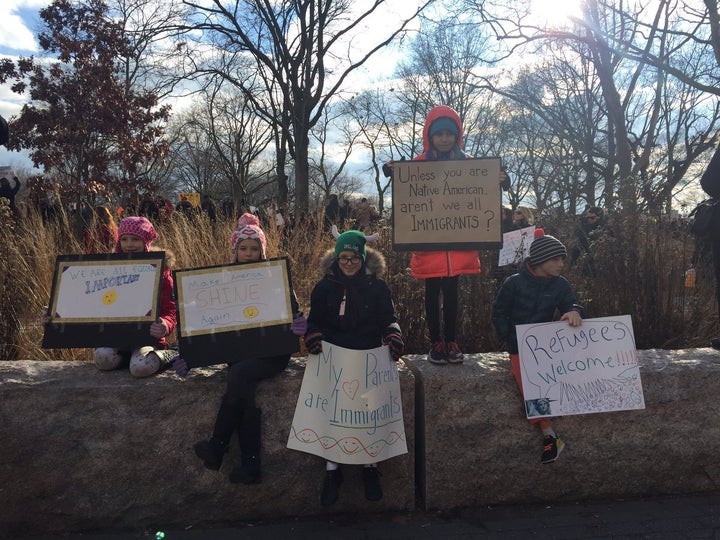 The crowd was dotted with colorful signs and pink pussyhats, the signature headwear many sported during last week's Women's March. Demonstrators also carried American flags, highlighting their message that the United States has a long history of immigration.
During a news conference earlier on Sunday, Senate Minority Leader Chuck Schumer (D-N.Y.) promised protesters he would "fight with every fiber of my being" to overturn the executive order.
Sen. Kirsten Gillibrand (D-N.Y.) called Trump's executive order a mark of shame for the country. "It goes against everything that we, as New Yorkers, stand for," she said.
Yunis Esa, a Yemeni-born warehouse manager who lives in Brooklyn, told The Huffington Post that the political events were personal for him.
"I'm from Yemen. I was born in Yemen. My wife is still an immigrant. I have family directly affected by this. It's just baffling for me," he said. "To us, this is something we've seen [in the Arab world]. It's a scary thing. I never thought it would happen."
"The fear of migrants is taking over. Hopefully, as along as I'm in New York, I feel safe," he added.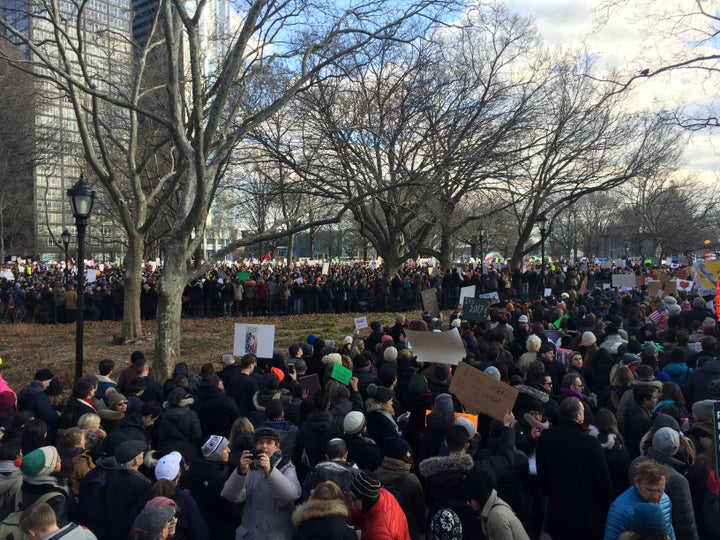 Rabbi Alysa Mendelson Graf joined the demonstration with her three sons.
"They are here because this country opened its arms to their great-grandparents. Their great-grandparents are Holocaust survivors and we feel very blessed that America was there for them when we needed it to be," she told HuffPost.
"To turn somebody away just because of their religion is unconscionable. We can't stand for that," she continued.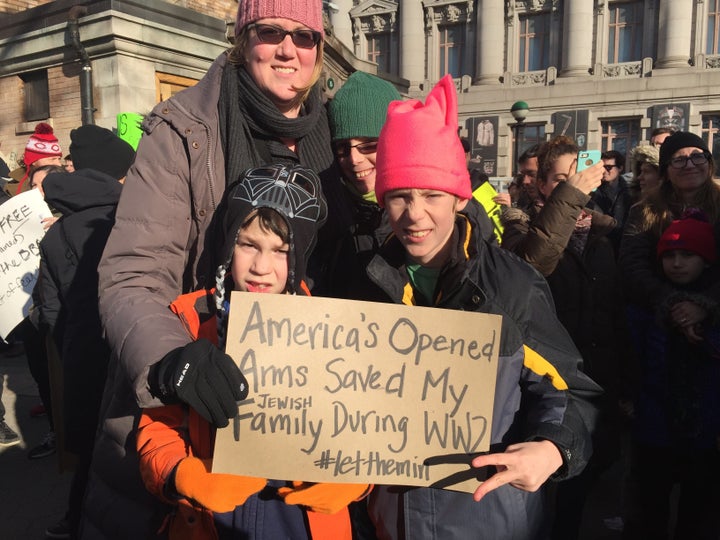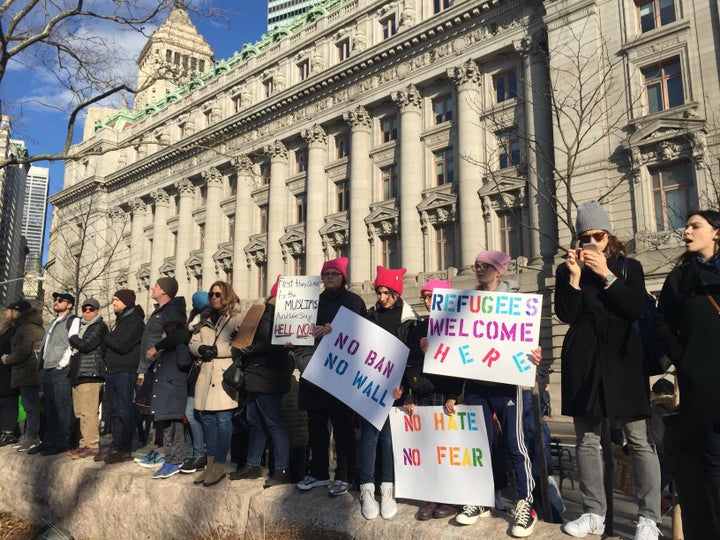 The diverse crowd chanted, "Shame," and "No ban, no wall." As they passed the Canadian Embassy, protesters sang "Hey hey, ho ho, I wish our leader was Trudeau," referring to that country's prime minister, Reuters reported.
"We wanted to represent and stand up for what's right," said Manar al-Badarneh, a Palestinian-American college student who traveled with her family from Columbia, Maryland, to join the Washington demonstration. "We believe this is wrong. As Muslim Americans, we were born and raised here, we find it ridiculous what's happening."
As demonstrators forced downtown D.C. to a standstill for the second time this week, Trump settled in for a movie with his family at the White House ― "Finding Dory."
Hundreds gathered at the Detroit Metro Airport to protest Sunday afternoon, including U.S. Reps. Brenda Lawrence and Debbie Dingell, both Michigan Democrats. Video footage taken at the airport shows hundreds of people holding signs and chanting behind barricades.
"We have to make our voices heard," Dingell said. "So we fight for why we are so proud to be American."
Afaf Elhady, 27, came to the Detroit protest from Toledo, Ohio, with a group of about 30 people, including her son Terak, age 10 months.
Elhady was born in Yemen but came to the U.S. at age 6 and is a naturalized citizen. She's now worried about her grandmother, who is in Yemen alone ― the family was in the process of helping her renew her green card.
Elhady was planning to go to Jordan next week but canceled the trip, saying she didn't want to risk it even though Trump's current executive order wouldn't apply to her as a citizen.
"I don't know what I would do if I couldn't get back here. This is my only home."
"Mainly I came here as an American, before as a Muslim," she said of the protest. "This is not what my country stands for."
Aerial footage of Boston's Copley Square shared on social media Sunday afternoon showed a large turnout for a #NoBanNoWall protest organized by CAIR Massachusetts. Police estimated the crowd to number at 10,000. Speakers at the rally included Democratic Massachusetts Sen. Elizabeth Warren.
Philadelphia's airport tweeted that the police's airport unit was directing demonstrators to the baggage claim area after the arrivals hall had hit capacity.
Hundreds of people gathered at the Federal Building in Ann Arbor, Michigan. At the State House in Rhode Island, protesters chanted, "Equal rights for one and all, no ban, no wall!"
Sunday's protests came at the end of a tumultuous weekend in some of the nation's airports and courts.
On Friday, Trump signed an executive order to bar all refugees from entering the U.S. for 120 days, keep out Syrian refugees indefinitely, and restrict travel for individuals from Iran, Iraq, Libya, Somalia, Sudan, Syria and Yemen.
As the order went into effect, travelers from those seven countries, including people holding U.S. government-issued visas or green cards, became trapped at U.S. airports on Saturday. More than 100 people were denied entry to the U.S. upon arrival, The New York Times reported. More than 170 were stopped before boarding planes. Thousands of demonstrators descended on the airports, vowing to stay put until all detainees were released.
Late Saturday night, a federal judge in Brooklyn temporarily halted parts of the executive order in response to action filed by the American Civil Liberties Union, immigrants' rights groups and refugee relief organizations on behalf of two Iraqi nationals who were detained at John F. Kennedy International Airport in New York City. Federal judges in Virginia, Massachusetts and Washington state also issued orders temporarily barring the deportation of travelers stranded in their jurisdictions.
In a statement released early Sunday morning, the Department of Homeland Security said that it would comply with the court orders, while emphasizing that it would continue to enforce the national security priorities under Trump's executive directive.
For much of Sunday, confusion persisted over whether green card holders would be affected by the ban going forward. White House Chief of Staff Reince Priebus told NBC's "Meet the Press" on Sunday morning that the order would not affect green card holders "moving forward" or "going forward." Secretary John Kelly finally affirmed on Sunday evening that the ban would not apply to permanent residents.
"In applying the provisions of the president's executive order, I hereby deem the entry of lawful permanent residents to be in the national interest," Kelly said in a statement. "Accordingly, absent the receipt of significant derogatory information indicating a serious threat to public safety and welfare, lawful permanent resident status will be a dispositive factor in our case-by-case determinations."
Laura Bassett reported from Washington, D.C. Nick Visser and Jonathan Cohn contributed reporting.
Popular in the Community