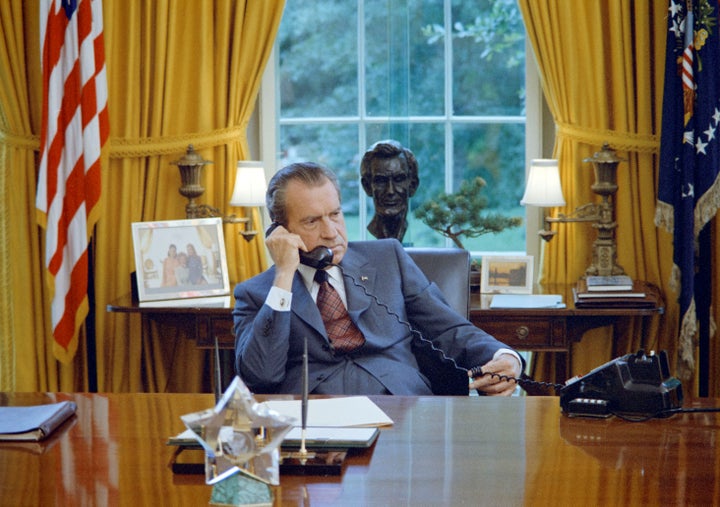 President Richard Nixon faced scrutiny when tapes of private conversations became public during Watergate and the following decades. Nixon had previously been known for his stiff public demeanor and lawyerly style of debating and speech making. But even the 37th president's detractors, who had called him shifty, were surprised by the profane, paranoid and bellicose remarks Nixon made in taped private conversations. Former Nixon aide David Gergen wrote on CNN's website:
In my early days as a junior lieutenant, I mostly saw the bright side of Nixon ― the one who read books recommended to him by his early counselor, Pat Moynihan, and debated the virtues of World War I generals with Henry Kissinger. Only when I had more experience and he invited me in closer did he begin to reveal the rest of him ― the dark side.
In a 1973 conversation with Chief of Staff Alexander Haig regarding future judicial nominees, President Nixon stated, "No Jews. Is that clear? We've got enough Jews."
In the same year, Nixon remarked in a taped conversation with advisor Chuck Colson that, "The Jews are just a very aggressive and abrasive and obnoxious personality."
Regarding black individuals, Nixon said in a recorded conversation with counselor Anne Armstrong, "Do you know maybe one black country that's well run?"
Despite his personal feelings and maneuverings behind the scenes, Nixon maintained a professional tone during press conferences. He spoke in measured, complete sentences. During his famous September 1960 debate with John F. Kennedy, Nixon was courteous. The Republican candidate stated:
The things that Senator Kennedy has said many of us can agree with. There is no question but that we cannot discuss our internal affairs in the United States without recognizing that they have a tremendous bearing on our international position.
Nixon did let his emotions and distaste for the press slip when he stated in 1962, after a failed campaign, that the press "won't have Dick Nixon to kick around any more." But mostly, the man's many deep neuroses remained hidden from the public. Richard Nixon's mixed legacy does include accomplishments, including improved relations with China and dialogue (however tense) with the Soviet Union.
Now let us contrast the communications of President Nixon with those of President Trump. We do not know for certain what Donald Trump says in private because, with the exception of the Billy Bush tape, these conversations are not, to our knowledge, recorded. The public does, however, see President Trump's tweets, press conferences, interviews, and speeches. Here are some of President Trump's controversial quotes:
As his own words demonstrate, Donald J. Trump exercises little discipline or discretion in his public pronouncements. His ill-advised public remarks are not presidential by any standard.
Presidential leadership involves being to some degree an institution man, upholding not only a presidency but a government, even its other branches. (Donald Trump) doesn't understand this. In any case he doesn't do it. It is all a personal drama.
REAL LIFE. REAL NEWS. REAL VOICES.
Help us tell more of the stories that matter from voices that too often remain unheard.
BEFORE YOU GO