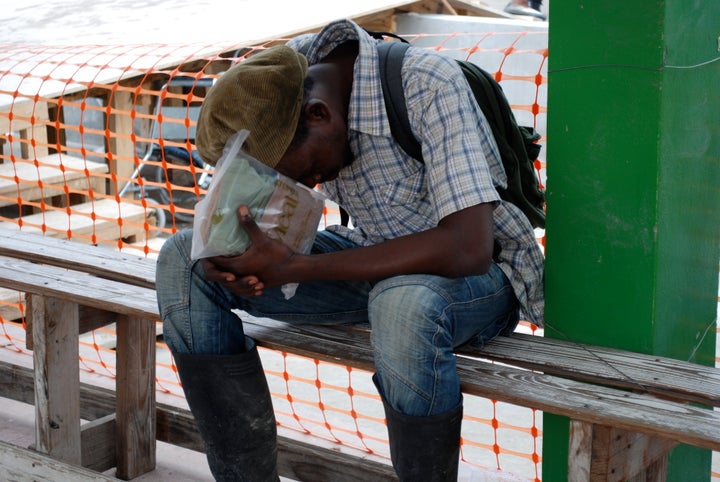 The 50,000 plus Haitians living under Temporary Protected Status (TPS) received disheartening news last week when the U.S. Citizen and Immigration Services (USCIS) announced that the designation will expire on July 22, with a six month extension to get papers and lives in order. 50,000 Haitians will be forced to return to a country that has not recovered from the 2010 earthquake, a cholera epidemic, 2016's Hurricane Matthew and a newly elected Haitian president who has said he will not welcome them back since the country does not have the funds to resettle them.
"We believe that this is not the time to welcome our brothers and sisters who are there because it will aggravate our already precarious situation," President Jovenel Moise said.
The decision to allow deportation rested squarely with Homeland Security Secretary John Kelly. We discussed the history of TPS and the misinformation that President Trump is being fed in a previous column.The president prides himself on keeping promises, and he promised Haiti that he would look after her once elected. It is time now for him to do so. I am not a Trump basher, and am hoping that he can look at this situation carefully, while reversing Secretary Kelly's decision.
"Secretary of Homeland Security John F. Kelly has extended Temporary Protected Status (TPS) for eligible nationals of Haiti (and eligible individuals without nationality who last habitually resided in Haiti) through Jan. 22, 2018."
The May 24th announcement of an "extension" is really a false flag, since the law requires a six-month grace period from July 22, 2017 to January 22, 2018.
In a second troubling, but related, development, the Associated Press reported that the Trump administration was looking for evidence of crimes committed by TPS designees, although it was not clear whether the request was also aimed at refugees from Honduras and El Salvador. As the AP article said, "The request for criminal data for an entire ethnic community is unorthodox. Federal law doesn't specify it should be a consideration for Temporary Protected Status, and the government has never said it would use a community's behavior in deciding if a country's citizens should be allowed to stay."
The mainstream media is doing Haiti a great disservice by neglecting to cover this story. All the major networks and cable stations rush to Haiti whenever there is a disaster, but fail miserably to cover the aftermaths and consequences. The current Russian mega-story is a cataract on the news cycles, blinding reporters and pundits to a Haiti follow-up. Natural disasters boosted ratings and lined advertising coffers as networks raced to cover catastrophes in the poorest country in the Western Hemisphere. Where is the responsibility now to cover a potential man-made disaster?
Sending 50,000 Haitians back to food shortages, a housing crisis and a cholera epidemic without examining the policies and politics that created this mess is a colossal dereliction of journalistic integrity.
Trump is in a bind with the media no matter what he finally decides. If he extends TPS, media will likely accuse him of betraying his "base" and going soft on immigration. If the President decides to enforce the January 2018 deportations, he will be portrayed as a cruel "deporter-in-chief."
So, the prudent course for the President to take is to ignore media forced errors and look at the plight of Haiti as an opportunity to do good instead of a choice between two undesirable courses of action. Who, after all, has done anything good for Haiti within recent memory?
Here is a personal plea to President Trump from the Haitian diaspora:
The Haiti earthquake, which triggered TPS status for Haitians living in the United States either legally or illegally before January 12, 2011 was initiated under President Obama's watch. As a result, the few articles written about TPS give him credit at the same time that his Secretary of State, Hillary Clinton, was changing the vote tallies in the Haiti election to install Michel Martelly, who robbed the country blind and paved the way for his protégé Jovenel Moise to be elected. Moise has been under investigation for money laundering.
President Obama does not have a stellar record with regard to Haiti. In September 2016 DHS Secretary Jeh Johnson announced a directive to resume regular deportations to Haiti. The genesis of the current mantra that all is well on the island nation was born in a press release that said, "Since that time (2010), the situation in Haiti has improved sufficiently to permit the U.S. government to remove Haitian nationals on a more regular basis, consistent with the practice for nationals from other nations."
Johnson referenced an earlier 2014 document, "Policies for the Apprehension, Detention and Removal of Undocumented Immigrants," for justification of his 2016 order.
Deportation plans for Haitians were well underway before the demise of TPS. Any subsequent notifications about TPS "extensions" are a fig leaf.
Despite the memo sent by the Director of U.S. Citizenship and Immigration Services James McCament to Homeland Security's Kelly recommending that Kelly not extend the designation for Haitians living in America because "conditions have significantly improved since the earthquake," Rex Tillerson's Department of State has a somewhat different take on conditions there.
"The Department of State warns U.S. citizens to carefully consider the risks of traveling to Haiti due to its current security environment and lack of adequate medical facilities and response, especially in the areas of Petionville and the storm-damaged southern peninsula departments of Grand Anse and Sud. This replaces the Travel Warning dated November 4, 2016."
The advisory goes on to warn about kidnappings, murder and rape against Haitian citizens, and armed robberies and violent assaults against Americans. "Haitian authorities' ability to respond to emergencies is limited and in some areas nonexistent," and "medical care infrastructure, ambulances, and other emergency services are limited throughout Haiti."
Americans have evac insurance, but what about deportees?
Tillerson and Kelly need to beef up communication between their offices.
Kelly is taking the lead on this misinformation. Haiti has not made significant progress from earthquake and hurricane disasters. The Secretary should also know better. As a former Commander of United States Southern Command, which is the Command responsible for American military operations in Central America, South America and the Caribbean, he understands the territory.
In testimony before the House Armed Services Committee in March 2013, Kelly submitted 41 pages of text outlining the geographic proximity and the "economic, cultural, and social interconnections of Latin America and the Caribbean to the United States." Kelly went on in his introduction to thank Congress "for its longstanding commitment to our security partners, and for its continued support to U.S. Southern Command's mission. Haiti is mentioned six times in terms of strategic importance.
It is time to stop using Haiti. President Trump can use the discussion surrounding TPS to inaugurate a better future for Haiti. The door is open for Trump to fulfill his promises.
Calling all HuffPost superfans!
Sign up for membership to become a founding member and help shape HuffPost's next chapter
BEFORE YOU GO