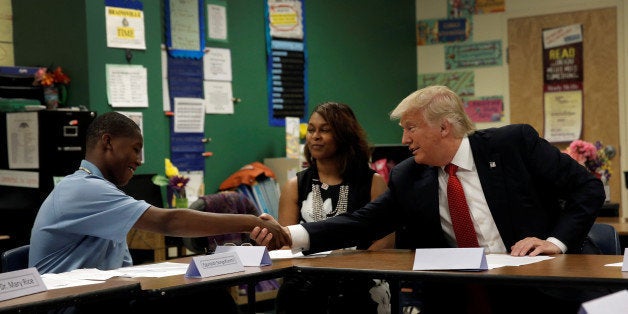 Donald Trump doesn't have any use for public schools -- he never attended them, sent his kids to them or supported civic efforts to strengthen them.
The Title I cuts alone could strip funding from up to 56,000 public schools serving more than 21 million children. His plan would rob 5 million public school students with disabilities of essential services.
An additional 5 million English language learners would be denied educational supports. Eight million students would lose the Pell grants that make it possible to attend college. Students across the country would lose tens of thousands of highly qualified teachers and classroom aides, resulting in unacceptably large class sizes and depriving students of one-on-one attention.
The GAO report also found that private school voucher programs in the states it studied (Arizona, Indiana, Ohio and Wisconsin) take as much as a third of their funding directly from public school budgets. It's a lose-lose situation: Voucher students are poorly served and public school students suffer.
But facts matter, especially when it comes to our children and, particularly, children with the greatest needs.
Trump is not one to let facts get in his way. But facts matter, especially when it comes to our children and, particularly, children with the greatest needs.
Trump could have visited Cincinnati, if he wanted to see an effective public school model that supports the achievement and well-being of disadvantaged students. Cincinnati is well on its way to transforming every public school in the district into a community school. These schools offer a rigorous academic program with the supports students need to succeed. In addition to mentors, tutoring and other academic interventions, children and their families have in-school access to services that help overcome the effects of poverty. The schools have health and dental clinics, social workers and counselors, and numerous social services. Cincinnati is now the top urban district in Ohio.
Or Trump could have gone to another battleground state and stopped at Westinghouse High School in Pittsburgh. Not long ago, Westinghouse was slated for closure. The city, its police and fire departments, families, school staff, and our union came together to launch a public safety career and technical education program this year. The program, with seed money from the AFT Innovation Fund, will prepare students for careers in firefighting, emergency medical services and law enforcement. It will help diversify these workforces to better reflect the communities they serve--a vital step in creating trust and understanding.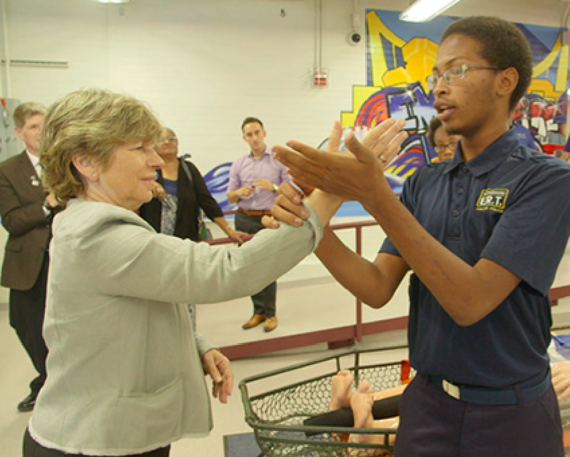 Weingarten being "disarmed" by a student in the public safety CTE program at Westinghouse High School in Pittsburgh.
Donald Trump doesn't understand or value the role of public education in a democracy. Our public schools are open to all, they advance our individual and collective aspirations, and they unite people from an array of backgrounds in a common experience. Schemes that elevate markets, profits and privatization over our children's needs and the public good not only have failed but are an affront to our democratic principles.
Not authorized by any candidate or candidate's committee.
Calling all HuffPost superfans!
Sign up for membership to become a founding member and help shape HuffPost's next chapter