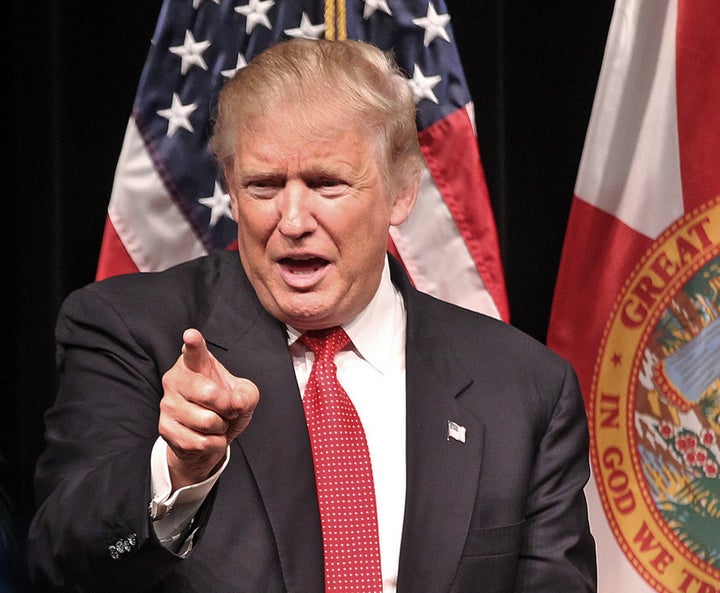 WASHINGTON ― Republican presidential nominee Donald Trump doubled down on his mockery of Rosie O'Donnell during Monday night's debate. And on Tuesday, he reiterated his ridicule of former Miss Universe Alicia Machado, saying she had "gained a massive amount of weight, and it was a real problem."
After Machado added some pounds following her 1996 coronation as Miss Universe, Trump ― then executive producer of the beauty pageant ― tried to force her to diet. He subjected her to a workout routine in front of reporters and called her an "eating machine" in an interview with Howard Stern. Headlines at the time included CNN's "Overweight Beauty Queen Slims Down," and The Ottawa Citizen's "The Weight Is Over For Miss Universe."
Trump and Machado also sat down for an awkward interview together on "CBS This Morning" in May 1997, at the end of her reign. "She had a little problem during the middle where she gained a little weight and a lot of …" said Trump.
"I don't think so," Machado interjected.
"Yeah. And she's probably right," said Trump.
Host Jose Diaz-Balart pressed the weight issue. "With 20 pounds or no pounds, I am the most beautiful woman in the world," said Machado.
"Do you not think that it's important to maintain a certain look during that year?" Diaz-Balart asked again.
"Yes, of course," Machado responded. "But I think all women in the world have a problem with the weight." She went on to talk about all the dinners, parties and events she was expected to attend as Miss Universe, the busy travel schedule, and the lack of time for the gym. She also was asked whether she had advice for the next Miss Universe.
"Good luck. She needs it," said Machado.
Trump continues fat-shaming on the campaign trail. Last November, Trump's target was a heckler who protested the candidate's position on the government nutrition assistance program. "You know, it's amazing," Trump told the crowd. "I mention food stamps and that guy who's seriously overweight went crazy. He went crazy."
Popular in the Community