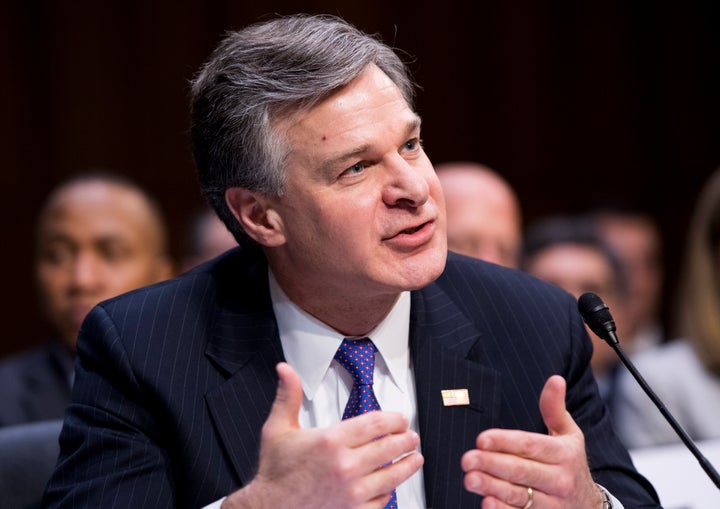 WASHINGTON ― Asked about President Donald Trump's assertion that the FBI's reputation is "in tatters," the man Trump picked to head the bureau said Tuesday that he encourages FBI employees to ignore "the noise" on social media and on television.
"There's no shortage of opinions about our agency," FBI Director Christopher Wray said in response to a question from Sen. Martin Heinrich (D-N.M.) during a Senate Intelligence Committee hearing. "My experience has been that every office I go to, every division I go to, has patriots: people who could do anything else with their careers, but choose to work for the FBI because they believe in serving others." 
Wray noted that he's received reassuringly positive feedback from state and local law enforcement, from the private sector and from communities served by the bureau.
"I'm a big believer in the idea that the FBI speaks through its work, through its cases, though the victims it protects," Wray said. "I encourage our folks not to get too hung up on what I consider to be the noise on TV and in social media."
The director said that he'd seen no evidence of inherent political bias in the bureau and that he thinks the bureau's employees can weather the storm.
"Our people are very mission-focused," Wray said. "I like to think that our folks are pretty sturdy." 
Trump nominated Wray as head of the FBI after he fired then-Director James Comey last spring. Earlier this month, the bureau publicly stated that a Republican-authored memo that Trump and his supporters were using to undermine special counsel Robert Mueller's investigation into Russian interference in the 2016 election had "material omissions of fact that fundamentally impact the memo's accuracy."
Republican confidence in the FBI has dropped significantly as Trump has been able to convince many of his supporters that the bureau is biased against him, despite the fact that the bureau's public handling of the Hillary Clinton email investigation ahead of the 2016 election actually boosted Trump's candidacy. 
Ryan Reilly is HuffPost's senior justice reporter, covering federal law enforcement, criminal justice and legal affairs. Have a tip? Reach him at ryan.reilly@huffpost.com or on Signal at 202-527-9261. 
REAL LIFE. REAL NEWS. REAL VOICES.
Help us tell more of the stories that matter from voices that too often remain unheard.