Donald Trump made more history Tuesday, becoming the first president ever to be formally booked on federal crimes as he pleaded not guilty in Miami's federal court on charges that he retained and then conspired to hide from authorities documents containing some of the country's most highly sensitive secrets.
The 37 felony counts are based on Trump's refusal to turn over classified documents to the Department of Justice, even in defiance of a subpoena. The indictment filed last week accuses Trump of hiding national defense documents, including some that could be shared only with the nation's closest allies, to keep them from prosecutors and the FBI.
Trump lawyer Todd Blanche entered the plea on Trump's behalf shortly after 3 p.m. before U.S. Magistrate Judge Jonathan Goodman, according to reporters in the room. Trump spent much of the time stonefaced, arms crossed, as the proceeding unfolded over the course of an hour. The judge released both Trump and co-defendant Walt Nauta, a personal aide to Trump, without bail and travel restrictions.
Trump was, however, ordered not to contact or speak with witnesses about the case, including Nauta, who continues to work for him.
He left the building two hours after he arrived in his motorcade, arriving a few minutes later at the Versailles Cuban Restaurant on Calle Ocho in the Little Havana neighborhood, a popular spot for politicians seeking the Cuban-American vote. "Food for everyone," Trump shouted at the staff.
Trump's staff had alerted reporters that Trump would be stopping there on the way to the airport, and the campaign element likely allows him to charge at least a portion of the jet fuel and other costs of the trip ― certain to be in the tens of thousands of dollars ― to his campaign and his small-dollar donors.
Most of the charges carry prison terms as long as 10 years if convicted, but the obstruction charges have 20-year maximums.
The 49-page document included an extraordinary paragraph describing the documents the former commander in chief took with him when he left the White House, stored insecurely and then tried to keep prosecutors and the FBI from retrieving:
"The classified documents Trump stored in his boxes included information regarding defense and weapons capabilities of both the United States and foreign countries; United States nuclear programs; potential vulnerabilities of the United States and its allies to military attack; and plans for possible retaliation in response to a foreign attack. The unauthorized disclosure of these classified documents could put at risk the national security of the United States, foreign relations, the safety of the United States military, and human sources and the continued viability of sensitive collection methods."
Trump announced his indictment on his personal social media platform Thursday evening after having been informed of it by his lawyers. He has spent the subsequent four days attacking special counsel Jack Smith, calling him a "thug," "deranged," a "Trump hater" and a "maniac."
Even during his motorcade trip to the courthouse ― complete with highway travel lanes closed down during its passage ― Trump continued posting messages. "ON MY WAY TO COURTHOUSE. WITCH HUNT!!! MAGA," he wrote at 1:45 p.m.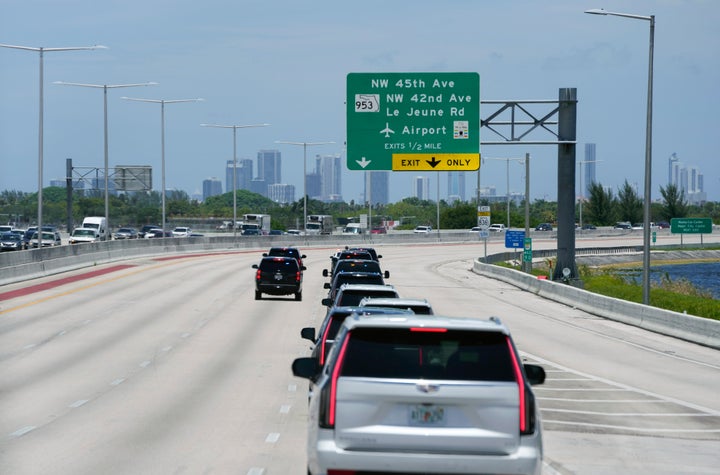 On Friday, he invited his followers to converge on Miami ― "SEE YOU IN MIAMI ON TUESDAY!!!" ― which was reminiscent of how he told his followers to converge on Washington, D.C., on Jan. 6, 2021, to block Congress' ceremonial certification of the 2020 election, which he had lost by 7 million votes.
That, plus comments hinting at violence at a campaign appearance in Georgia on Saturday, put police in Miami and the surrounding area on high alert.
Tuesday's arraignment comes two months after the coup-attempting former commander-in-chief was indicted and booked in New York City for falsifying business records to hide a $130,000 hush-money payment to a porn star just ahead of the 2016 election.
Trump is facing a second federal investigation for his actions leading up to and during the Jan. 6, 2021, coup attempt to remain in power after losing the 2020 election, as well as a Georgia criminal probe for his attempt to coerce state officials into overturning his election loss in the state.
Despite all this, Trump is again running for the Republican presidential nomination in 2024 and is currently leading his rivals by wide margins in polling.
Trump arrived at his Doral country club Monday and then at the courthouse in downtown Miami 12 miles to the east via Secret Service motorcade. He is scheduled to fly to his country club in Bedminster, New Jersey, Tuesday afternoon to deliver remarks about the arraignment in the evening.
Support HuffPost
The Stakes Have Never Been Higher
Popular in the Community