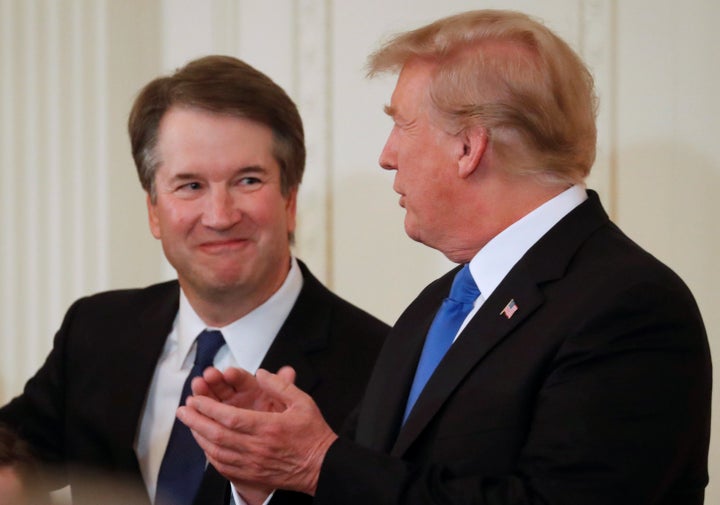 "I feel so badly for him that he's going through this, to be honest with you. I feel so badly for him. This is not a man that deserves this," Trump said at a White House press conference on Tuesday.
"It's a shame, because this is a great gentleman," Trump continued. "I just think that he is at a level that we rarely see, not only in government; anywhere in life. And honestly, I feel terribly for him; for his wife, who is an incredible, lovely woman; and for his beautiful young daughters. I feel terribly for them."
Kavanaugh called Blasey's allegation "completely false," saying that the incident she described "never happened."
But as the president continues to wring his hands about Kavanaugh's suffering, here's what Blasey has had to endure in the last few days:
Blasey's Week
Since Blasey publicly identified herself on Sunday, she has been through hell and back.
Twitter users posted Blasey's home address online (an attack known as doxing) at least three separate times, with one user reportedly publishing an aerial image of her home. Blasey's attorneys wrote on Tuesday that their client has been the target of "vicious harassment and even death threats," adding that she's been impersonated online and had her email hacked.
Because of this, Blasey, her husband and their two children have had to take extreme safety precautions that include relocating and going into hiding. Blasey and her husband aren't even able to live with their children out of concern for their safety, a close friend of the family told The Washington Post. In addition to the cost of relocating, there are also sizable legal fees that Blasey and her family will have to shoulder alone.
Just hours after her story was published, politicians, media critics and internet trolls alike have attacked Blasey's reputation, credibility and motivations for coming forward.
Some point to the fact that she's a registered Democrat. Others have questioned her timing, suggesting that she came forward when she did to delay Kavanaugh's confirmation until after the midterm elections. (Blasey first approached lawmakers with her allegations in July, long before she went public.)
At one point, an online outlet attempted to disparage Blasey's teaching abilities, publishing an article about her alleged low marks from students on a professor-rating website. The article mistook Blasey, a professor at Palo Alto University, for Christine A. Ford, a former professor at California State University at Fullerton. The story's entire premise was wrong, but it quickly went viral.
"Her worst fears have materialized."
Blasey had initially resisted going public with her story because she believed speaking up about Kavanaugh could ruin her life and have little effect on his confirmation. "Why suffer through the annihilation if it's not going to matter?" she recalled to The Washington Post on Sunday.
One of Blasey's close friends, Jim Gensheimer, recently discussed something she said to him in July while debating whether to come forward or not.
"I've been trying to forget this all my life, and now I'm supposed to remember every little detail," Gensheimer recalled Blasey saying in an interview with The Mercury News. "They're going to be all over me."
It's now clear that Blasey's concerns were well-founded. Within just four days of identifying herself, "her worst fears have materialized," Blasey's attorneys wrote in a letter to Sen. Chuck Grassley (R-Iowa) on Tuesday.
Yet through all of this, Trump feels "terribly" for Kavanaugh. So, let's take a look at what Kavanaugh has had to endure.
Kavanaugh's Week
For the last four days, Kavanaugh has been able to remain in the comfort and privacy of his own home alongside his wife and two daughters (possibly eating cupcakes from Sprinkles). As a federal judge, Kavanaugh's also been afforded the security of the U.S. Marshals Service, which is charged with protecting the federal judiciary.
And although his future as a Supreme Court judge is still up in the air, Kavanaugh's career presumably won't suffer from Blasey's allegation. If he loses the Supreme Court seat, he would still be a federal judge with a lifetime appointment (there's almost no chance that he'll get impeached).
Additionally, it's worth pointing out that any punishment the judge receives based on Blasey's allegation against him will not be in a criminal court. Kavanaugh's success and access to power will likely continue unimpeded, with or without a Supreme Court seat.
Kavanaugh's confirmation hearings concluded last week, but the vote was postponed to schedule a hearing on Blasey's accusations. The judge has agreed to testify in front of the Senate Judiciary Committee on Monday.
Popular in the Community