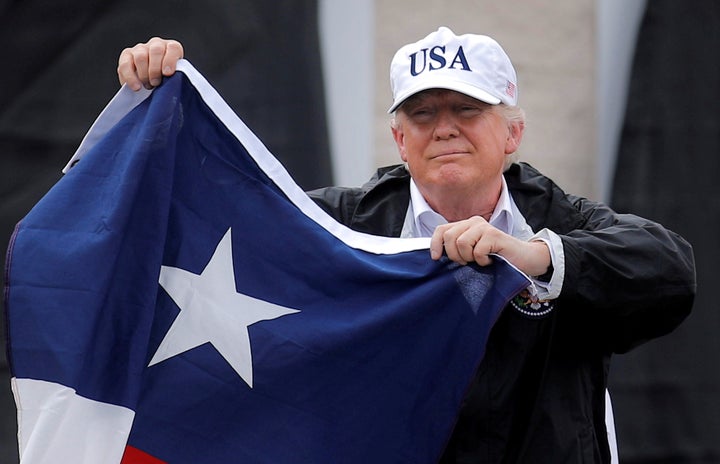 WASHINGTON ― As President Donald Trump basks in positive assessments of his handling of hurricanes Harvey and Irma, he might consider two words to help explain things: "Thanks, Obama."
While he's at it, he could probably also thank the so-called "deep state" and offer a wave of gratitude out the window of Air Force One over Gainesville, Florida ― home of former FEMA Administrator Craig Fugate ― as he flies to Naples, the site of much of Irma's devastation, on Thursday.
Because while Trump has enjoyed praise from frequent critics for his leadership during the storms, two of his favorite nemeses are making his job a lot easier.
Then-President Barack Obama appointed Fugate to turn around the Federal Emergency Management Agency, and the system he left behind is the one Trump inherited heading into this year's hurricane season.
"Trump's riding on the shoulders of Obama," said James Fraser, a Vanderbilt University professor who has done research on disaster mitigation. "It's heartening to know that in this case, the Trump administration is not trying to undo something the Obama administration did to help people."
Trump has lauded his own FEMA administrator, Brock Long, for his running of the agency. But Trump did not even nominate Long for the job until April 28, and Long didn't begin at FEMA until June 20, after the start of hurricane season. And of the 23 slots available for political appointees at the agency, only 12 have been filled, counting Long's. The other responsibilities are being handled by nonpolitical career employees.
Trump didn't even nominate people for the two other FEMA positions that require Senate confirmation until mid-July. One of those, Daniel Craig, withdrew his nomination after NBC News reported on a federal investigation of Craig during his earlier stint at FEMA from 2002 to 2005. The probe found that Craig appeared to have improperly lobbied his former co-workers within a year after leaving the agency, helping secure more than $1 billion in contracts for a client as part of the Hurricane Katrina recovery.
"It's heartening to know that in this case, the Trump administration is not trying to undo something the Obama administration did to help people."
It was FEMA's performance during and after Hurricane Katrina in 2005, in fact, that became a watershed moment for the agency. Then-President George W. Bush famously praised his FEMA administrator, Michael Brown ― "Brownie, you're doing a heck of a job" ― even as complaints spread that Brown and the agency had been woefully unprepared to manage the storm and the massive flooding it caused in New Orleans.
The Katrina response, combined with a failed attempt to partially privatize Social Security and the continuing war in Iraq, largely ended Bush's effectiveness in his second term and set up wave elections that brought a Democratic Congress in 2006 and a Democratic president in 2008.
And it was that president who, taking the lessons of Katrina to heart, sought out the emergency management chief that Florida Gov. Jeb Bush (R) had appointed in that state. Eight years previously, Fugate was appointed to the top job at the Florida Division of Emergency Management, even though he'd served as deputy there under the previous governor, Democrat Lawton Chiles.
Jeb's older brother, by contrast, installed his campaign manager Joe Allbaugh to run FEMA in 2001. Allbaugh had recruited a good friend as his deputy ― even though Brown's last job had been judging a show horse competition and he had no experience in emergency management. Brown came under withering criticism after Katrina and soon resigned.
"Under the Obama administration, FEMA dramatically shifted to something much more responsive," Vanderbilt's Fraser said.
Fugate brought with him the strategy he had developed in Florida, which emphasized pre-planning as storms approached and staging large quantities of relief supplies a short distance from expected landfalls. This was followed by efforts to restore a community's food stores, gas stations and power grids as quickly as possible, and to bring in help from even far-away counties to minimize the length of time the state had to remain in the supply business.
The Obama administration also adopted Florida's practice of declaring disasters in affected areas quickly ― sometimes even in advance ― to hasten federal relief dollars.
FEMA has retained all of these techniques under Long, including the near-instantaneous disaster declarations signed by Trump.
"One of the strong commonalities between Fugate and Long is that they both had experience as state emergency managers," said Tricia Wachtendorf, from the University of Delaware's Disaster Research Center. "Certainly this is a positive factor for the current state of FEMA, both coming from Fugate's lead and now with Long heading up the agency."
Even Tom Bossert, Trump's homeland security adviser, was quick to compliment Fugate and the work he did to integrate the local, state and federal disaster response, although he also praised Trump's FEMA pick, who has been in the field since college and ran Alabama's emergency management agency for three years.
"Craig deserves a lot of credit. He deserves a ton of credit for his leadership," Bossert said, and then added, "But don't underestimate Brock Long."
Popular in the Community