WASHINGTON — Unable to get a single dollar to build the "great wall" he promised on the campaign trail, President Donald Trump has settled on a new strategy: repairing and upgrading the existing fence and calling that his "wall."
Trump has claimed repeatedly over the past nine months that he has already started construction. "And we have a lot of it built and it's going up," he said at a rally in Mississippi late last month after attendees began a favorite chant: "Build that wall!"
In reality, not a single mile of new barrier has yet been built along the Mexican border. There were 654 miles of physical barrier on the day Trump was inaugurated president, and there are 654 miles today. Money for 33 miles of new fencing was included in the spending bill Trump signed this spring, but those projects have not started yet.
The Department of Homeland Security, which under Trump started using the word "wall" on its website for the barrier it had for more than a decade described as a fence, disputed that it had not constructed any new barrier along the Mexican border.
"We are committed to building wall and building wall quickly. We are not replacing short, outdated and ineffective wall with similar wall," said department spokeswoman Katie Waldman. "Instead, under this president we are building a wall that is 30-feet high."
That barrier, consisting of steel poles spaced a short distance apart, had been called a "bollard fence" under previous presidents, but is now called "bollard wall" under Trump.
In any case, with the House about to switch to Democratic control, Trump's strategy of taking credit for a non-accomplishment may be the only option available to him for the foreseeable future.
"I don't think Trump gets what he wants," said Stan Collender, a longtime former budget committee staffer on Capitol Hill. "I don't think he ever gets money for his wall."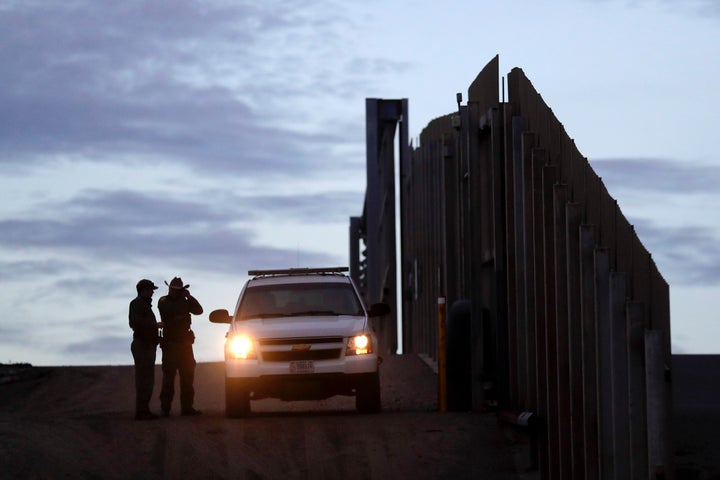 'He Got Played Repeatedly'
Congress approved a short-term spending bill Thursday that pushes the deadline for Trump's threatened government shutdown from midnight Friday to midnight on Dec. 21.
The most likely outcome in two weeks: another short-term extension, lasting a month or two, setting up the next round of the wall fight for early next year, Collender said. He added that Trump may have missed his best chance of getting American tax dollars for his wall project when he failed on multiple occasions to veto Republican-drafted spending bills that did not contain money for his wall.
Trump signed an appropriations package in May 2017 even though it did not contain any of the $33 billion he had asked Congress to include for his wall, and then a series of temporary stopgap measures that also had no wall money. In March of this year, Trump threatened to veto a $1.3 trillion spending bill after Fox News hosts criticized him for agreeing to sign it even though it had no wall money. He wound up signing it the following morning anyway because, he said, of all the money it contained for the military.
In late September, Trump once again signed a spending measure for the Department of Homeland Security and a slew of other federal agencies — for temporary funding, this time, through Friday. House Speaker Paul Ryan (Wisc.) and Senate Majority Leader Mitch McConnell (Ky.), both Republicans, talked him into avoiding the shutdown he had threatened to get his wall money by persuading him that he would have more leverage after the November midterm elections.
The logic behind that, though, was never clear. Republicans were likely to lose seats in the House, decreasing Trump's power in Congress. That, in fact, happened, as Democrats picked up 40 seats, giving them control of that chamber come January.
"He got played repeatedly by Ryan and McConnell. They kept telling him: 'We'll do it, just not now,'" Collender said.
On Thursday, Democratic leader Nancy Pelosi (Calif.) made it clear that building a wall like Trump wants is not only not a priority for her, but she actively opposes the idea.
"Most of us, speaking for myself, consider the wall immoral, ineffective, expensive," she said, adding that she had no problem improving border security by fixing and upgrading the fencing that has been in place since the passage of the Secure Fence Act under President George W. Bush in 2006.
Empty Campaign Promises
If there is confusion as to what is Trumpian "wall" and what is merely "fence," much of the blame might be attributed to Trump himself.
Starting from his campaign announcement in the lobby of Trump Tower in June, 2015, then-candidate Trump promised he would build a "great wall" along the southern border and would force Mexico to pay for it.
At the time, he was quite clear about the distinction between fence and wall. "Jeb Bush just talked about my border proposal to build a 'fence.' It's not a fence, Jeb, it's a WALL, and there's a BIG difference!" he tweeted in August 2015.
Over the course of the campaign, he promised many hundreds of times that Mexico would pay for the wall. He also detailed the construction specifications, saying it would be 30 feet tall, made of steel-reinforced concrete, and extend deep underground to prevent people from tunneling beneath it.
"It's going to be made of hardened concrete, and it's going to be made out of rebar. That's steel," he told a rally audience in Manassas, Virginia, in December 2015.
After Trump won the presidency, though, he immediately dropped the promise that Mexico would pay for his wall. In a phone call with then-Mexican President Enrique Peña Nieto within days of taking office, Trump said he understood that Mexico would not pay for the wall, but asked Peña Nieto not to say that publicly to avoid creating political problems for Trump with his base.
Senate Democratic leader Chuck Schumer (N.Y.) returned to that promise on the Senate floor Thursday, pointing out that there is no reason American taxpayers should pay for a wall, given Trump's campaign pledge.
"When President Trump proposed this as a candidate he said, 'Mark my words: I will have Mexico pay for that wall.' The idea that the American taxpayer now has to foot the bill doesn't make sense," Schumer said.
No Money For A Wall
Trump has stopped bringing up Mexico at all when he talks about paying for the wall. But when asked about his campaign promise, both he and his White House respond that Mexico will pay "in some fashion" — and typically point to the revised trade agreement he signed with Mexico and Canada as the source for new revenue that can go toward the wall.
But Jennifer Hillman, a trade law professor at Georgetown University's law school, said the only provision in the revised North American Free Trade Agreement — which Trump has rebranded the United States Mexico Canada Agreement — that could significantly increase tax revenues is one requiring cars to have 75 percent North American content in order to be imported duty-free. That threshold is currently 62.5 percent.
Importers of cars not meeting the new threshold would pay a 2.5-percent tariff. But Hillman said even by generously estimating that 30 percent of the current $84 billion in Mexican auto imports would wind up paying the tariff would not make much of a dent in paying for a $25 billion wall.
"I don't see any way that a 2.5 percent tariff on 30 percent of Mexican car imports raises even $1 billion, much less $25 billion," she said.
But budget expert Collender said there is really no need to worry about financing a wall because one is never going to get built. He added that not having a wall is actually better for Trump politically because it allows him to continue bashing Democrats and establishment Republicans over the next two years as well as serving as a useful diversion should special counsel Robert Mueller's investigation start getting too close to him.
Which is why, he said, a partial government shutdown is far more likely next year than later this month. "The shutdown might be helpful for him at some point if he has to distract from the Mueller investigation," Collender said. "But I don't see how he ever gets a wall."
Popular in the Community