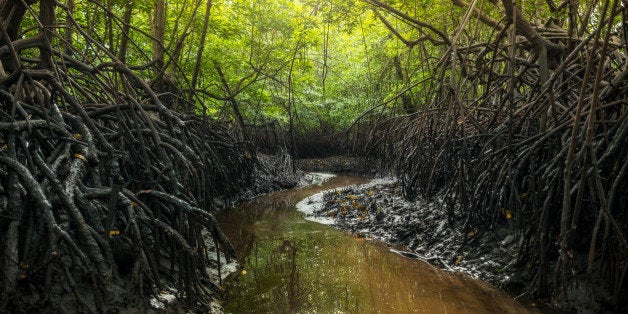 It's not very difficult to run for political office as an outsider and claim that you'll do everything differently than anyone else. When you have never held office and governed, you have the advantage of having no track record at all.
Throughout the campaign, President-elect Donald Trump led his rallies with chants of "Drain the swamp," his catch phrase about getting rid of politicians he called corrupt and ending Wall Street control over our economy. But before he's even taken office, we've learned that "Drain the swamp" actually means, "Drain the swamp and then fill it with advisors who are ready to pursue their Wall Street agenda, whether that means getting rid of consumer protections from abuses of the Big Banks, rejecting efforts to pay workers' overtime wages, or vowing to privatize the Medicare program that has done so much for our nation's seniors."
Soon up for Senate confirmation will be Rep. Tom Price to head the Department of Health and Human Services. This is a disturbing choice for many reasons.
Price has led the charge to privatize Medicare, which would seriously jeopardize the lives of millions of Americans and particularly harm seniors.
In Congress, he received hundreds of thousands of dollars in contributions from big drug and insurance companies that would benefit from his privatization agenda -- and hurt working families. Price has said, "Nothing has had a greater negative effect on the delivery of health care than the federal government's intrusion into medicine through Medicare." The Washington Post called him a "longtime advocate" of Medicare privatization, where the government would "provide assistance for seniors to buy private health insurance plans."
After campaigning for months against Wall Street "getting away with murder," Trump chose Steve Mnuchin for Treasury Secretary. Mnuchin is a former Goldman Sachs banker who tried to foreclose on the home of a 90-year-old woman for a 27-cent payment mistake.
It's difficult to think of a nominee who better embodies the culture of Wall Street greed than Mnuchin, who personally profited from families' losses during the Great Recession by foreclosing on tens of thousands of working and middle-class families.
Mnuchin already has proclaimed that cutting corporate taxes will be his number one priority as Treasury Secretary, which tells you all you need to know on whether he is looking to serve regular Americans or corporate special interests.
Price and Mnuchin are a great fit with Trump's other picks. Trump picked Exxon Mobil CEO Rex Tillerson to be Secretary of State. He named Wilbur Ross -- a billionaire known as the "king of bankruptcy" who devastated communities by buying up companies and shipping the jobs overseas -- as his pick for Secretary of Commerce.
He selected Andrew Puzder, the CEO of CKE Restaurants, for Labor Secretary. Puzder doesn't like many of the programs that working people count on, like fair pay and overtime requirements. In fact, it seems as though he doesn't like working people at all. In 2016 Puzder told Forbes that in contrast to human workers, machines are "always polite, they always upsell, they never take a vacation, they never show up late, there's never a slip-and-fall, or an age, sex, or race discrimination case."
This corporate dream team cabinet also includes Goldman Sachs president Gary Cohn as director of the National Economic Council, and Elaine Chao, who made $1.2 million while overseeing Wells Fargo as it faced record fines for creating millions of fraudulent bank accounts, for Transportation Secretary.
The Wall Street Journal says that with the incoming Trump Administration and Republican control of Congress, the banking industry is excited "to usher in a new era of financial deregulation."
This Wall Street cabinet of billionaires running our government isn't what Trump voters voted for. They heard "drain the swamp" and thought there would be a new direction and accountability, especially from Wall Street. Sadly, these cabinet picks show that the needs and wish list of corporations, the wealthy, and Wall Street will be front and center yet again.
The billionaires whose greed caused the Great Recession in 2007 and who have shipped millions of good jobs overseas now control the White House and Congress. My union and the entire labor movement are fighting back against this corporate takeover. We will hold the President accountable for the big promises he made to the American people.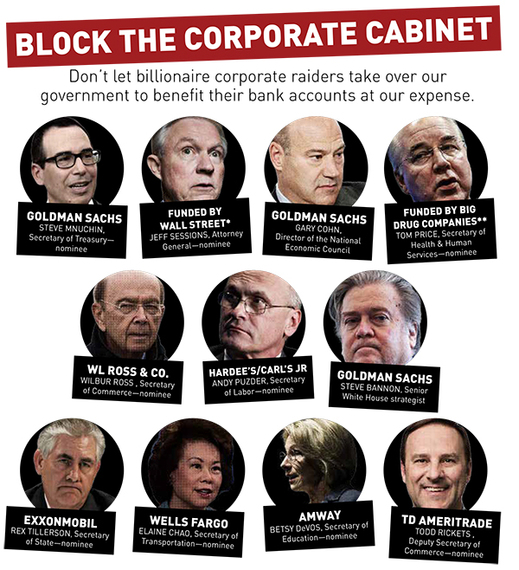 Popular in the Community