Reporters from The New York Times, Politico and The Washington Post all spoke to White House sources who advised not to "read too much into" Trump's comments, which were "absolutely" Trump's words and not those of his new chief of staff, Gen. John Kelly.
The Weekly Standard reported Wednesday that the White House, including the president's national security team, did not help Trump prepare his remarks on North Korea, which were delivered ahead of a meeting on the opioid crisis in the U.S. and prompted by new reports that North Korea has escalated its nuclear program. The New York Times reports that a sheet of paper Trump appeared to be reading from as he gave the statement was actually a fact sheet on the opioid crisis.
"North Korea best not make any more threats to the United States. They will be met with fire and fury like the world has never seen," Trump said. "And as I said, they will be met with the fire and fury and, frankly, power, the likes of which this world has never seen before."
North Korea's official news agency, KCNA, carried a statement on Wednesday attributed to Gen. Kim Rak Gyom in response to Trump's threat. The KCNA post reiterates North Korea's threat to launch missiles at the U.S. territory of Guam and mocks Trump's "fire and fury" remarks.
"Sound dialogue is not possible with such a guy bereft of reason and only absolute force can work on him," the KCNA statement says of Trump. The president's remarks are "a load of nonsense," it added.
"Americans should sleep well at night," Tillerson told reporters.
"I think what the president was doing was sending a strong message with language that [North Korean leader] Kim Jong-Un would understand, because he doesn't seem to understand diplomatic language," Tillerson added.
Trump also addressed North Korea again on Wednesday in a series of early-morning tweets:
The Washington Post's Philip Rucker tweeted that White House officials aren't happy with people interpreting Trump's remarks as a sign of nuclear escalation.
As The Toronto Star noted, Trump's rhetoric during his North Korea remarks Tuesday ― specifically that the U.S. would issue a response "like the world has never seen" ― closely mirror statements he's made before on food prices, the Chinese military and his grassroots campaign, among other things.
This article has been updated with KCNA's statement.
Before You Go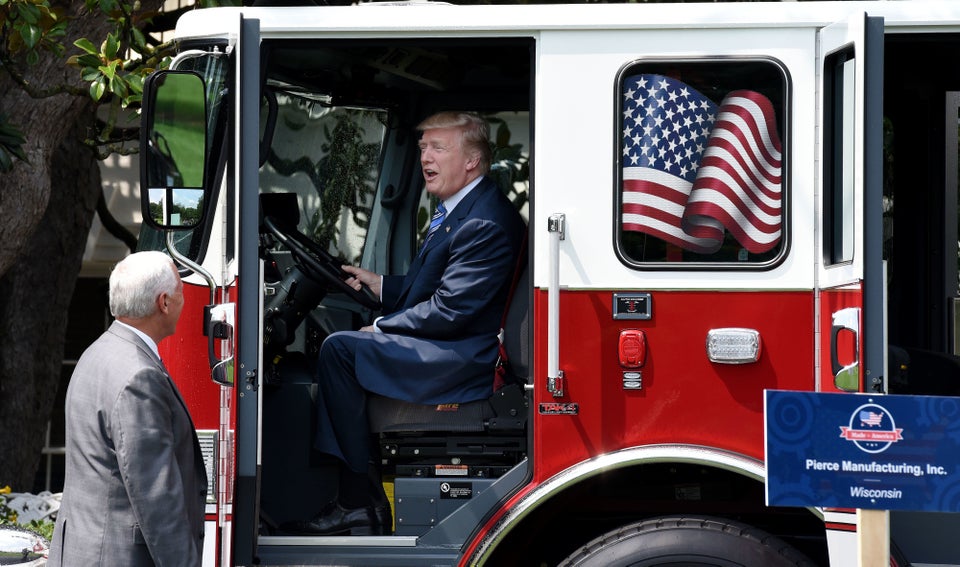 Trump's 'Made In America' Week
Popular in the Community