President Donald Trump visited Las Vegas on Wednesday, three days after a gunman rained bullets onto a country music festival there in America's worst mass shooting in modern history.
Trump, accompanied by first lady Melania Trump, made two stops: one at a hospital to meet with victims, their families and medical staff treating the wounded, and another to visit with first responders.
"We're going to pay our respects, and to see the police, who have done really a fantastic job in a very short time," he told reporters before leaving Washington Wednesday morning, calling it "a very, very sad day for me" and the shooting "a very sad thing." 
Following his visit to Las Vegas' University Medical Center, where many of the shooting victims were taken, Trump praised "the incredible professionalism" of the medical staff.
"I just wanted to congratulate everybody," he said. "It is incredible what you've done."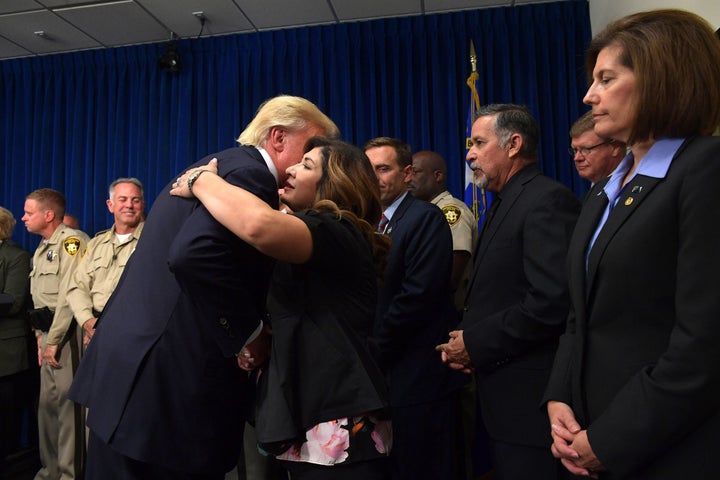 At least 58 people were killed and more than 500 others were wounded Sunday night when 64-year-old Stephen Paddock opened fire on a crowd estimated at 22,000 at the Route 91 Harvest festival.
On Wednesday, Trump called the shooter "a very sick man, a demented person," and said authorities are "looking very, very hard" for his motive.
Trump's visit to Las Vegas marks the second time in two days he has had to assume the role of "consoler-in-chief."
The president's response to the Las Vegas shooting has been a bit more measured. Following his two visits Wednesday, Trump delivered scripted remarks, honoring the victims and first responders to what he called "a vicious attack."
"In the depths of horror, we will always find hope in the men and women who risked their lives," he said.
Shortly after the violence erupted Sunday, Trump called the shooting "an act of pure evil" and offered his condolences to victims. "We cannot fathom their pain; we cannot imagine their loss," he said Monday morning, before praising law enforcement and first responders.
"The speed with which they acted is miraculous and prevented further loss of life," Trump said. "To have found the shooter so quickly after the first shots were fired is something for which we will always be thankful and grateful. It shows what true professionalism is all about."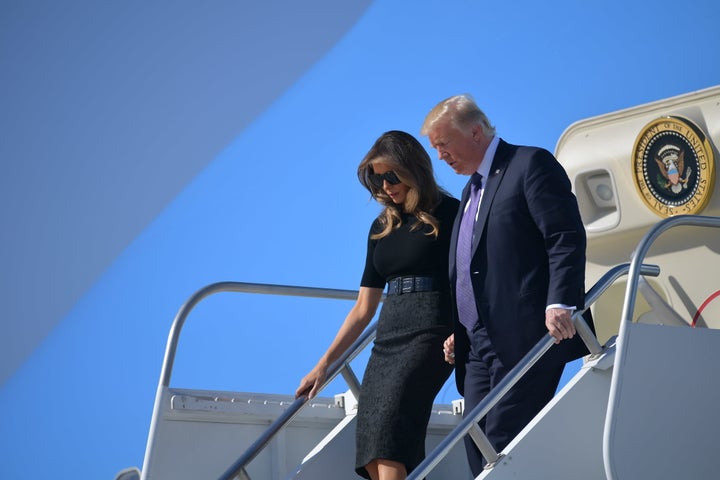 He again praised police when meeting with them on Wednesday, telling them he was "a big fan before this" and "even more of a fan now."
"You showed the world — and the world is watching — you showed what professionalism is all about," he said.
Trump refrained from discussing gun policy during his appearances on Wednesday.
"We'll be talking about gun laws as time goes by," Trump said Tuesday, stressing that he wants to focus on the police response, which he repeatedly called "a miracle."
When asked about guns on Wednesday, he again said: "We're not going to talk about that today."
On Monday, White House press secretary Sarah Huckabee Sanders argued that it was "premature to discuss policy when we don't know all of the facts." On multiple occasions, Trump has immediately weighed in on terrorist attacks committed by Muslims and used them to promote his travel ban targeting majority-Muslim countries.
An administration official told Politico on Tuesday that "with this investigation still in its early phases, we should avoid making sweeping policy decisions."
The president is likely to face pressure on the gun issue from Democrats in Congress, who have renewed calls for gun control. Sen. Chris Murphy (D-Conn.) on Monday spearheaded the push, urging his colleagues to "get off [their] ass and do something." Murphy's constituents include those in Newtown, where a gunman killed 20 children during the 2012 massacre at Sandy Hook Elementary School.
Senate Minority Leader Chuck Schumer (D-N.Y.) has attempted to appeal to Trump, who has recently broken with the GOP to team up with Democrats on immigration reform and debt ceiling talks.
"President Trump, before he ran for office, was for certain sane, rational, limited aspects of gun control," Schumer said on the chamber floor on Tuesday. "Maybe he can have a bit of a reawakening because of the horror of what happened as he goes to Las Vegas tomorrow."
On Twitter, Schumer urged Trump to "stand up to the NRA and stand up for the over 30,000 Americans who are victims of gun violence" annually. 
GOP legislation to ease restrictions on gun silencers appears to have been tabled after the shooting. Democrats, including Sen. Dianne Feinstein (Calif.), said they would work on ways to ban "bump stocks" that allow guns to fire faster ― the same device found on multiple weapons in the Las Vegas shooter's hotel room.
"Doing nothing in the wake of this tragedy is not an option," Feinstein said Tuesday.
This story has been updated with details from Trump's visit.
REAL LIFE. REAL NEWS. REAL VOICES.
Help us tell more of the stories that matter from voices that too often remain unheard.
BEFORE YOU GO
PHOTO GALLERY
Shooting At Route 91 Harvest Festival In Las Vegas