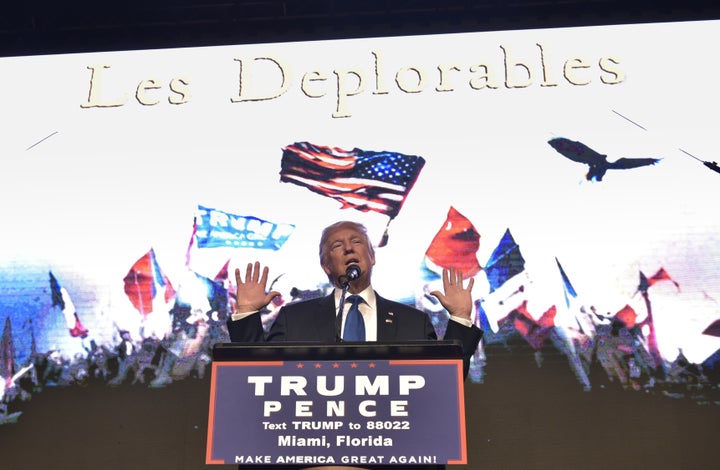 JACKSONVILLE, Fla. ― In a downtown office building, the Duval County Republican headquarters for the fall elections, stands a life-size cutout of Donald Trump. Perched atop the cardboard head is an actual "Make America Great Again" baseball cap.
Unfortunately for the GOP presidential nominee, that's about the extent of the Trumpiness to be found there.
Staff members point visitors toward a different office a few miles away ― the Trump campaign's actual Duval headquarters. But there, the situation is even worse. The strip-mall office, while decorated with "Trump-Pence" placards in the big windows, is not quite open, although the woman who identified herself as Trump's office manager said it would be within days ― as soon as the air conditioning problems had been sorted out and furniture and equipment could be delivered.
Less than two months out from Election Day, it's a scene playing out all across the state that for Trump is a must-win.
In Pensacola, on the morning after Trump's visit a week ago, his downtown office had yet to have phone service hooked up, although a pair of staffers did have the doors open to pass out yard signs and bumper stickers. In Sarasota, where the space occupies the top floor of a small office building, a receptionist presided over a large room full of empty tables. And in Orlando, at the new statewide campaign headquarters, Trump's county chairman one afternoon last week was escorting the cable guy up to the 10th floor to hook up service.
"This is a wonderful location. It's a really good move for us," said Randy Ross, seemingly unconcerned by how late in the process basic campaign milestones are coming together.
Indeed, county, state and national Republican officials all downplay the significance of the late start for Trump's Florida ground game, even as Democratic nominee Hillary Clinton's campaign is months into a methodical voter turnout effort. The Republicans argue that Trump's get-out-the-vote work is getting done, albeit independently by party staff and perhaps not using the traditional model of brick-and-mortar offices.
"This county is on fire," said Duval County GOP Chairwoman Cindy Graves. "Reports of things not going so well are greatly exaggerated."
Graves and the others may be correct ― that Trump is actually seeing historic enthusiasm and will surprise the political world with a convincing Florida victory on Nov. 8.
But if she is wrong, and Clinton winds up winning the state by just a point or two, among the people she can thank is Trump himself ― for his complete lack of interest in the modern campaign template created in 2004 by Republican George W. Bush and then honed to an art form by Democrat Barack Obama in 2008 and 2012.
Reality TV Celebrity vs. The Modern Campaign
Florida, in fact, perfectly illustrates the big gamble reality TV host Trump has laid on the general election.
The strategy for Clinton's campaign, like the three winning presidential campaigns before her, has been built on a system that seeks to identify and then get to the polls every individual voter likely to cast a ballot for her. It's a painstaking process that requires years of updating and constantly refining a data set that includes hundreds of millions of Americans of voting age.
"We've spent practically nothing. I'm proud of that. In the old days, if you spent less and you had far fewer people, and you were leading, you got credit."
To the extent possible, the door-knockers her campaign sends out each day from its 57 field offices across the state actually live in the neighborhoods they are canvassing. They are armed with detailed information about each potential Clinton supporter: voting history, interests and, if the person has been contacted before, the issues they believe are most important.
Trump, in contrast, continues to rely on his celebrity: a decade and a half of playing a savvy businessman on prime-time television ― a characterization that was never really challenged in the broad popular culture until the tail end of the Republican primaries.
He has less than half the number of field offices Clinton does, and a significant percentage of even those are not yet up and running. His theory throughout the primaries and to date in the general election has been simple: that repeating his message that the country is a disaster that only he can fix will bring out voters in droves.
Not even his consultants bought into that plan. Some pushed hard for significantly more staff to pursue a more traditional ground game in early voting states like Iowa and New Hampshire, but they were rebuffed by Trump, who has resisted spending money on things that did not return cash to his businesses or involve his personal comfort.
When after a second-place finish in Iowa Trump rolled to easy victories in states where he had virtually no staff at all, it made the task of convincing him that the same technique could not be replicated in a general election all the more difficult.
Indeed, Trump has called the use of precise data in targeting voters "overrated," and continues to boast of how he is essentially even with Clinton in the polls despite having spent far less.
"We've spent practically nothing. I'm proud of that," he said at a Miami rally last week. "In the old days, if you spent less and you had far fewer people, and you were leading, you got credit. Today, they say, well, she's spending much more money."
Clinton Out-Organizing Trump In Florida
Even as Trump brags about not needing staff, though, party officials from the Republican National Committee on down are telling all who will listen that they've got it covered. RNC chief strategist Sean Spicer released a long memo recently saying that they, and not Clinton's Democrats, have more troops on the ground in key states.
The memo said that the RNC, working for Trump as well as down-ballot GOP candidates, has 1,040 staff and "trained organizers" in Florida, compared to the 84 it had working for 2012 nominee Mitt Romney.
Graves, the chairwoman of Jacksonville's Duval County GOP, said that Trump is enjoying far more enthusiasm from local activists than Romney ever did. She said her volunteers knocked on 10,000 doors on a recent weekend ― the most of any county in the country. And when she organized a Women for Trump luncheon at a local country club hoping to get 50 to attend, she got five times that number.
"This is the ground game I wish that we had had for Romney," she said.
Whether such enthusiasm will overcome Clinton's organizational strength is an open question. Duval, home to a Navy base, its associated naval air station and thousands of military retirees, has long been a Republican stronghold ― yet Obama lost it by only 15,000 votes to Romney out of 400,000 cast, thanks to a top-notch voter turnout effort.
On the afternoon that Trump's Duval office manager wrestled with move-in problems, a Clinton office 3 miles away was helping host an appearance by Michelle Kwan at the University of North Florida. Former President Bill Clinton had attended the office's grand opening five weeks earlier.
In Orlando, where Ross was working to get utilities installed, the Clinton office a few miles to the south was going through its walk-lists and phone bank preparations. A potluck was scheduled for its volunteers that evening.
In deep-red Pensacola, where the new Trump office in the high-rent downtown still lacked phones, the Clinton office a few miles away in a poorer, predominantly African-American neighborhood saw a stream of volunteers come and go, clipboards in hand, despite intermittent rain showers.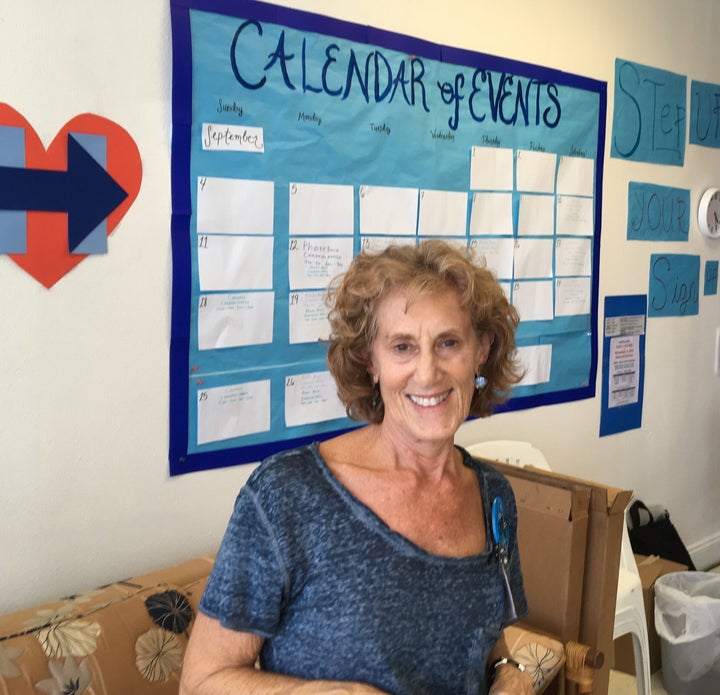 And in Sarasota, where Trump's former state headquarters stood largely empty with little evidence of activity, the staff at the nearby Clinton office planned that evening's work schedule to reach out to the area's Democrats ― even though they are badly outnumbered in that county, as well.
"We're getting a great response," said Linda Heller, a volunteer office manager who reflected the view that a Democratic ballot from a Republican county is worth just as much toward the statewide total as one from a Democratic stronghold such as Broward County. "It's all about getting the vote out."
Notwithstanding the Trump campaign's late and largely reluctant start in Florida, the good news for Trump is that the local parties have been in strong shape since former Gov. Jeb Bush built the state party into a powerhouse in the late 1990s.
Jonathan Martin, chair of the Lee County GOP in southwest Florida, said he knows perfectly well how to turn out Republican votes in one of the most conservative areas of the state, without hand-holding from anyone.
"I don't need a national campaign to come in and tell me to go knock on doors," he said. "We kind of know what to do at our level."
Before You Go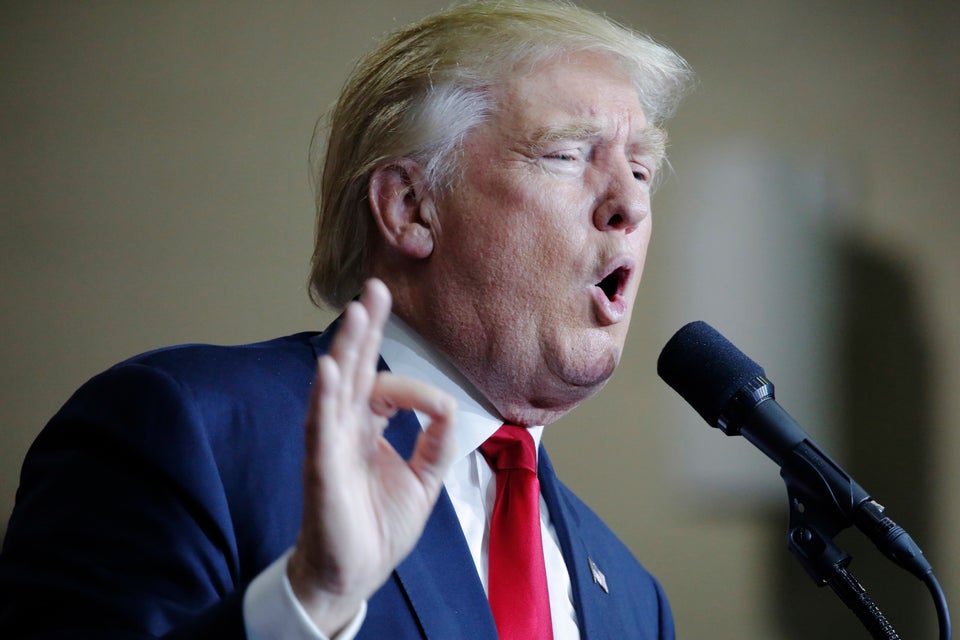 Trump's Most Presidential Looks
Popular in the Community