Donald Trump believes Washington's NFL franchise should keep the "Redskins" name that has grown into a major source of controversy in recent years.
"I know Indians that are extremely proud of that name," he continued. "They think it's a positive."
Trump, who last year made an unsuccessful bid to buy the NFL's Buffalo Bills, is the second Republican presidential hopeful to come out in support of the name during the GOP primary, after Jeb Bush said last week that he doesn't find the name offensive and believes the team should keep it.
President Barack Obama and Democratic presidential hopeful Hillary Clinton have both come out in opposition to the name, which prominent Native American groups call a "dictionary-defined racial slur." Senate Minority Leader Harry Reid (D-Nev.) and members of both parties in Congress have also called for it to change, and D.C.'s delegate to Congress has introduced legislation that would strip the NFL's antitrust exemption if the league continues its support of the term.
Native Americans have argued that in addition to being a racial slur, names and mascots like "Redskins" perpetuate stereotypes that are harmful to their communities. Activists and organizations have fought the use of such names for decades, and the movement against the Washington team's name has regained momentum in recent years. A federal judge in July upheld a prior ruling that invalidated the team's federal trademark protections, and students and activists have forced name changes at high schools across the country. California recently passed legislation that would force four schools to change their mascots.
The term has opposition in the NFL, too. Green Bay Packers Chief Executive Mark Murphy has called it "derogatory," and last week, the Philadelphia Eagles appeared to take a stand against the name by leaving it out of pre-game media guides ahead of their Week 4 match up with Washington.
The team's owner, Daniel Snyder, has said he will "NEVER" change the name.
The "Change the Mascot" campaign, a coalition that has fought against Washington's continued use of the name, blasted Trump in a statement Monday.
"It is hardly surprising that a candidate who labeled Mexican immigrants rapists and calls women 'pigs' now says he wants the NFL to continue slurring Native Americans," the campaign's leaders said. "Donald Trump joins some of the NFL's ignoble fraternity of billionaires who sit in their office suites and owners boxes happily spending their fortunes denigrating people of color."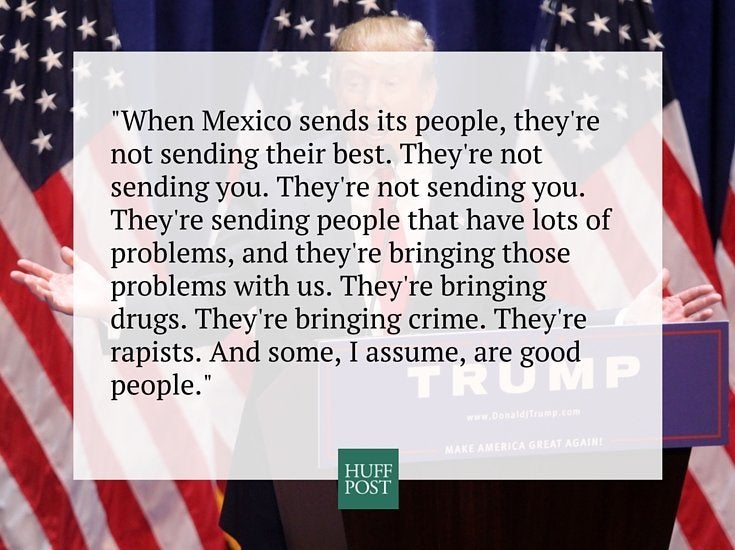 9 Outrageous Things Donald Trump Has Said About Latinos
Related
Popular in the Community