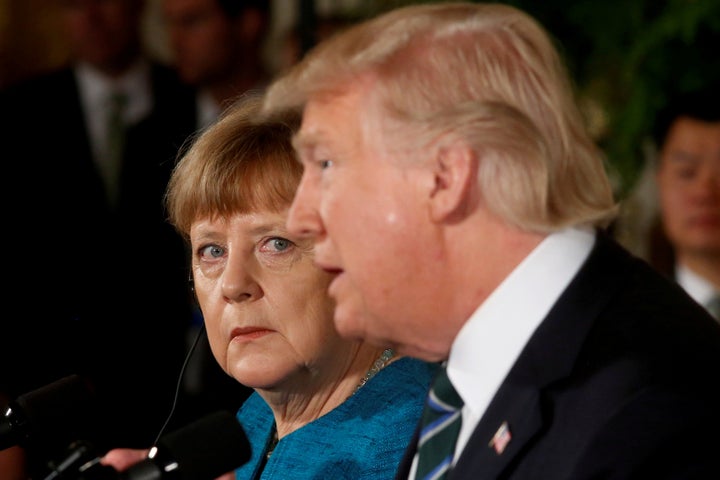 In the year since he took office, President Donald Trump has challenged rock-solid assumptions about U.S. foreign policy and jeopardized relations with a series of key allies.
From insults directed at foreign leaders ― and entire countries ― to his administration's foreign intelligence gaffes, Trump has left U.S. allies nervous as America's global competitors gain serious ground.   
Mexico And 'The Wall'
From the day he announced his campaign, Trump adopted an antagonistic approach to Mexico. "When Mexico sends its people, they're not sending their best," he said, adding, "They're bringing drugs. They're bringing crime. They're rapists. And some, I assume, are good people."
Since then, the U.S. president has threatened to blow up or renegotiate the North American Free Trade Agreement and has insisted Mexico will pay for a border wall between the two countries.
The battle over the wall has come to dominate the U.S.-Mexico relationship, despite decades of closer trade and security ties. Trump's fierce criticism of the U.S. neighbor has left Mexican President Enrique Peña Nieto exposed at home, and former Mexican President Vicente Fox Quesada fuming:
A Bad Start With Australia
Trump and Australian Prime Minister Malcolm Turnbull have a seemingly friendly relationship in public, but it wasn't always that way.
Turnbull and Trump's infamous first phone call made for a shaky start. The president accused the Five Eyes ally of trying to send the "next Boston bombers" via a refugee swap deal, prompting Turnbull to confront him over the deal's importance. Scheduled for an hour, the phone call reportedly lasted just 25 minutes. Trump eventually agreed to the deal.
Since then, the pair appear to have warmed to each other, sharing dinner and drinks on the USS Intrepid in New York City. Turnbull recently praised Trump's rhetoric on North Korea, telling an Australian radio station it was ratcheting up pressure on the rogue nation.
"They cannot be rewarded for their rogue status and reckless conduct," Turnbull said.
'The Wrong Thing To Do' In Britain
The "special relationship" between the U.S. and the United Kingdom entered a new phase with Trump's election: awkwardness. British Prime Minister Theresa May was the first foreign leader to visit Trump, a signal of the security and trade partnerships the two countries have shared since World War II.
But May quickly faced pressure to change her tone, particularly after intelligence surrounding the Manchester terror attack was seemingly leaked in the U.S.
The awkwardness came to a head in early January this year, when Trump retweeted several videos from the far-right Britain First party. May called the retweets "wrong," while several other British MPs described Trump as "fascist" and "stupid."
An Altered Relationship With Germany
Under Trump, U.S. relations with Germany have been strained and unsettled by Trump's controversial policy decisions, like pulling out of the Paris climate accord, and his direct criticism of German policies and its leaders.
"Germany can no longer simply react to U.S. policy but must establish its own position," Germany's top diplomat, Sigmar Gabriel, warned policymakers at the end of last year.
"Even after Trump leaves the White House, relations with the U.S. will never be the same," he added.
Trump has yet to appoint an ambassador to Germany.
Worrying NATO Allies
Trump used the 68-year-old North Atlantic Treaty Organization as a punching bag in the lead-up to the election, blasting the alliance as "obsolete" and calling out members like Germany for not paying their fair share.  
But the future for the alliance isn't entirely bleak. The number of U.S. personnel being deployed in Europe has gone up, Slovakia's former ambassador to NATO, Tomas Valasek, told NPR. The real question is how Trump will respond when an ally is attacked.
"The honest answer is none of us quite knows," Valasek said.
Insulting Haiti And African Countries
Trump opened 2018 by offending some of America's key allies in Africa. After he reportedly referred to nations in Africa, as well as Haiti, as "shithole countries," the presidents of Ghana and Senegal made their displeasure known.
"We will not accept such insults, even from a leader of a friendly country, no matter how powerful," said Ghanaian President Nana Akufo-Addo. Ghana has close ties to the United States.
Senegalese President Macky Sall also expressed his shock over the remarks."I reject them and condemn vigorously. Africa and the black race deserve the respect and consideration of all," Sall said.
The insult came at the worst possible time for the U.S., with Beijing actively trying to entice African countries into its flagship foreign policy, the Belt and Road Initiative.
REAL LIFE. REAL NEWS. REAL VOICES.
Help us tell more of the stories that matter from voices that too often remain unheard.