He was Donald Trump's personal driver for 25 years ― and he's pretty sure Trump took him for a ride.
Chauffeur Noel Cintron filed a lawsuit against the Trump Organization in the New York state court on Monday morning, seeking compensation for "thousands of hours" of allegedly unpaid overtime.
Due to the statute of limitations, Cintron is asking for just six years' worth of overtime wages ― a total of about 3,300 hours. The lawsuit says he worked as many as 55 hours a week for Trump, earning a salary of $62,700 in 2003 and $68,000 in 2006, according to a copy of the suit obtained by HuffPost.
In 2010, the lawsuit contends, Cintron received a $7,000 raise to $75,000 per year, but only on the condition that he forfeit his health insurance, which cost the Trump Organization $17,866 per year.
"Donald Trump has proclaimed himself as a champion of working men and women, but nothing could be further from the truth," Cintron's lawyer Larry Hutcher said in an emailed statement. "Noel Cintron worked for him days, nights, and weekends, but year after year Trump refused to pay him the wages he had earned. A complete disregard for the rights of workers has defined his disgraceful record in business."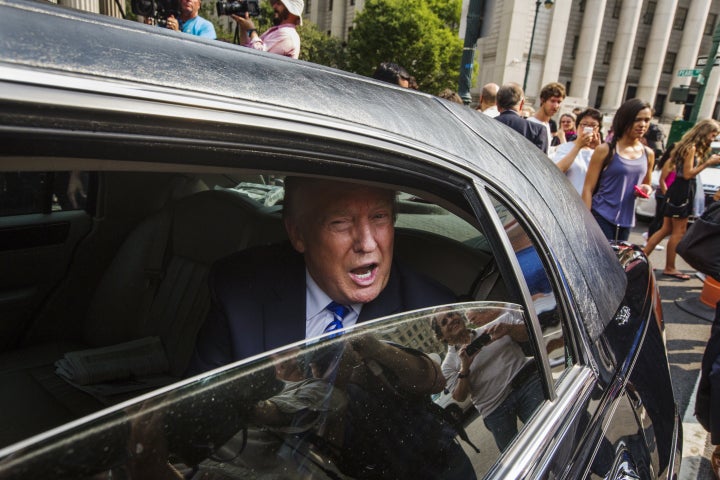 Cintron was responsible for driving Donald Trump until the Secret Service took over those duties in 2016. He also drove other Trump family members and business associates, his lawyers say, and handled car maintenance and other "required tasks."
Trump's treatment of his driver reflected "an utterly callous display of unwarranted privilege and entitlement," the lawsuit reads, describing his "exploitation" of Cintron as lacking "even a minimal sense of noblesse oblige."
"[Cintron] was forced to work thousands of hours of overtime without compensation," the lawsuit continues. "President Trump's further callousness and cupidity is further demonstrated by the fact that while he is purportedly a billionaire, he has not given his personal driver a meaningful raise in over 12 years!"
Bloomberg notes that Cintron is a registered Republican, and public records show a man with the same name donated just under $1,000 to Trump's presidential campaign in 2016.
A spokesperson for the Trump Organization disputed Cintron's allegations and said the company never broke the law.
"Mr. Cintron was at all times paid generously and in accordance with the law," the company said in an emailed statement. "Once the facts come out we expect to be fully vindicated in court."
This story has been updated with comment from the Trump Organization and Cintron's lawyer.
Popular in the Community