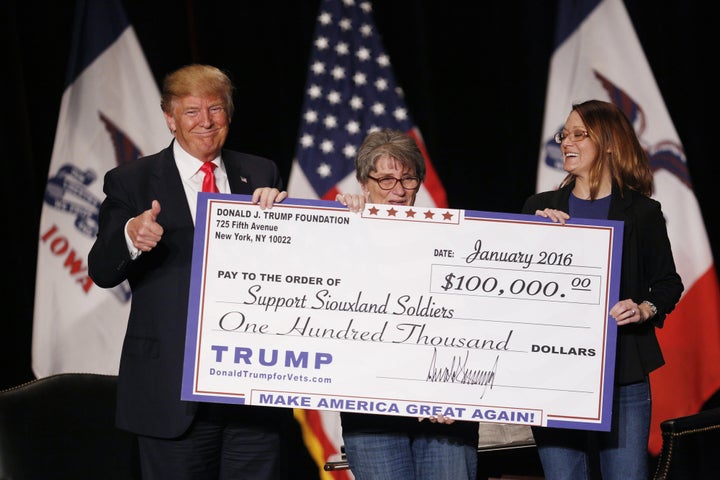 On Thursday morning, the New York Attorney General's Office slapped the Trump Foundation with an explosive lawsuit claiming President Donald Trump's charitable organization was "little more than an empty shell" that his campaign and for-profit company used like an extra bank account.
"Mr. Trump ran the Foundation according to his whim, rather than the law," the lawsuit says, claiming he used the charity's millions of dollars to pursue vanity projects, finance his run for president, and settle legal threats to the Trump family's corporate empire. Many of those activities would violate federal tax law or laws against using tax-exempt organizations for self-dealing.
And the list of alleged violations is a long one.
In 2013, for instance, the foundation nakedly violated tax law by cutting a $25,000 check to Florida Attorney General Pam Bondi's re-election fund, the suit claims. Federal law bars charities from making political donations. The foundation allegedly concealed the contribution on its forms by referring to Bondi's organization, "And Justice for All," by the name of a totally unrelated Kansas charity called "Justice for All." The foundation claims the whole episode was a mistake.
In another case, Trump's political campaign allegedly "planned, organized, and financed" a Jan. 28, 2016, Iowa fundraiser staffed by Trump's charity, which in reality functioned like a campaign event. Trump headlined the rally, which was televised opposite a Republican primary debate although it was billed as a fundraiser for veterans.
Trump's campaign later took control of roughly $2.8 million raised at the event ― essentially an illegal campaign donation, the suit alleges. Trump used that money to give out oversized checks, emblazoned with his campaign slogan, to veterans charity groups at rallylike events.
Corey Lewandowski, the campaign manager at the time, directed some of this activity so that it would maximize Trump's media exposure and give him an advantage in the Republican primaries, the suit claims.
"Is there any way we can make some disbursements this week while in Iowa? Specifically on Saturday," Lewandowski wrote in a January 2016 email obtained by the attorney general.
The email's subject line was, "RE: Veterans Charities."
The lawsuit also spells out five separate occasions on which it says the foundation used its funds to benefit Trump's for-profit businesses, which would be a violation of laws against self-dealing.
Those include a 2007 payment of $100,000 to settle a zoning dispute over the height of the flagpole on Mar-a-Lago's front lawn. It was too tall under Palm Beach ordinances.
Five years later, the foundation paid $158,000 to a man, Martin Greenberg, who was suing the Trump National Golf Club for allegedly failing to honor its promise of a $1 million prize for any player who scored a hole-in-one on the 13th hole.
The self-dealing accusations also cover the $10,000 the Trump Organization spent to purchase a 4-foot-tall portrait of Trump, which, infamously, reporters found decorating the bar at the Trump National Doral Miami.
The lawsuit sets out to prove that Trump personally broke the law, rather than leaving the impression that personnel did so on his behalf. Trump, the lawsuit states, was the only signatory on the foundation's bank account and therefore approved all of its spending. Among the documents appearing in the lawsuit is a note apparently handwritten by Trump approving a $100,000 payment by the Trump Organization to settle the flagpole dispute.
The attorney general, Barbara Underwood, is seeking nearly $3 million in restitution and demanding for Trump to be barred from holding any position in a nonprofit organization for 10 years. It also calls for his three oldest children, who were variously involved with the foundation, to be barred for one year each.
That would force Ivanka Trump, Donald Trump Jr. and Eric Trump out of a range of charity groups that they're currently involved with and could profoundly impact their post-White House lives. Nearly every former president in modern history has used charitable work as tool to define his legacy, exert influence over world affairs, and help himself and his family maintain access to rich and powerful world leaders.
Among the more immediate consequences, the lawsuit is preventing the foundation from quietly dissolving itself. Instead, the lawsuit will drag its potential violations into open court, where Trump has vowed to bring a fight.
"I won't settle this case!" he tweeted Thursday morning, saying the lawsuit was nothing more than an attack by "sleazy New York Democrats."
Popular in the Community