President-elect Donald Trump made the dubious claim on Twitter late Monday night that his foundation pays zero expenses and donates all of its money to charity.
However, a number of reports appear to prove otherwise.
The Donald J. Trump Foundation, established in 1987, admitted to the Internal Revenue Service just last year that it engaged in "self-dealing," a prohibited practice in which a nonprofit leader uses an organization's money to benefit his or her own interests.
According to a Washington Post report earlier this month, the foundation's 2015 tax filings confirmed it had transferred income or assets to a "disqualified person" that year (in this case, a "disqualified person" could be Trump himself or a member of his family or business) and had engaged in similar practices in previous years.
Trump also came under fire this year when The Associated Press reported his foundation had donated $25,000 to a political fundraising group associated with Florida's Republican attorney general, Pam Bondi, in 2013.
The contribution violated laws banning tax-exempt charitable institutions from making political contributions. What's more, the payment came just days after Bondi announced her office was considering investigating Trump University. (The attorney general ended up abandoning the investigation.)
A spokesman for Trump's foundation said in a statement in June that the donation was "made in error." Trump was fined $2,500 by the IRS and has since reimbursed the foundation.
In 2014, Trump's charity made its largest donation of the year to a foundation associated with Citizens United, the conservative group best known for its fight against campaign finance restrictions. Trump's foundation handed over $100,000 to the foundation, which was pursuing legal action against New York Attorney General Eric Schneiderman ― a Democrat who also happened to be investigating Trump University at the time.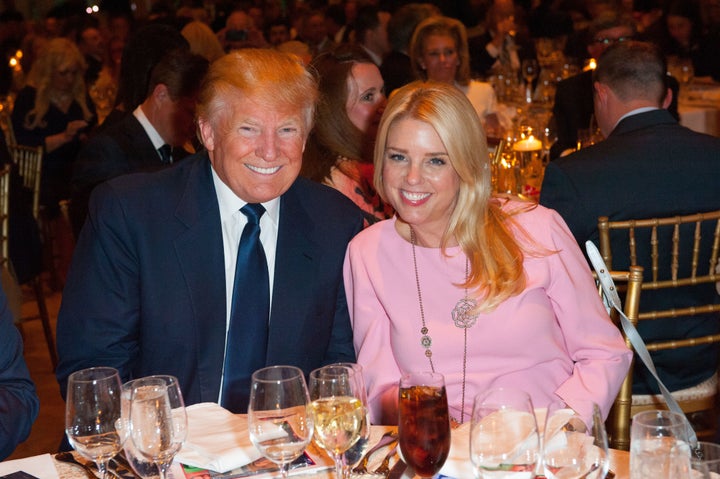 Another Washington Post report from September found Trump used $258,000 from his foundation to settle lawsuits ranging from self-dealing fines to quarrels with the town of Palm Beach, Florida, over the height of a flagpole at Trump's Mar-a-Lago Club.
The Mar-a-Lago lawsuit was settled in 2007 after Trump agreed to donate $100,000 to the Fisher House Foundation, a charity for veterans. Instead of reaching into his personal piggybank, Trump settled the lawsuit using his foundation's money.
The Huffington Post reached out to several Republican members of Congress following rumors of self-dealing, but few seemed bothered by the illegal practice.
"I don't know. I don't know the facts of it," Rep. Peter Roskam (R-Ill.) told HuffPost in September. He said he supports Trump because "Trump is a wild card, and I'll take a wild card over unworthy anytime."
On Monday, Trump also tweeted that he'd donated "millions of dollars to the DJT foundation" and complained that the media "won't report" on it.
Yes, Trump has donated roughly $2.7 million to his foundation, but according to the foundation's 990 forms, he hasn't made any further contributions since 2009.
The president-elect announced this week his plans to close the foundation to avoid future conflicts of interest during his presidency. But Schneiderman's ongoing investigation into the foundation's practices legally bars Trump for proceeding with the closure.
"The Trump Foundation is still under investigation by this office and cannot legally dissolve until that investigation is complete," Amy Spitalnick, the press secretary for the New York attorney general's office, said Monday in a statement to ABC News.
Jason Miller, Trump's former campaign spokesman, called the investigation "nothing more than another left-wing hit job" in a statement in September.
Popular in the Community