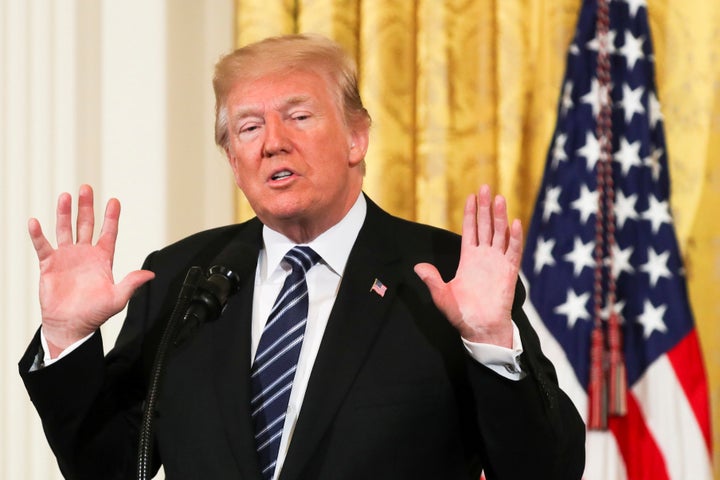 The top trade association for the adult entertainment industry wants to teach President Donald Trump a thing or two about sexual health.
"Dear Mr. President ... We understand that science is hard, and certainly a challenging concept for people who do not believe in facts," the letter said. "However, your willingness to acknowledge your own ignorance is the first step in the learning process ― so please be proud of your progress! There is no such thing as a silly question when it is coming from someone with direct access to nearly half the world's nuclear arsenal."
The letter, spanning two-and-a-half pages, went on to detail the differences between HPV, an infection that can cause genital warts and lead to cervical cancer, and HIV — a condition that can lead to acquired immunodeficiency syndrome, or AIDS. 
HPV and HIV are both viruses that can be spread by sexual activity, and the acronyms "share two out of three letters" ― but "that's pretty much where the similarities end," the group explained.
Gates said at a recent Bill and Melinda Gates Foundation event that he had to explain to Trump on two separate occasions that HIV and HPV are not the same. 
"Both times he wanted to know if there was a difference between HIV and HPV, so I was able to explain that those are rarely confused with each other," Gates said, according to footage of the event obtained by MSNBC's Chris Hayes.
Though tongue-in-cheek, the trade group's letter also included strong words of censure for the president. 
"Don't worry, we get it — sometimes when things don't go your way, you have to destroy a program that affects the lives of a million people just to prove a point. Power is cool like that," the letter said, adding: "It probably could have helped you out with understanding this whole 'HIV vs HPV' thing though."
The group urged Trump, described in the letter as a "patron of sex worker services" ― an apparent allusion to his alleged encounters with adult entertainers ― to take action to protect the health of sex workers. 
The president was also encouraged to take steps to help reduce deaths related to HIV and HPV, and to support the Real Education for Healthy Youth Act ― a bill that promotes comprehensive sexual health education.
"You have the power, and now the information, to make these things better," the group said.
Calling all HuffPost superfans!
Sign up for membership to become a founding member and help shape HuffPost's next chapter