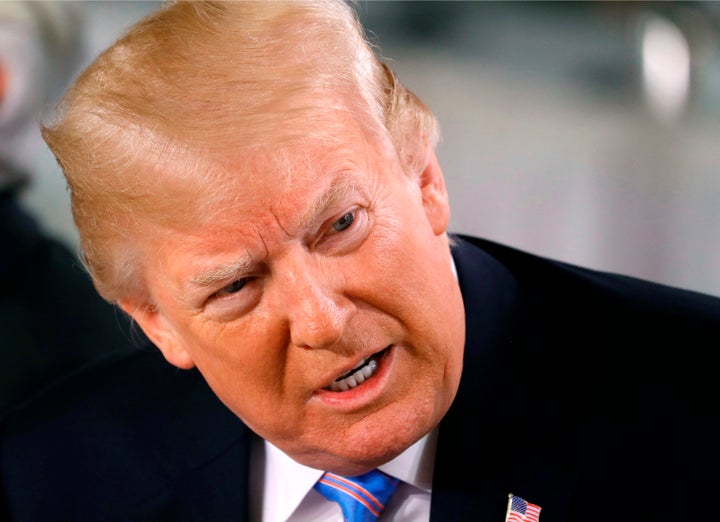 President Donald Trump said Saturday at the Group of Seven summit in Quebec, Canada, that the United States would "stop trading" with some of its closest allies unless they change what he believes to be unfair trade policies.
Speaking to reporters at the annual G-7 meeting, the president said that totally eliminating trade barriers between the nations would be "the ultimate thing" and "that's the way it should be." He called many current tariffs on U.S. goods and services "ridiculous."
"We're like the piggy bank that everybody's robbing ― and that ends," the president said.
He later said, "It's going to stop, or we'll stop trading with them. And that's a very profitable answer, if we have to do it."
Trump told reporters the trade talk was "not contentious" and said in a tweet that leaders of the six other nations "fully understand where I am coming from."
"The United States will not allow other countries to impose massive Tariffs and Trade Barriers on its farmers, workers and companies. While sending their product into our country tax free," Trump said on Twitter.
His comments come amid a tense few days with multiple world leaders over Trump's decision to impose steel and aluminum tariffs on the country's biggest trading partners: Canada, Mexico and the European Union.
Trump's tariffs initially went into effect in March, aimed specifically at China, but the White House announced in May that the three allies would no longer be exempt from the taxes. Canada, Mexico and the European Union all threatened retaliatory tariffs after their exemption status was lifted.
"American jobs are on the line because of his actions and because of his administration," Trudeau said at a news conference Thursday. "When we can underscore this, and we see that there's a lot of pressure within the U.S., perhaps he will revise his position."
Trump fired back at the world leaders, attacking both Trudeau and Macron on Twitter the day before the summit.
"Please tell Prime Minister Trudeau and President Macron that they are charging the U.S. massive tariffs and create non-monetary barriers," Trump said Thursday on Twitter. "The EU trade surplus with the U.S. is $151 Billion, and Canada keeps our farmers and others out. Look forward to seeing them tomorrow."
The president also called Trudeau "indignant" on trade and accused Canada of charging the U.S. "up to 300 percent on dairy."
British Prime Minister Theresa May reportedly put pressure on Trump as well in a 30-minute phone call Thursday. May told Trump his tariffs were "unjustified and deeply disappointing," according to the BBC.
Some analysts are concerned that the 25 percent tariff on steel imports and a 10 percent tariff on aluminum imports will result in a trade war with some of the United States' largest allies. Mexico already imposed tariffs on pork legs, apples, grapes and cheeses the week before the G7 summit.
The U.S. Distilled Spirits Council sent a letter to Commerce Secretary Wilbur Ross over concerns Trump's tariffs might hurt the country's liquor exports, Reuters reported Thursday. The council is concerned that 46 percent of global spirits exports could be subject to retaliatory tariffs, sales worth an estimated $759 million.
This story has been updated with additional comments from Trump.
Popular in the Community