WASHINGTON ― The pay gap between male and female staffers in President Donald Trump's administration has risen sharply, after improvements during the administrations of Presidents George W. Bush and Barack Obama.
Women in the Trump White House are earning about 63 cents for every dollar earned by their male counterparts, according to a comparison of the median salaries of men versus women in the administration (the median salary is the figure that half the workers earn above and half below). The study was conducted by the conservative-leaning American Enterprise Institute think tank and released earlier this week.
The 37 percent gender pay gap represents a sharp increase from the 11 percent disparity in the last year of Obama's presidency. At its highest, that gap was 18 percent in 2014, according to the Washington Post. The gap in Trump's administration is also worse than it was under Bush — according to the Post, it was about 25 percent at its highest point in 2003.
A closer look at the administration's data finds that in Trump's White House, a smaller proportion of women serve in high-paying, senior-level positions. Nationally, that same reality has been a crucial culprit in exacerbating the gender pay gap — and a factor that some people use to claim that the problem is "a myth."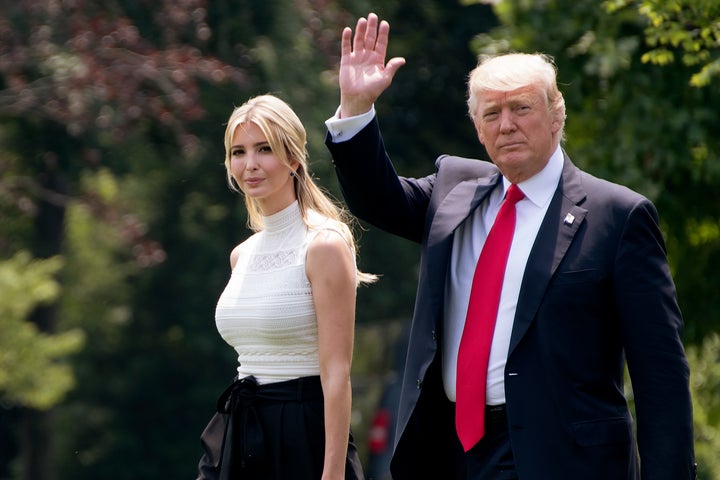 The White House has been required by law to disclose salary information for its employees since 1995.
Overall, Obama did appoint more women to senior positions than Bush — the proportion of females among the highest-paid staff oscillated between 35 percent and 45 percent, consistent with his administration focusing on issues of gender inequality. Under Bush, it varied between 27 and 40 percent.
So far, that proportion has declined under Trump, with women occupying just under 26 percent of those upper level roles, according to the administration's data.
Ivanka Trump, the president's daughter who is an unpaid White House adviser, has pledged to make reducing the gender pay gap in the U.S. a priority for his administration. But like many of her supposed causes, they seem to have gone nowhere, even when applied to the very people working for her father.
The White House's 37 percent gender pay gap is more the double the 17 percent gap nationally reported for 2015 by the Pew Research Center in its analysis of the median hourly earnings of both full- and part-time U.S. workers.
Calling all HuffPost superfans!
Sign up for membership to become a founding member and help shape HuffPost's next chapter
BEFORE YOU GO
PHOTO GALLERY
Famous Women Who Know You Deserve Equal Pay