During a meeting with top leaders of the European Union, President Donald Trump said "the Germans are bad, very bad," according to participants in the room who spoke to German weekly news magazine Der Spiegel.
Trump's specific criticism was that Germany's auto industry exported cars. "See the millions of cars they are selling in the U.S. Terrible," Der Spiegel reports he said. "We will stop this."
In January, Trump threatened to slap a 35 percent tax on German auto imports. "If you want to build cars in the world, then I wish you all the best. You can build cars for the United States, but for every car that comes to the USA, you will pay 35 percent tax," he said. "I would tell BMW that if you are building a factory in Mexico and plan to sell cars to the USA, without a 35 percent tax, then you can forget that."
Trump's new comments impugning the Germans for exporting cars were made in a meeting with the European Commission president, Jean-Claude Juncker, and the European Council president, Donald Tusk. Juncker, Der Spiegel reports, supported the Germans.
Another German newspaper, Süddeutsche Zeitung, reported that E.U. representatives felt their U.S. counterparts did not understand that the E.U. negotiates trade agreements as a single entity, rather than on a country-to-country basis. That is, the U.S. can negotiate trade deals with the E.U. as a whole, but not individually with the separate members of the E.U.
Der Spiegel reported that Gary Cohn, the director of Trump's National Economic Council, appeared to believe that the U.S. could negotiate different trade deals with Germany and Belgium.
This is not the first time this basic misunderstanding has cropped up. When German Chancellor Angela Merkel visited the White House in March, she had to explain how E.U. trade deals were negotiated almost a dozen times, a senior German official told the Times of London.
"Ten times Trump asked [Merkel] if he could negotiate a trade deal with Germany. Every time she replied, 'You can't do a trade deal with Germany, only the EU,'" the official said. "On the eleventh refusal, Trump finally got the message, 'Oh, we'll do a deal with Europe then.'"
The White House did not immediately respond to a request for comment Thursday.
The revelations came hours after Trump publicly blasted the U.S.'s European partners in the NATO defense alliance, accusing them of owing American taxpayers billions of dollars because they have previously not met the alliance's defense spending requirements. He also failed to affirm that his administration would meet its commitment to militarily support them if needed.
The president has repeatedly questioned Washington's relationships in the region, cheering Britain's vote to leave the European Union and engaging positively with anti-EU politicians like France's Marine Le Pen. Top political figures and Europe analysts have already labeled his trip a major failure, and it's not even over yet: Trump is expected to now head to Sicily for a summit of the G7, a group of the world's most developed economies.
CORRECTION: Due to an editing error, an earlier version of this story misidentified Der Spiegel as a newspaper. It is a weekly news magazine.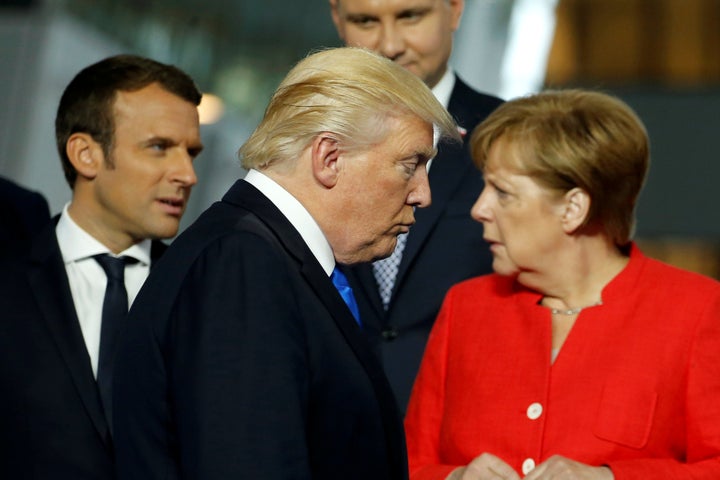 Popular in the Community